Samsung Electronics has this week revealed plans to implement cloud gaming functionality on a selection of the company's premium internet-connected HDTV displays. Billed as the next evolution in video game experience, the Samsung Cloud Gaming service will be powered by streaming technology from cloud-based gaming firm Gaikai.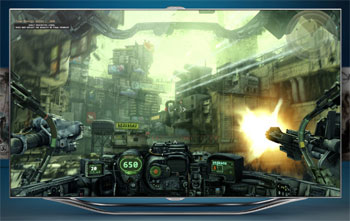 Samsung Smart TVs to get cloud gaming from Gaikai
The service will allow owners of Samsung Smart TVs to play advanced video games directly on their televisions without the need for an external console like Microsoft Xbox 360 or Sony Playstation 3 (PS3), as long as there is broadband internet connection to the cloud gaming servers. This is made possible by the R&D (research and development) efforts of Gaikai, who has spent more than three years designing and building the world's quickest cloud-based streaming service, while establishing good working relationships with leading video game developers.
Soon to be released as a beta for Samsung Smart TV owners in the USA to sign up, the Samsung Cloud Gaming service will only be available on the Korean manufacturer's high-end 2012 LED-based LCD TV models such as the ES7000 and ES8000 series, presumably because of the intensive processing power required. Users can launch video game titles (which are delivered via Gaikai's open cloud platform) directly from Samsung's Smart Hub web-connected portal.
Samsung's vice president of visual display business Kyung-shik Lee said that the partnership with Gaikai will not only add to the appeal of Samsung Smart televisions, but also give its customers the opportunity to try and purchase some of the top video games without needing to leave their sofa. Gaikai's CEO David Perry agreed, stating that the alliance between the two companies will deliver a console-like gaming experience on Samsung Smart TVs, with the clincher being that no additional hardware nor downloaded software is actually needed.