Independent cinema chain Curzon has this week been added as a partner by the leading television brand in the United Kingdom, with Samsung Electronics UK allowing the chain to provide a new video-on-demand (VoD) app through Samsung Apps, its Smart TV application store.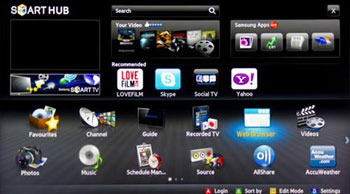 Samsung Smart TV Apps Store gets Curzon on-demand app
From April, users will be able to enjoy top world and European movies on their Samsung Smart TVs the day they are released in the cinema thanks to the new on-demand Smart TV app from Curzon, which was developed by connected TV and VoD service provider Capablue. Viwers who want to have instant access to the very latest independent movies but don't live near a Curzon cinema are the ones who will benefit most from this new app.
The ability to use the Curzon on-Demand app on smartphones, tablets and PCs as well as on Samsung internet-connected HDTV displays is one of the key elements of Curzon's developmental efforts to provide its customers with as many ways as possible to watch the most recent independent films.
As well as enjoying the best picture quality available using Samsung Smart televisions, owners will now be able to stream more than 250 films using the Curzon on-demand app, and more films are being added on a constant basis with prices ranging from £2 up to £6 for the latest titles. Samsung UK's TV marketing director Guy Kinnell said that when it comes to the viewing experiences of its customers, the company is constantly looking for ways to improve what it is offering. This includes the ability for viewers to watch the very latest independent movies, no matter where they are in the country, which is its main reason for this partnership.