Like most other TV manufacturers showcasing their new HDTV range at the Consumer Electronics Show (CES) 2011 in Las Vegas this week, Samsung's priorities for the year ahead are 3D TV and "Smart TV" (i.e. internet-connected television) displays. The company's high-end D8000 series of 3D LED-backlit LCD TVs boasts a number of welcome innovations, such as an almost bezel-less design, pseudo-local-dimming technology, a touch-screen remote, and an integrated web browser that offers full internet surfing.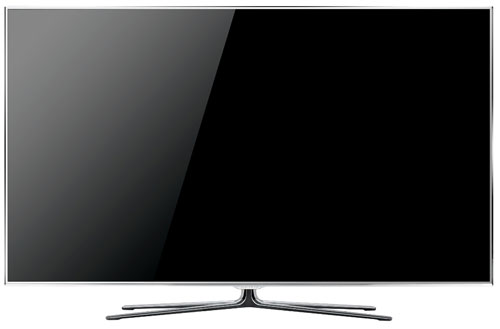 Sporting a nearly invisible bezel with a brushed metal finish that measures only 0.2 inches (5mm) in thickness, the Samsung D8000 series of LED LCD TV truly took the meaning of minimalism to dizzying heights, eclipsing even last year's C8000. Like its predecessor, the D8000 LCD panel is supported on a four-legged stand.
Although the LED backlight technology found on the Samsung D8000 is the edge-LED variant that is responsible for the set's super-slim form factor, the Korean TV maker has implemented a "Micro Dimming Plus" video processing algorithm on the D8000, which the company claims will mimic local-dimming LED systems to deliver deeper blacks and brighter whites through more precise and localised backlight control.
Also new to the Samsung D8000 is the inclusion of an iPhone-style touch-screen remote control, which is capable of displaying on the 3-inch LCD screen whatever the LED TV is showing, or even content from a different input source.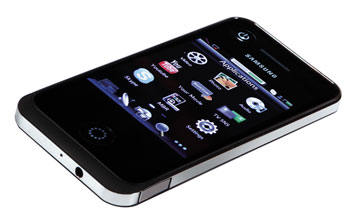 To reduce crosstalk which has been an issue on LCD-based 3D TV displays, the D8000 features 240Hz (200Hz for UK and European models) "Auto Motion Plus" motion-compensated frame interpolation technology, LED backlight scanning, as well as purportedly improved response time. In terms of internet connectivity, the company has installed a web browser that permits unrestricted online surfing – a Samsung first – within the D8000's internet-connected portal dubbed "Smart Hub".
Four screen sizes are available, as outlined in the table below:
| | | |
| --- | --- | --- |
| Screen Size | US Model Number | UK & Europe Model Number |
| 40-inch | UN40D8000 | UE40D8000 |
| 46-inch | UN46D8000 | UE46D8000 |
| 55-inch | UN55D8000 | UE55D8000 |
| 65-inch | UN65D8000 | UE65D8000 |
Slated for release during the first half of 2011, exact UK pricing and availability of the Samsung D8000 LED-backlit LCD-based 3D TV models remain unclear at present, but we should know more when the company holds its official UK press conference in the next couple of months.