The forthcoming Samsung D8000 and D7000 LED-backlit LCD TV displays will be capable of transmitting video content wirelessly to be watched on compatible tablet and smartphone devices, the Korean TV manufacturer has announced at its annual European convention this week. This means that owners of these HDTV models will be able to enjoy live television broadcasts or even content from other input sources (such as a Blu-ray or DVD player) on a smaller, secondary screen which can be carried around the house.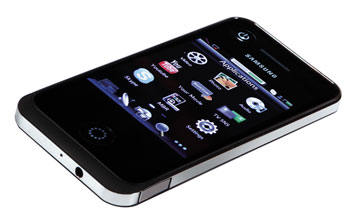 Dubbed "TwinView" technology by Samsung, this dual-screen feature first made an appearance at the Consumer Electronics Show (CES) in Las Vegas earlier this year, where the company demonstrated its D8000 LED TV streaming content to the included iPhone-esque touchscreen remote control sporting a 3-inch LCD display. Users can watch the same material shown on the television (e.g. not wanting to miss any live football action while getting a drink from the kitchen), or from a different input source altogether (which can come in handy if a family member wishes to watch something else).
At CES 2011, Samsung hinted that some of its own-brand mobile devices will in due course gain this dual-screen streaming capability once paired up with HDTVs equipped with the technology. Yesterday, at its 2011 European Forum in Budapest, the TV maker confirmed that the Samsung Galaxy Tab 10.1 tablet device and the Samsung Galaxy S2 mobile phone – both newly launched at the Mobile World Congress (MWC) 2011 in Barcelona – will sport the TwinView functionality through a downloadable Android app.
Samsung LED LCD TV models that will support the TwinView functionality include the UE40D8000, UE46D8000, UE55D8000 and UE65D8000 from the D8000 range, and the UE40D7000, UE46D7000, UE55D7000 and UE65D7000 from the D7000 series. Slated for an April release in the UK market, prices have yet to be announced at this point of writing.