Samsung Electronics, the largest TV manufacturer in the world, is due to unveil the world's lightest active-shutter 3D glasses at the Consumer Electronics Show (CES) 2011 in Las Vegas this week. Samsung had enlisted the help of Austrian designer glasses frames manufacturer Silhouette in the development and production of the new 3D glasses which purportedly offer superior ergonomics and comfort.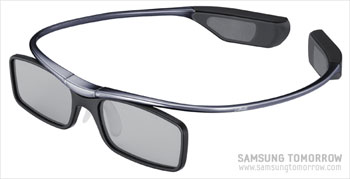 According to information published (in Korean language) on the company's corporate blog site Samsung Tomorrow, Samsung and Silhouette utilised the latest materials to create the active 3D glasses, which – at 28 grams – weigh at least 10 grams lighter than other competing models on the market to date. However, this weight is still going to be heavier than most polarized/ passive 3D glasses, simply because the latter does not need battery power nor 3D signal syncing to operate.
The new designer 3D glasses feature a modern, streamlined curvature from the front bridge to the side arms for a snug fit around the head. The inclusion of adjustable nose pads allows each pair of 3D glasses to be worn by either adults or children, hence negating the need to buy adult and child sizes separately. Furthermore, the interior circuit and battery (which account for most of the weight) of the 3D glasses have been relocated to the tips of the side arms, contributing to an ideal distribution of weight that serves to reduce fatigue from long hours of wearing.
From a functional perspective, the new Samsung designer 3D glasses can automatically switch on and off, and be recharged wirelessly. And for users who are already wearing prescription glasses, Samsung offers the option to attach optically correct lenses on the active-shutter 3D glasses.
More details on the pricing and availability of these designer 3D glasses should be released at Samsung's stand in CES 2011. With compulsory 3D eyewear frequently being cited as a major obstacle in putting consumers off 3D-ready HDTV sets, it appears that the Korean electronics giant's solution – at least in the short term – is to improve its 3D eyewear rather than develop glasses-free 3D TV displays.
Source: Samsung Tomorrow