While the likes of Sony and Panasonic over in Japan continue to suffer, it's all smiles just across the water in South Korea, where Samsung's TV division is expected to announce a huge increase in its profits over the last 12 months.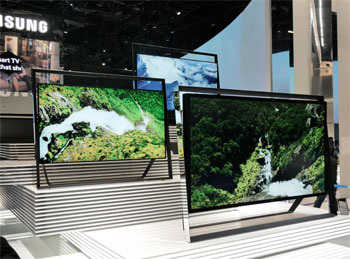 Samsung to double 2012 TV profits on sales of 51m flat-screen TVs
South Korean daily MK News reports that with just one week until the consumer electronics behemoth officially announces its figures for the fourth quarter of 2012, Samsung is likely to reveal a record-breaking year profits-wise, based on its estimated £33 billion worth of sales over the last three months. A large part of this is thought to be down to Samsung's enormous television business, which sold more than 53 million units, amassing an operating profit of some 2 trillion Korean won (approximately £1.18 billion) in 2012.
That tally represents a staggering 100% improvement on Samsung's 2011 TV revenue (put at around 1 trillion won), and is evidence that the firm's policy of targeting high-end HDTV sales (something that's likely to continue if their showing at CES is anything to go by) and its aggressive marketing strategy continues to pay off.
It was reported that of the 53 million TV sets sold by Samsung last year, 51.3 million of these were flat-screen models – in itself an interesting statement that seemed to imply Samsung is still churning out a few CRT televisions now and then? Whatever next…
Samsung's mobile division remained by far and away its biggest money-making business, but such was the TV division's performance that it's believed to have contributed as much as 7% of the company's total operating profit – yet another impressive stat when one considers the poor state of television markets globally.
Source: MK News