Amid all the attention Samsung has been attracting for its 55-inch Super OLED television, the company has launched its 2012 range of LED TV models at the Consumer Electronics Show (CES) in Las Vegas. Needless to say, these Samsung LED-based LCD TVs are more likely to hit the shops earlier, as well as be more affordable for the average consumer.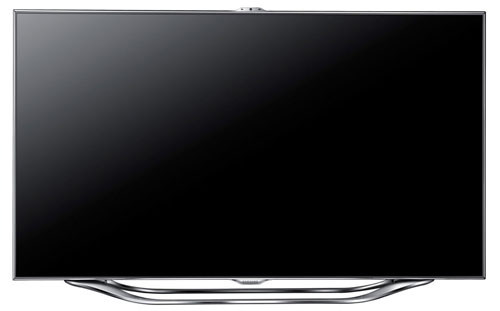 Samsung launch UE46ES8000 & UE55ES8000 (ES8000) flagship TVs
The new flagship TV will be the Samsung ES8000 which replaces the outgoing D8000 LED series. Available in a variety of screen sizes ranging from 40 to a ginormous 75 inches, we expect the 46-inch Samsung UE46ES8000 and the 55-inch UE55ES8000 to be the most popular models among UK buyers.
At its CES 2012 press conference, the Korean manufacturer was eager to emphasise the abundant processing juice available on these HDTV sets, claiming that "no other TV is as powerful as the ES8000". The dual-core processor implemented on the Samsung UE46ES8000 and UE55ES8000 will not only grant multitasking capabilities to these LED TVs (therefore eliminating the need to exit and relaunch apps), but also power the revamped Smart Hub user interface which is promised to be smoother, faster, and rendered in full HD.
New for its 2012 premium HDTVs, Samsung is introducing voice and gesture controls as well as facial recognition technology – collectively given a moniker of "Smart Interaction" – via the integrated camera and dual-microphones that sit on top of the panel. The company has also taken the effort to futureproof the ES8000 series by providing a rear slot that will let owners "upgrade" their TVs with the latest technology without needing to buy a brand new set.
Design-wise, the Samsung ES8000 series will sport a 0.2-inch super-slim bezel, and a fresh metallic U-shaped table-top stand. When it comes to picture quality, the Seoul-based conglomerate said that it has implemented an advanced "Micro Dimming Ultimate" LED backlight algorithm on these displays, which purportedly performs real-time analysis of the incoming video signal to enhance LED luminance in "areas of lower gradation". According to Samsung, this will result in a 20% increase in brightness, as well as eradicate image distortion and halo effect associated with diffused light.