While it's only given away a few details thus far, Samsung has confirmed that its long-awaited Smart TV Evolution Kit will finally go on show at next week's CES 2013 in Las Vegas.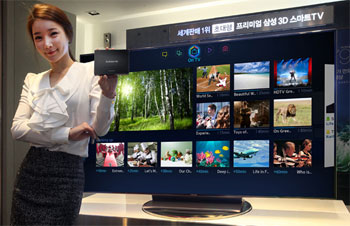 Samsung to demo Evolution Kit Smart TV upgrader at CES 2013
Samsung first mentioned its Evolution Kit during last year's Consumer Electronics Show, and though it's taken exactly one year to deliver on that promise, it looks like the new module will be warmly received by owners of existing Samsung Smart TVs.
We don't have the full details yet, but Samsung assures us that the Evolution Kit will do exactly what was promised – delivering 2013 specifications onto 2012 Smart televisions simply by adding the new module onto the back of the displays, meaning that owners of older internet-connected HDTVs can enjoy all the latest features that Samsung has to offer on its most recent models.
Update: Samsung UK has confirmed that the 2012 Smart TVs which are compatible with the Evolution Kit include the ES7000, ES8000 and ES9000 LED LCD models, as well as the E8000 plasma series.
Samsung says that the Evolution Kit will add a number of hardware enhancements to existing Smart TVs, including fast central and graphics processors. As a result, older Smart TVs will be able to deliver speedier internet browsing speeds, together with the ability to multitask with various applications whilst watching television.
In addition, the South Korean manufacturer says that Smart Interaction features such as voice and motion control will also be enhanced with the new upgrade, while the Smart Hub portal will also be updated to the current version.
Sunny Lee, Vice President of Samsung's Visual Display Sales & Marketing Team, said that the innovative concept of Evolution Kit would herald a new era for Smart TV, allowing consumers to keep up with the latest trends at an affordable price.
"Smart TV owners will be able to enjoy all of our latest services and features without buying a new TV each year, and they'll be able to update in this way every year," said Lee.
"What we're offering is nothing short of a timeless television with the Evolution Kit."
Samsung didn't reveal how much the Evolution Kit might cost, so we'll just have to wait until its full release at the CES 2013 next week.