Samsung has just rolled out its first batch of curved, super-thin OLED televisions in South Korea, alongside a couple of smaller non-OLED 4K TVs, the 55-inch and 65-inch F9000, as it looks to play catch up with rivals LG in the high-end TV stakes.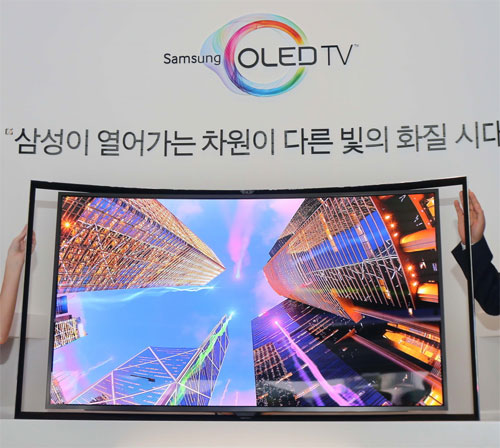 The new models were unveiled earlier this morning at a special event held in Seoul. The headline act was undoubtedly its curved OLED, which is said to produce more vibrant colours and deeper blacks than any bog-standard LCD, LED or even plasma displays can achieve. OLED technology, which works by lighting each pixel individually rather than using a backlight, is notoriously difficult to manufacture in large quantities, hence the long delay since Samsung first unveiled its prototype OLED back in CES 2012.
However, Samsung claims that the curved design of its OLED offers a solution to these manufacturing problems as it eliminates the risk of them producing defective panels – a fact that should put consumer's fears of buying one to rest. After all, the curved OLED won't come cheap – Samsung's slapped a a 15 million won (£8,520) price tag onto the 55-inch sets, which is almost five times as much as a similarly-sized non-OLED smart TV.
Whether or not people will be tempted to buy one at that price remains to be seen – the enhanced imagery will appeal to connoisseurs, but for the average consumer that price tag may be hard to justify. Fact is, the HDTV industry is still in a slump as previous efforts to excite buyers with 3D technology and connected TVs has largely failed to spark much interest.
Nevertheless, Hyunksuk Kim, Executive Vice President of Samsung Display, sounded confident about OLED's prospects for the future:
"We're delighted to come good on our promise and deliver our first range of curved OLED TVs to consumers. We can now offer our customers flawless picture quality and a truly immersive experience. Curved OLED is a ground-breaking, future proof product that marks the next step in TV's evolution."
Samsung's reveal comes a couple of months after LG announced its own curved OLED back in April. And just like its rival, its hoping that consumers will buy into its claims that curved screens offer the most superior viewing experiences, as it means that all parts of the screen remain an equal distance from the viewer, eliminating the edge-of-screen distortion that we see on regular flat-screen TVs.
Samsung's curved OLED goes on sale in Korea today, though there's no definite word on when this display will be released in the UK and Europe.
Also at the event, Samsung finally unveiled its smaller-sized, 55in and 65in F9000 Ultra HD 4K models, which incorporate its proprietary 'Quadmatic Picture Engine' that's capable of upscaling and enhancing regular HD content. Samsung didn't mention any price tag for these models, nor did it say when they might be available overseas, though we don't expect to have to wait too long for that. The technology will enable viewers to enjoy both vibrant, crisp Ultra HD content as well as high quality HD content at something close to 4K resolution.
Source: Samsung Tomorrow