The 100 or so Koreans who're rich enough to have ordered one of Samsung's super-high resolution F9000 4K TVs will be getting their just rewards soon enough, after the company announced it's on the verge of shipping the first batch of pre-ordered sets.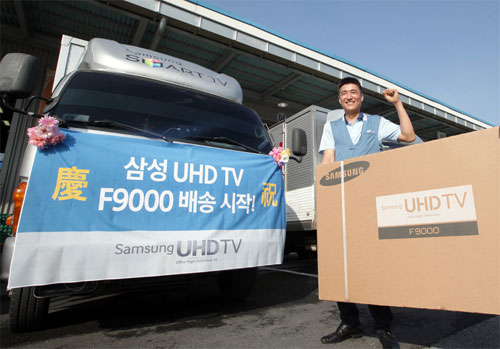 From tomorrow, Samsung will begin delivering 55-inch and 65-inch models of its F9000 4K Ultra HD TV to the homes of lucky customers in its home market. According to the company, this means "more than 100" households can expect a knock on the door any time soon.
We got our first look at Samsung's entrance into the 4K arena with its stunningly expensive 85in S9 at CES earlier this year, but it wasn't until last month that the Korean manufacturer followed the example of Sony and LG Electronics by releasing smaller-sized, more affordable versions of its ultra high-definition (UHD) televisions. The TVs were unveiled at a special "Samsung Media Day" event in Seoul, where they were actually relegated into the shadows by the simultaneous announcement of the company's curved OLED TV.
But today is the day for 4K to shine, and shine they will for even though the 55in UE55F9000 and 65in UE65F9000 are priced considerably cheaper than Samsung's 4K 85-incher, they're overflowing with all the latest features. These include Samsung's 'Quadmatic Picture Engine' that's capable of upscaling and enhancing regular high-definition content, and 'One Connect', which allows the UHD TVs to be connected to a multitude of devices via a single cable in the back.
Thanks to Google's iffy translation of the original press release we're not to clear on the specs just yet, but one item of note is that the 4KTVs are said to be "future-proofed" thanks to Samsung's Evolution Kit, which hopefully means that they'll be compatible with HDMI 2.0 and future Ultra HD broadcasting standards.
The Samsung 55F9000 and 65F9000 are priced at around 6.4 million won (around £3,700) and 8.9 million won (around £5,100) respectively. No word yet on a launch date in this part of the world, but with Sony and LG already ahead of the curve we're hopeful for an announcement in the coming weeks.
Source: Korean Newswire