Following our report a few days ago of corresponding ultra high-definition (UHD) models being released in the States and also in France, Samsung UK has officially announced the launch of its 55-inch and 65-inch F9000 series of ultra HD 4K TVs in the United Kingdom. The Korean brand had previously launched the 85-inch S9 UHD television for the UK market back in April, at an eye-watering price of £35,000.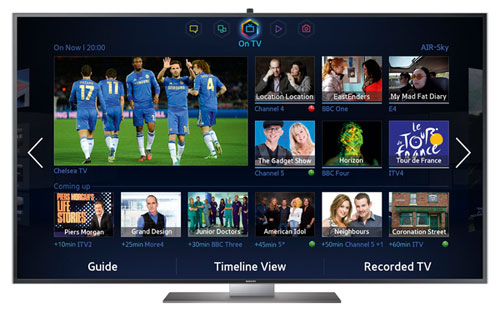 The good news is that the Samsung UE55F9000 and UE65F9000 will be nowhere near as expensive. We previously noted that British electrical retailer Currys has pre-emptively put up a preorder page for the 55-incher at a price of £4,299, and it turns out that today's announcement of the 4KTV's RRP (recommended retail price) is even lower. Samsung has priced the 55in and 65in F9000s at £3,999 and £5,999 respectively, directly matching the price tags of the 55″ and 65″ Bravia X9 ultra HD televisions offered by Japanese rival TV manufacturer Sony.
Arguably the most attractive feature of the UE-55F9000 and UE-65F9000 UHDTVs is their purported compatibility with future UHD standards. While Sony has also made similar promises with its Bravia X9, we think Samsung's proposition is more concrete, since we know that it will be delivered through the Seoul-headquartered company's Smart Evolution kit – a module which when plugged into the back of an older (and compatible) TV will provide the set with most current technologies. Of course we still need to test it out when we get our hands on a review sample, but with so many question marks over future 4K broadcasting and transmission standards including HDMI 2.0, Samsung has at least given its buyers some peace of mind that they're not pouring money into a display that will become obsolete quicker than you can say "Ultra High Definition".
Other features include the firm's Quadmatic Picture Engine that upscales content to 3840×2160 resolution using a 4-step process powered by Quad-core processing, as well as Precision Black and Micro Dimming technology to achieve deeper blacks and brighter whites for greater contrast performance. The South Korean television maker's proprietary S-Recommendation with voice interaction technology is on board too, not to mention potent 70W speaker output and DTS Premium Sound 5.1 capability that recreates an immersive simulated surround sound experience right in your living room.
Both the Samsung UE55F9000 and UE65F9000 are available to buy in the UK this month from specialist retailers.