Latest reports out of South Korea say that Samsung's first OLED TVs are finally about to hit the stores next week. The Samsung 55-inch televisions are expected to be priced at around 10 million Korean won (around £5,600), which – if true – would make them less expensive than cross-town rival LG's OLED TV models which are priced at 11 million won (£6,160). According to South Korea's largest news agency Yonhap, Samsung may be launching both regular and curved OLED TVs at the same time.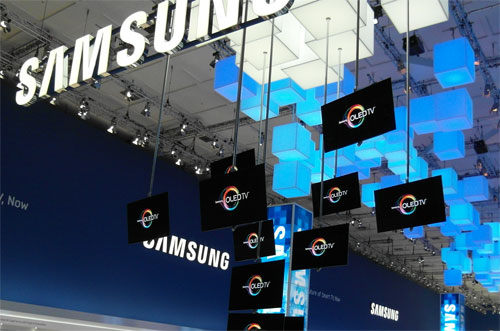 Last May, the Korean news website ETN reported that Samsung had finally managed to make some progress with improving its large-sized OLED panel yields, and this means that the company is now able to meet expected domestic demand for its first batch of OLED HDTVs.
There's no word about when the rest of the world might expect to see them arrive, but with any luck we won't have to wait too much longer. Our reason for optimism stems from rumours that Samsung is also set to unveil a new 75-inch OLED TV at the IFA 2013 in Berlin this September – presumably, that wouldn't happen unless the company is confident that it's able to ramp up production in the coming months. Not to be left out, LG will also unveil its own larger-sized OLED at IFA, only theirs is believed to be a 77-inch model. Rumour has it that both models will hit the shops sometime in early 2014.
That's still some time away though, but in the meantime we can start salivating over Samsung's new KN55F9500, a 55in Full HD "Real" OLED display that incorporates direct-emission RGB OLED subpixels (hence the "Real" tag). We don't know the full specs yet, but Yonhap reports that the F9500 will feature both voice and gesture UI recognition, all of Samsung's latest Smart TV features, new picture processing technologies, and active-shutter 3D. In addition, the TV will be powered by a 1.35GHz quad-core CPU.
As for Samsung's curved OLED, we saw a prototype of this at the CES show back in January 2013. Sporting a 55-inch panel (like the 'regular' version), the curved OLED is said to add more depth to the image, enabling a more realistic viewing experience. We're not certain if these will be launched next week as well – Yonhap says they "might," but hasn't come up with any additional details regarding its model number or price.
Source: Yonhap