Samsung's Smart television lineup for 2014 is one of the most impressive-looking from an aesthetic point of view, but improvements to its interface will also play a key role in the overall experience, if its latest updates are as cool as they sound.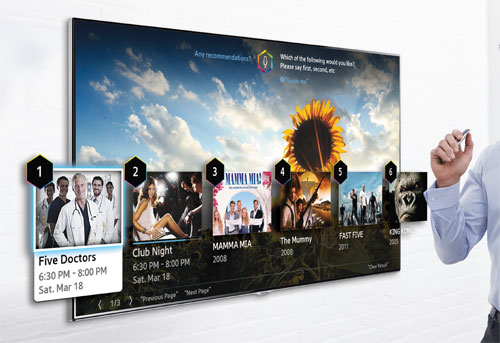 In an announcement today, Samsung described a number of improvements to its new Smart TV interface, with the coolest new feature likely to be its "Finger Gestures", which is a step-up from its previous gesture-based controls.
"Samsung's 2014 Smart TV models deliver significantly improved voice interaction and motion control features," said Kyungshik Lee, Senior Vice President of the Service Strategy Team of Visual Display Business, Samsung Electronics.
The company said that it will give a full demonstration of all the new features in its 2014 Smart TVs at the CES 2014 show next month, but for those who can't wait here's a little taste of what's to come:
First up is the "Finger Gestures", which allows viewers to flick through channels and change the volume simply by flicking their fingers in mid-air. According to Samsung, it's 2014 Smart televisions will make use of their built-in cameras to track users finger motions. Finger gestures build on the hand gestures that Samsung TVs already come with, such as zooming in by pinching or stretching, swiping through panels with a flat palm, and "liking" Facebook posts by giving a thumbs up.
The second major improvement is the expanded voice interaction. For this, Samsung says that the feature has been streamlined and enhanced to prioritize viewer's most popular functions. Previously, doing something as 'simple' as changing the channel was a rather convoluted process – one had to say "Channel change", followed by the channel number, but with the 2014 TVs all you'll need to do is say the channel number and that's it.
As for the voice search feature, this has also been tweaked slightly to make things easier. With its new TVs, all of the results will appear in one place to make it easier to sort through them, while important apps like news and weather can be viewed in more detail by clicking on those results.
Source: Samsung's official blog