Samsung pulled the covers off a series of curved LED LCD ultra high-definition (UHD) TVs at the CES Unveiled event in Las Vegas, prior to the opening of the 2014 International CES.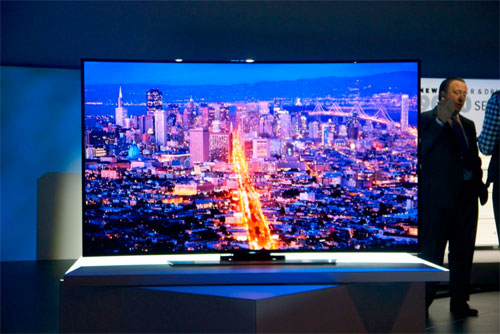 The 4K UHD U9000 series was shown in 55″, 65″ and 78″ sizes – and if a curved LED LCD TV isn't eye-catching enough for you, there's also a curved 21:9 (cinemascope-like) aspect ratio display which measures at 105-inch diagonal, which will likely go down as one of the show's more eye-catching inclusions.
The addition of a 21:9 display is welcome, albeit surprising, given that Philips introduced such a television a few years ago before quietly discontinuing the concept. The resolution of this particular display is 5120×2160, and since we're optimists, we'd hope that 4K delivery formats (be they streamed, downloaded, or delivered via upgraded Blu-ray or similar) will accommodate anamorphic encoding of 21:9 ratio movies rather than hard-coding letterbox bars into the image and relying on the TV to crop and scale.
The company also showcased an 85-inch LED LCD display which can be curved and un-curved on command, although we understand that this is a prototype rather than a final product. In the mean time, users will have to make the decision at the time of purchase, with the U8550 series appearing similar to the U9000s, albeit in traditional flat form.
The UHDTVs support the One Connect media box, which Samsung promotes as a future-proofing device: should there be any need for new connections or copy protection schemes in the future, the media box can simply be replaced. However, given that the shipping version is HDMI 2.0-compliant, we imagine this will largely act as reassurance from consumers rather than something that will actually need to be swapped out anytime soon.
To be blunt, given that there's really nothing wrong with flat screens, we're still unsure exactly what the point of the curved display is. The simplest answer is probably the correct one: it's a bold new look which will turn heads, and we would imagine can be implemented with minimal cost and re-tooling relative to brand new display technologies.
Either way, we look forward to getting a good look at these curvy new TVs in this new year – specifically with regards to how the curve affects screen uniformity.