With the Euro 2012 tournament well underway, football is at the forefront of many peoples' minds at the moment, making it the perfect time for technology giant Samsung Electronics to announce the launch of The Football App on its Smart TV apps store.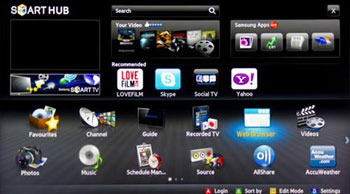 Samsung launches Football App on Smart TV apps store
The Korean television manufacturer has announced a partnership with the application's developer Motain, making The Football App available free of charge for owners of Samsung's 2011 and 2012 range of internet-connected HDTV models. The app will please die-hard football fans, as they will be able to access a wide range of footballing action via the service. This includes comprehensive coverage of more than three dozen football leagues and events across the globe, which are available in five languages.
Footie fans will also be delighted to know that the app is continually updated and refreshed, so that they are able to benefit from breaking industry news, live commentaries, video highlights and statistics. The service will also provide users with access to additional features and content such as player interviews, pre-match reports, press conferences, and even action from the buildup on match days.
Samsung UK's TV marketing director Guy Kinnell said that the provision of sports content is a big driver behind purchase of flat-screen TVs among consumers. He explained that 2012 is set to be a huge year for sporting events in the United Kingdom, and The Football App will enable the brand's customers to maximise their viewing and overall enjoyment of not only the Euro 2012, but also other football competitions that lay ahead. Kinnell added that the app will give viewers "the latest news in UK and global football on the biggest and brightest screen in the house".
Clearly pleased with the venture, Motain's managing director Dr Winfried Graf stated that the company is happy to be offering its successful smartphone app on a market-leading platform such as that found on Samsung Smart TVs.