Samsung Electronics has this week taken the wraps of its high-end lineup of QLED TVs and "The Frame" at a global TV launch event in Paris, positioning them as lifestyle televisions equipped with advanced cutting-edge technology.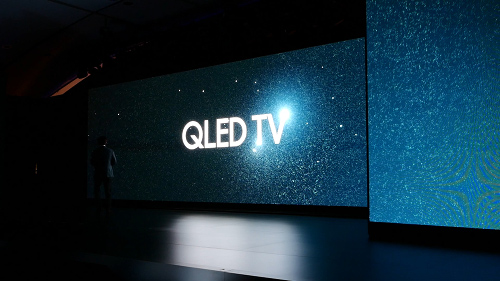 Paris, the renowned "City of Lights", was picked as a play on the "TV of Light", a moniker Samsung has given to its QLED television for the peak brightness and visual experience delivered. The chosen venue of Carrousel du Louvre also hinted at the direction the South Korean manufacturer is heading, moving beyond picture quality to a more holistic, design-oriented approach.
Developed in collaboration with leading Swiss designer Yves Behar, Samsung "The Frame" TV is intended to be a product that doesn't only comes alive when being watched, but also a display that blends seamlessly into your home decor by mimicking a picture frame hanging on a wall when "Art Mode" is on. Instead of going into standby like a conventional TV, the Frame television transforms into a work of art, letting the users exhibit custom-curated art pieces.
Available in 55 and 65 inches, the Samsung Frame TV will use SUHD rather than QLED quantum dot technology. Inbuilt motion and light sensors allows the display to not only turn off and save energy when no one is present, but also adjust the backlighting to make the art as realistic as possible depending of the ambient lighting in the room.
There are more than 100 art pieces in various categories such as landscape, architecture, wildlife, action, drawing. Further customisation is possible through numerous options for art layouts and colours, interchangeable bezels and an optional Studio Stand to best complement your living environment. Supplied Near-Invisible Connection and No Gap Wallmount permit clean installation into any living space.
Pricing detail for the Frame Television remains unannounced, but at least Samsung has released the official UK prices for its QLED series of televisions:
Samsung Q7F (flat-panel): 49in QE49Q7F £1999.99; 55in QE55Q7F £2,299.99; 65in QE65Q7F £3,099.99; 75in QE75Q7F £4,999.99
Samsung Q7C (curved screen): 49″ QE49Q7C £2,199.99; 55″ QE55Q7C £2,499.99; 65″ QE65Q7C £3,299.99
Samsung Q8C (curved): 55″ QE55Q8C £2,999.99; 65″ QE65Q8C £3,799.99; 75″ QE75Q8C £5,799.99
Samsung Q9F (flat): 65-inch QE65Q9F £4,899.99; 88-inch QE88Q9F £17,799.99
Pre-orders start this week, with shipment by the end of the month.