Samsung Electronics has pulled out of an agreement it had previously signed with 3D technology specialist RealD to co-develop an LCD-based 3DTV that is capable of delivering full HD 3D resolution to each eye using polarized glasses. The information surfaced in an earnings conference call hosted by RealD's management team that took place earlier this month.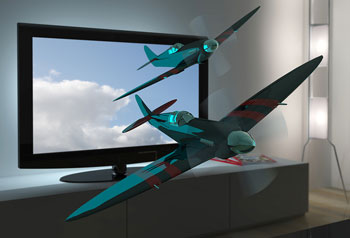 Samsung ends full HD passive 3D co-development with RealD
In the said conference call to investors and analysts, RealD's chief executive officer (CEO) Michael Lewis revealed that Samsung is no longer interested in deploying the California-based firm's passive 3D technology on its 3DTV models, preferring to focus instead on the active-shutter glasses (ASG) method that it has been using. According to Mr Lewis, the Korean TV manufacturer's U-turn was triggered by an internal audit of the company's HDTV lineup following a management change, which was further influenced by sluggish consumer demand for televisions worldwide.
The pullout represents a major blow not only to RealD – its share price tanked in aftermarket trading immediately following the revelation – but also to video enthusiasts who had previously looked forward to a solution that promised to combine the best traits of active-shutter and passive 3D technologies, namely the former's superior picture resolution in the third dimension, plus the latter's cheaper, lighter and more convenient polarized 3D glasses which do not need batteries, synchronisation nor charging.
Apparently, the way Samsung and RealD were planning to achieve this was by implementing the active-shutter process on the LCD screen rather than on the 3D glasses. They even got James Cameron, the famed director of Avatar 3D, to endorse the technology which now sadly appears unlikely to see the day of light. However, RealD is trying to remain optimistic despite this setback – the company is approaching other LCD panel makers to persuade them to take up its polarized 3-dimensional display technology.