In spite of weak conditions rocking television markets this year, Samsung Electronics has comfortably held onto its lead in the global LCD TV sales stakes, despite being chased hard by national rival LG Electronics, according to first-quarter shipment data from the research consultancy firm IHS.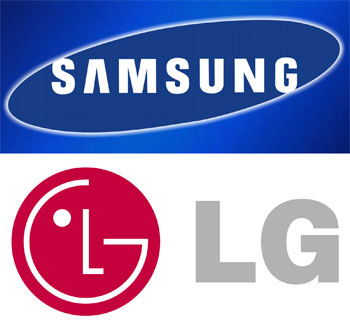 Samsung fend off LG to stay as world's No.1 LCD TV maker
HDTV sales have slumped dramatically in 2012 in the face of weakening consumer demand and oversupply from the previous year, forcing major brands such as Panasonic and Sony to wind down a number of loss-making operations and refocus their strategy on niche segments of the market. But while Japanese and North American brands panic, Korean firms Samsung and LG have made some smart moves to maintain their global dominance of LCD TV markets.
Samsung shines through good times and bad
Samsung successfully shipped a total of 8.2 million LCD TVs worldwide in the first quarter of 2012, far exceeding their nearest rivals LG and Sony, even though this figure was down some 37% compared to 2011's total fourth-quarter shipments. Poor market conditions have affected all major manufacturers to some degree, yet Samsung's admirable performance in these testing times means that it continues to hold a 19% share of worldwide LCD TV shipments.
The Seoul-headquartered conglomerate has once again proven its ability to maintain its position as a global leader, even in the most testing of economic climates, thanks to a combination of worldwide reach, competitive prices, and smart manipulation of supply chains.
Tom Morrod, head of technology at IHS, added:
"Samsung has no problem in adjusting, no matter what the market conditions – such is its reach that it can succeed in all segments of the TV industry, maintaining comfortable profits while its rival manufacturers struggle."
Throughout the first quarter, Samsung achieved a 5% positive operating margin, one of only two TV manufacturers in IHS' top five to do so, a statistic that underlines the weak condition of the LCD TV market at present.
LG picks up steam
Despite Samsung's apparent dominance, there are signs that its leadership position is under threat following a strong performance from cross-town rival LG, who performed better than anyone else in its first-quarter damage limitation exercise.
LG limited its decline to just 25%, outperforming every other brand in the top five, although it continues to trail Samsung by a considerable margin of six percentage points. One glaring statistic stands out head and shoulders above the rest however, one that Samsung especially will be all too aware of – LG's total share of global LCD TV shipments rose during the last period, from 13% up to 15%.
LG posted profits of 4.4% for the first quarter, joining Samsung as the only member of the top five to record any significant growth. IHS pointed to that fact that, unlike other brands that have been trying to stem loss-making divisions, both Samsung and LG have been willing to expand production in their most profitable operations in spite of the weak market.