So you've just gone and shelled out thousands of pounds on a crazy-expensive, brand spanking new, not-at-all-gimmicky curved-screen TV, only to realise that – whoops! – your existing sound bar is still flat.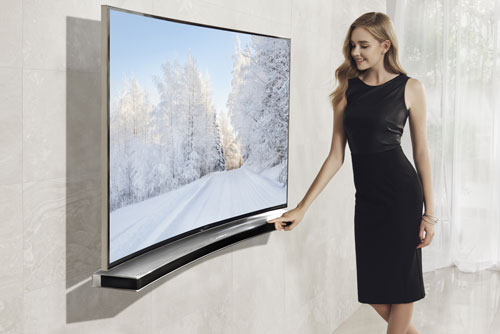 So does that mean you have to live with a geometric eyesore sitting in front of the telly for the rest of your life? Well, not if you're a Samsung fan, for the company has just launched the HW-H7500/ H7501, the world's first curved soundbar to complement its 55-inch and 65-inch curved TVs, be them 4K UHD (ultra high-definition) or regular 1080p full HD models.
Samsung's sleek looking aluminium-clad device has been designed to sit perfectly with your curved television, whether you fit it just underneath where the curved will match up perfectly, or mount it on a wall above. Boasting a slim width of 42mm plus a curvature radius of 4200mm, the device also promises some decent audio too, thanks to its 8.1-channel surround sound support. There's even few side speakers thrown in as well, which Samsung says will add to the "immersive" experience the curved-screen is said to deliver.
In addition to the curved soundbar, Samsung has rolled out a new product in its Wireless Audio Multiroom Series, called the M3. The M3 allows viewers to wirelessly stream audio across their home from multiple sources, so they can "enjoy clear and balanced sound even in smaller areas around the home". Samsung has also made big claims about the M3 being 'less fiddly' to install. That's because it's gone and obtained an "Easy Installation" certificate from TUV, an official certification authority in Germany.
Music can be streamed to the M3 speakers via a smartphone or a tablet, and somewhat handily, these devices can also be used to control the speakers too. Finally, you'll be able to use them along with the music streaming service Spotify Connect, which has just announced a new partnership with Samsung.
While pricing and availability for the products has not yet been released, the Samsung HWH7500 and M3 series will break cover at IFA 2014 which kicks off in Berlin this week, where we expect to obtain more info and ears-on experience.