Samsung has launched its 2015 lineup of LED TVs at the Consumer Electronics Show (CES) in Las Vegas today. Given how much the South Korean manufacturer had promoted ultra high-definition (UHD) and curved screens over the course of 2014, it's not surprising to find these two trends featuring heavily among Samsung's 2015 J-series television models. For the year ahead, the company is also implementing various innovations such as full-array local-dimming (FALD), quantum-dot film (QDF) and high dynamic range (HDR) to extract even better performance from LED LCD display technology. The high-end sets equipped with such technologies will be designated by an 'S' prefix under an 'SUHD' moniker.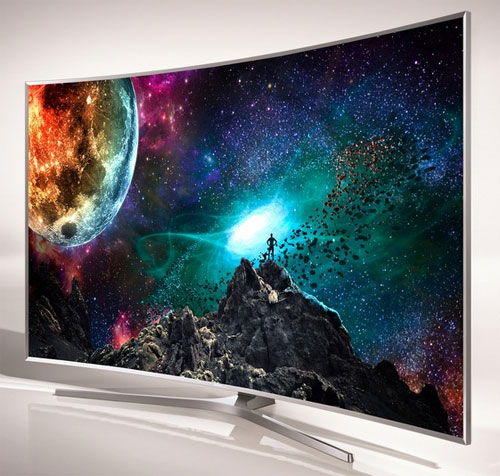 Samsung's 2015 flagship will be the JS9500 series, available in 65-inch and 88-inch screen sizes. It's styled in silver with a "Chamfer Bezel", and features a curved design, direct LED with full-array local dimming, quantum dot colours, high dynamic range technology, and the firm's new-for-2015 Tizen Smart TV operating system.
Probably most impressive among the specifications is high dynamic range technology. From what we gather, Samsung is not using the HDR technology from Dolby Vision which was first unveiled at CES 2014, but has developed its own. Contrary to the common misconception that HDR simply pushes the brightness on the entire screen to eye-searing levels (around 1,000 cd/m2) which would be pointless since we calibrate our TVs to much lower luminance for a more comfortable viewing experience in the home environment, the technology is applied locally (with the help of FALD) and specifically to certain bright areas to improve highlight (and perhaps even whiter-than-white) detail and enhance realism.
It's interesting to see Samsung attempting to counter the very real OLED threat from cross-town arch-rival LG Electronics by pursuing the other end of the contrast ratio spectrum: instead of lowering black level and improving shadow detail, Samsung is boosting luminance and gradation in brighter portions of the screen. To be fair, we've seen a similar strategic course of action from the Korean brand before – the company redesigned its F8500 plasma display panel (PDP) for better daytime performance rather than trying to match or surpass the blacks on Panasonic's critically acclaimed plasmas.
Although HDR in the home needs specially mastered content for the maximum benefit, Samsung claimed to have developed pseudo-HDR technology on its television sets to inject normal content with some HDR brilliance too, analogous to 2D-to-3D conversion when 3D was all the rage. Onboard quantum dot nano-crystal technology allows for more than 90% coverage of the DCI colour standard.
Lower down Samsung's SUHD television hierarchy are the JS9000 with curved UHD panels (available in 48in, 55in, 65in and 78in sizes), and the more affordable Samsung JS8500 with flat-screen design (coming in sizes of 48″, 55″ and 65″). We shall bring you more details on pricing and availability as soon as we get them.