Here at HDTVTest, we've already reviewed the 40-inch HDTV from Samsung's Series 6 range – the LE40A656. A combination of superior panel performance, video processing, usability and similarly great connectivity meant that this display received a "Highly Recommended" award.

For the benefit of those who can't make room (or don't want to make room) for a 40″ display, we've taken a brief look at the 32″ version – the Samsung LE32A656 LCD television (also available as LE32A656A or LE32A656A1… essentially the same model). Aside from the obvious difference in screen size, the 32″ model lacks the 100hz motion technology presented on the 40″ and larger models, suggesting that other differences may lurk under the hood.
Note: The Samsung LE32A656 is no longer available. See here for the other Samsung LCD TV deals.
Design
Samsung's "touch of red" design is, unsurprisingly, consistent with the other models from Series 6. As a result, we won't have any revelations regarding it here, but this reviewer can offer his own individual opinion and say that it looks fantastic on the Samsung LE32A656 LCD TV.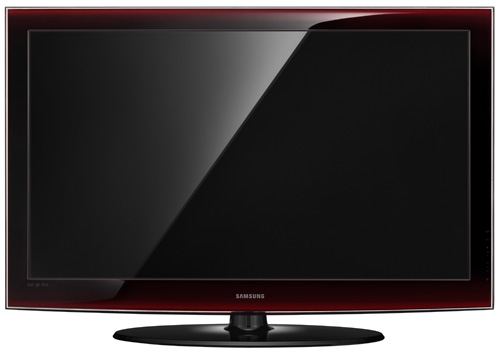 The subtle champagne-coloured red tinge around the edges of the bezel creates a look that's classy without being distracting, and the centimetre or so of transparent glass-like material that lies beyond seals the deal: the Samsung LE32A656 is an HDTV that looks far pricier than it really is, perhaps as a result of its own merits, but perhaps also because it seems reminiscent of Sony's premium X-Series BRAVIAs. Looking at standard bezels after this will feel like a real step down.
The Samsung LE32A656 LCD television rests on top of the supplied (but not pre-fitted) table-top stand, which is finished in gloss black. The LCD panel can swivel left and right on this stand, should you wish to angle it away from a window on a sunny day, or simply get a better look at the action.
Connections
Samsung provides ample connectivity options on the LE32A656 HDTV. There are no less than four HDMI inputs (three of which can be found on the back), as well as two SCART terminals for backwards compatibility. One of these is RGB capable, whilst the other is capable of Composite video only and should be avoided. There's the obligatory Component video input (only one, but this is becoming less of a problem), a VGA PC input, and on the side, a shared block of S-Video, Composite Video and Stereo Audio jacks, handy if you have a standard definition camcorder, for instance.
Rear: 3 x HDMI, VGA, component, 2 x Scarts, aerial, analogue & digital audio outputs
This side panel also houses the fourth HDMI input, as well as Samsung's USB input (branded "WISELINK"), which lets you connect a USB storage device to play JPEG and MP3 files on the TV.
Operation
One of the first things to hit you once you start configuring the Samsung LE32A656 is its speed. Jumping around menus and selecting options is lightning fast, making the display a real joy to quickly set up and use.
The standard on-screen menu is split into five usable segments (there's a sixth icon showing a satellite dish, but was greyed out at all times for us). That leaves the [Picture], [Sound], [Setup], [Input], and Digital TV Setup pages.
Samsung provide an extensive array of picture setup options within these menus. As well as standard adjustments, the [Picture] menu allows adjustment of the Backlight intensity, which is a step above some other manufacturers. There are even more tweaks hidden within the [Detailed Settings] and [Picture Options] submenus, the most important ones allowing you to disable the [Dynamic Contrast] system, adjust [Gamma] for a very slight accuracy improvement, and user accessible control over the [White Balance], which is excellent.
As the Samsung LE32A656 doesn't feature 100hz technology, there's a feature called [Movie Plus] to be found in its place. This is still a motion interpolation algorithm, albeit one which won't give you any increase in motion resolution. Instead, it's here for the benefit of those who don't enjoy the natural look of film material, and prefer to give films and high-budget programmes more of an "amateur video" look.
EPG (Electronic Programme Guide)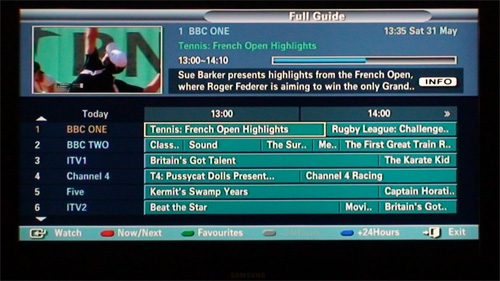 Samsung's EPG is brimming with thoughtful design features. This one screen houses a preview window, programme description, time progress bar, and still has room to display the contents of six channels. Scheduling a reminder for a programme is as easy as highlighting it and pressing the middle remote control button – there are no unnecessary "Are you sure?" screens. The blue button on the remote jumps forward 24 hours on the programme grid – very handy if you've just seen an advert for a programme that's showing the next night. Pressing the channel – and + buttons on the remote jump up and down a page, allowing you to navigate the wealth of services available with ease.
The only slight down-side is that the EPG is a tiny bit slow to respond when compared with the rest of the LCD TV's menus, but this really is a minor complaint given how fast these are.
Remote Control
Samsung's remote control design appears to have been designed with accessibility in mind: its large buttons and bold, clear text may not be the most visually appealing combination around, but they do mean that super-precise eyesight won't be necessary to quickly identify the buttons. If you like to watch in a dark room, you'll appreciate the fact that the keys are lit up by an appealing orange backlight (which you can easily disable to conserve battery power).
Everything is well positioned, too, with the Menu, directional pad, and AV Input keys are located nearby, as are the Volume and Channel rocker buttons. The satisfying feel of the buttons rounds off this well-designed remote.
Calibration
Greyscale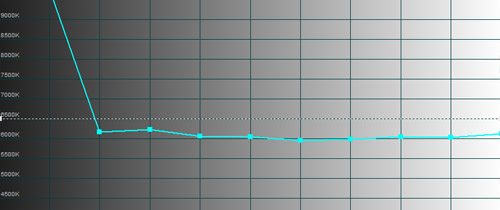 Pre-calibration CCT with [Picture Mode] "Movie" & [Colour Tone] "Warm2"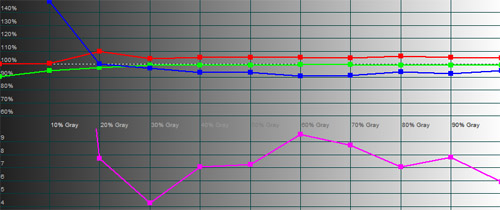 Pre-calibration RGB tracking and delta errors (dEs)
As evidenced by the pre-calibration chart, the Samsung LE32A656's out-of-the-box "Warm2" greyscale preset (unlocked by setting the Picture [Mode] option to "Movie") is relatively close to the D65 standard to begin with. Of course, Samsung provide an easily accessible adjustment which allows this to be refined even further, which we naturally took advantage of to achieve the following – a much better result: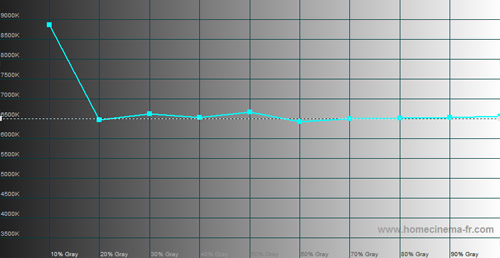 CCT after greyscale calibration in "Movie" [Picture Mode]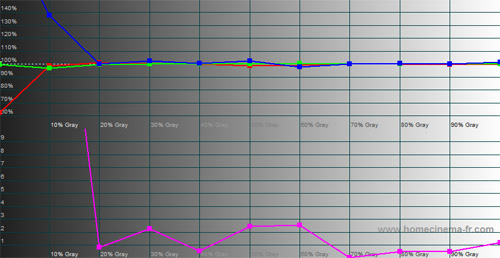 RGB tracking and delta errors (dEs) after greyscale calibration
Colour
Although the Samsung LE32A656's colour accuracy is good overall, there was still some desaturation, particularly in the greens, after calibration. This is almost certainly superior to too much saturation, however.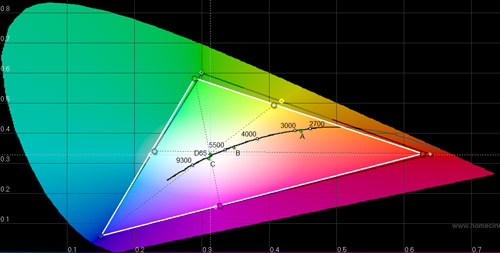 [Colour Space] "Auto" CIE Chart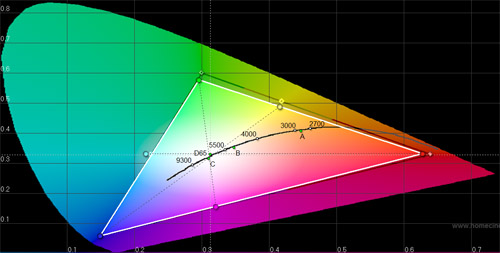 CIE chart with reference to HD Rec. 709 after calibration with HD source
Benchmark Test Results
| | |
| --- | --- |
| Dead pixels | None |
| Screen uniformity | Clouding reducible to negligible levels |
| Overscanning on HDMI | 0% with [Size] set to "Just Scan" |
| Blacker than black | Passed |
| Black level | Excellent |
| Black level retention | Stable |
| Primary chromaticity | Good after calibration with "Custom" [Colour Space] |
| Scaling | Above average |
| Video mode deinterlacing | Very good; effective jaggies reduction |
| Film mode deinterlacing | Passed 3:2 and 2:2 cadences in all resolutions |
| Viewing angle | Good for an LCD TV (90°) |
| Static resolution | Fully resolved 1920×1080 over HDMI & component |
| Motion resolution | 250 |
| Digital noise reduction | Acceptable at baseline |
| Sharpness | Defeatable edge enhancement |
| 1080p/24 capability (PS3) | Accepts 1080p/24 video signal; no telecine judder |
| Input lag (rel. to Samsung F96) | On par in [Game] mode or over VGA; 0-20ms slower otherwise |
Power Consumption
| | |
| --- | --- |
| Default | 196 watts |
| Calibrated | 71 watts |
| Standby | 1 watt |
Black Level
Fitted with an SPVA panel, the Samsung LE32A656 is off to a great start as far as black level is concerned. Adding to the effect is Samsung's "Ultra Clear Panel" finish, a reflective treatment which helps give the image the illusion of more depth (albeit with some potentially irritating reflections).
This impressive panel, coupled with the fact that Samsung allows us to adjust the backlight level, mean that the Samsung LE32A656's post-calibration black level was a suitably inky 0.06 cd/m2.
Screen/ Backlight Uniformity
As with any LCD display, unevenness was visible prior to calibration. Toning down the frankly insane out-of-the-box backlight intensity during the calibration process made this unevenness essentially invisible, except under the darkest room conditions.
Static Resolution
Thanks to the Samsung LE32A656's "Just Scan" mode, it was possible to resolve all 1920×1080 pixels of a 1920×1080 source for perfect clarity.
Motion Resolution
Our usual test from the FPD Benchmark Blu-ray Disc allowed us to measure the motion resolution at around 250 lines.
Video Processing
In this department, the Samsung LE32A656 LCD HDTV performed identically to its bigger 40″ brother. In other words, it effectively smoothed jaggies for video material, engaged the effective processing to resolve maximum detail from interlaced film sources, and scaled lower resolution images suitably well.
The Samsung LE32A656's film deinterlacing mode is automatic – there is no option to force Video deinterlacing. This isn't a huge loss, but we did notice that the video processor would sometimes get confused when content transitioned between film and video (video credits at the end of a film-based programme, for example). Control over this functionality would be a bonus.
Picture Quality
High Definition (Blu-ray)
There's little else to say in this department, other than performance was hard to fault. The superior black levels, correct handling of 24p input material, 1:1 mapping, and relatively accurate post-calibration greyscale all added up to create incredibly pleasing image quality. The only slight annoyance was related to the LCD panel's response time: jet-black objects sometimes produced noticeable motion trails, especially when viewed against a white background.
Standard Definition (Freeview Digital TV)
There are no problems with Samsung's implementation of the digital TV tuner. What's being beamed over the air by broadcasters will still look ropey, but the Samsung LE32A656 does not indulge in any half-baked attempts to "enhance" the picture. As a result, Freeview looks as good as can be expected.
HD Console Gaming (Xbox 360)
This category was difficult to test, not because of any fault of the Samsung LE32A656, but because my Xbox 360 has now died for a second time and is currently in transit back to Microsoft for repairs (for the bargain price of £60, no less!) Fortunately, unlike Microsoft's, Samsung's hardware is well designed, so assuming your games console works in the first place, the LE32A656 LCD television will prove a brilliant screen for gaming. We measured the input lag at between 0 and 20ms relative to the Samsung F96, which is one of the reasons why gaming was such great fun on this TV. The psychological effects of input lag are incredibly interesting, because I found myself enjoying games that I'd previously tired of on my own (laggy) set.
However, Samsung have included one very questionable design element with this LCD television. Although the LE32A656 does include a "Game Mode" (accessed by pressing E.MODE on the remote), this is effectively useless because it forces retina-burning brightness and greyscale options on the viewer, and locks out even the most basic of picture options. It's fortunate indeed that the gaming performance is so good on its own.
Conclusion
Pros
Excellent black level with decent shadow detail
"Ultra Clear Panel" increases perceived depth, but reflects ambient light (see Cons)
Good SD video processing
Comprehensive set of picture adjustment controls available in user menu (including white balance and a rudimentary colour management system)
"Just Scan" allows for exceptional detail from 1:1 pixel mapping
Displays 1080p/24 video signal without exhibiting telecine judder
Generous connectivity with 4 HDMI 1.3 input, USB port, etc.
Settings can be stored independently for each input
Can accept and display 1920×1080 progressive video signal over VGA
User menu and EPG navigation incredibly responsive
Cons
Shiny "Ultra Clear Panel" reflects ambient light and causes glare
Mild input lag (except in "Game" mode or over VGA) may affect sensitive gamers
Some clouding and backlight unevenness (though reduced to unobtrusive levels after calibration)
Summary
Samsung's displays have come a long way in recent years. It would appear that the huge Korean manufacturer has learned how to pair their excellent LCD technology with video processing that, for the most part, does it justice. If you're looking out for a modestly sized 1080p display and can position it in a way which prevents the reflective screen surface from becoming a problem, then the Samsung LE32A656 presents exceptional value for money.