Samsung's latest mid- and high-end flat screen HDTVs have received rave reviews from us in recent months, but it's been a while since we tested a model from their budget range (especially pertinent in these economically uncertain times).

With this in mind, we got our hands on a Samsung LE32B450 LCD TV which can be found online at a credit-crunch-busting price of £350. Well and truly affordable then, but how does the Samsung LE32B450 fare in our picture quality tests? Let's find out…
Note: The specific model we reviewed was the Samsung LE32B450C4W, which may be sold as Samsung LE32B450, Samsung LE32B450C, Samsung LE32B450C4 or Samsung LE32B450C4W by high-street stores like John Lewis, Comet and Currys, or online retailers such as Amazon or Dixons. These terms may be used interchangeably throughout this review to refer to the same model.
Design
The Samsung LE32B450 LCD television sports a glossy black bezel which is largely no-frills except for a transparent layer of perspex extending beyond the subtly-curved bottom border. The LCD screen itself is not as reflective as those found on the B650 and B750 series, due to the absence of Samsung's "Ultra Clear Panel".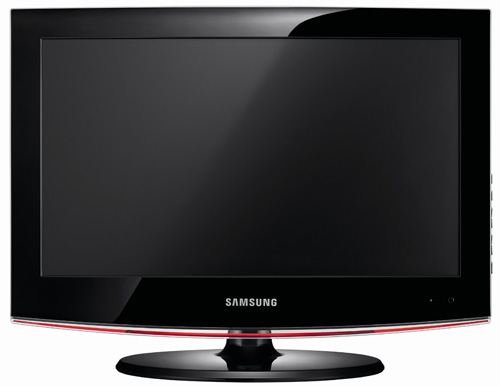 Build quality is reasonable, and the swivelling table-top stand (packaged separately from the LCD screen inside the shipping box) provides solid support for the panel. Although its soundstage and stereo separation can be left wanting as a result of the speakers' downfiring arrangement, the Samsung LE32B450 still musters sufficient midrange clarity (for dialogue) and volume to satisfy any run-of-the-mill needs.
Connections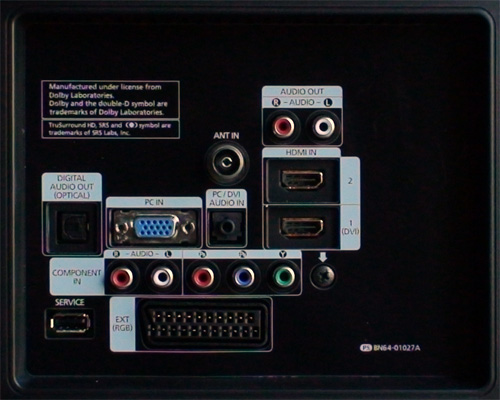 Rear: 2 x HDMI, VGA, component, Scart, aerial, digital & analogue audio out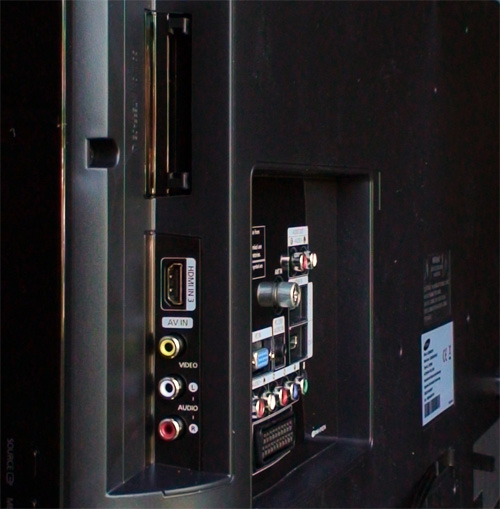 Side: HDMI, composite, Common Interface slot
Calibration
Greyscale
Out of the box, "Movie" [Mode] with its default "Warm2" [Colour Tone] yielded the greyscale closest to D65 standard on the Samsung LE32B450 LCD TV:

Pre-calibration CCT with "Movie" [Mode] & "Warm2" [Colour Tone]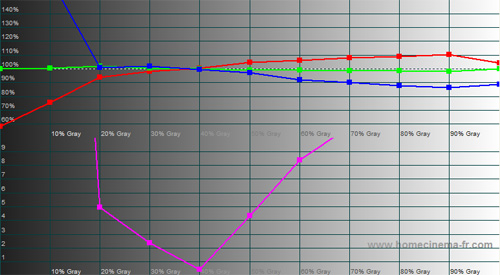 Pre-calibration RGB tracking and delta errors (dEs)
Taking full advantage of the RGB offset and gain controls available in the [White Balance] submenu, we slowly brought the divergent red and blue channels (above 40% stimulus) back into line:

CCT after greyscale calibration in "Movie" [Mode]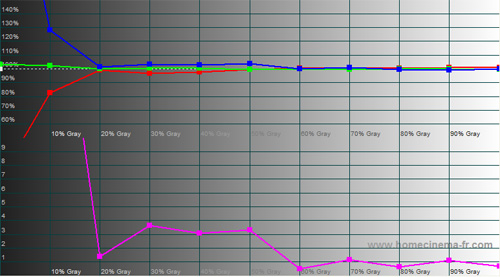 RGB tracking and delta errors (dEs) after greyscale calibration
There remained a bump in blue between 30% and 50% stimulus, but at least delta errors (dEs) were kept below the perceptible limit of 4 from 20% stimulus onwards.
Gamma
Overall gamma was around 2.55 initially, which was a bit too dark for our liking. Fortunately the user-accessible gamma control on the Samsung LE32B450 allowed us to adjust it closer to the 2.2 ideal:
| | |
| --- | --- |
| | |
| Gamma curve after calibration | Gamma tracking after calibration |
Colour
Unlike the B650 and B750 series, the Samsung LE32B450 is not equipped with a colour management system (CMS). Instead, two [Colour Space] presets are provided, namely "Auto" and "Native":
| | |
| --- | --- |
| | |
| [Colour Space] "Auto" | [Colour Space] "Native" |
Apart from yellow and magenta secondaries, the colour gamut on both [Colour Space] options looked quite similar at first glance. However, we found it much easier to align the colour decoding accurately (at least for high-definition sources) with [Colour Space] set to "Native". Because the [Tint] control rotated all 3 secondary colours around a central axis, aligning any one of them entailed sacrificing one or two of the others, so unfortunately we would have to make do with a slightly off yellow: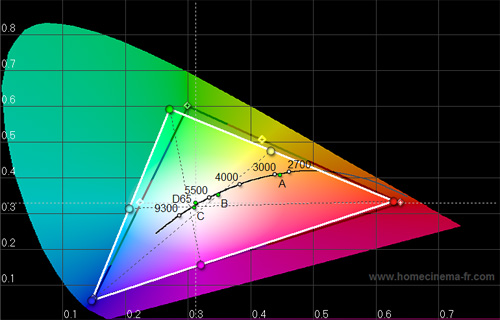 Post-calibration CIE chart with reference to HD Rec. 709
Benchmark Test Results
| | |
| --- | --- |
| Dead pixels | None |
| Screen uniformity | Excellent |
| Overscanning on HDMI | 0% with [Size] set to "Screen Fit" |
| Blacker than black | Passed |
| Black level | Deepest among non-LED LCDs (0.04 cd/m2 calibrated) |
| Black level retention | Stable in "Movie" [Mode] during normal content |
| Primary chromaticity | Green primary deviated towards blue |
| Scaling | Good |
| Video mode deinterlacing | Good; largely effective jaggies reduction |
| Film mode deinterlacing | Passed 3:2 & 2:2 cadences in all resolution |
| Viewing angle | 90° |
| Motion resolution | 300 |
| Digital noise reduction | Acceptable at baseline |
| Sharpness | Very mild ringing for full HD content (due to downscaling) |
| 1080p/24 capability (PS3) | Accepts 1080p/24 video signal; no telecine judder |
| Input lag | On par with Samsung F96 |
Power Consumption
| | |
| --- | --- |
| Default "Standard" [Mode] | 70 watts |
| Calibrated "Movie" [Mode] | 45 watts |
| Standby | <1 watt |
Picture Performance
Even though it sits pretty low in Samsung's hierarchy of LCD HDTV for 2009, the Samsung LE32B450 did not have any difficulty matching its higher-end siblings (like the B650 and B750 series) in terms of black-level performance. Calibrated black level was measured at 0.04 cd/m2, which lent ample depth and contrast to the picture on screen.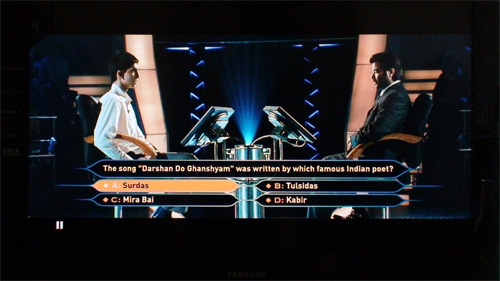 On some flat panel HDTVs, deep blacks are inevitably spoiled by muddy shadow detail, but that is not the case here with the Samsung LE32B450: we could still appreciate the individual figures in the audience behind Jamal (Dev Patel) as the lights dimmed down on the game show in Slumdog Millionaire (Blu-ray).
Screen uniformity was excellent, perhaps due to the smaller screen size. We noticed some very brief black level fluctuations when the source player loaded the disc (DVD or Blu-ray), which caused the info banner at the top left of the screen to brighten then darken, but once the info banner went away, no auto-dimming was detected either in test patterns or real-world viewing material.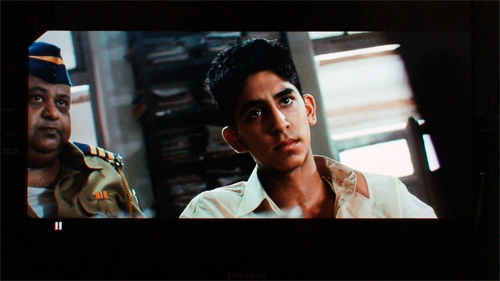 Colours appeared naturally balanced, with skin tones suitably convincing due to the absence of red push. The Samsung LE32B450 also handled 1080p/24 video signal from our PS3 well, portraying the sweeping shots of the Mumbai slums without any sign of telecine judder.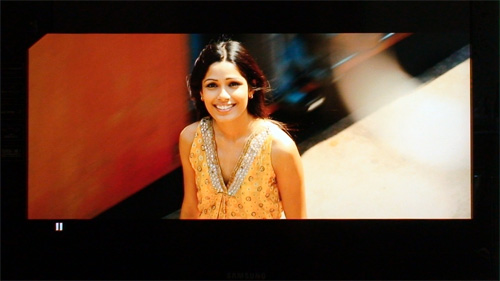 Up-close, the Samsung LE32B450's native resolution of 1366 x 768 precludes it from displaying 1080 content with the razor-sharp crispness seen on other full HD models. However, unless you sit less than 4 feet away from the screen, you'll be hard-pressed to tell the difference due to the resolving limit of our eyes.
Standard Definition
Herein lies the greatest strength of the Samsung LE32B450: it dealt with standard-def content better than any other 32-inch LCD televisions we've tested thus far. Scaling/ upconversion quality was good, capturing sufficiently sharp detail either off-air or from DVDs. Jagged edges in video-based material were cleaned up effectively, and digital noise was adequately suppressed at baseline.
With [Film Mode] set to "Auto", the Samsung LE32B450 LCD television successfully detected and processed 3:2 cadence over 480i and 1080i, and 2:2 cadence over 576i for film-based content. It even managed to eradicate the moiré from the red Coca Cola sign saying "Go Bridget Go" in the notorious test scene from the PAL DVD of Bridget Jones: The Edge Of Reason.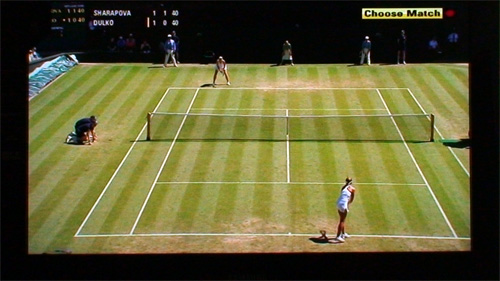 Add class-leading blacks and natural colours to the mix, and you have one very solid SD performer. The lack of 100Hz motion-compensated frame interpolation (MCFI) technology did put a slight dent in motion resolution, but we were never overly troubled by motion blurring when we watched Wimbledon tennis on BBC.
Console Gaming
Bucking the trend of high(ish) input lag experienced on the latest Samsung flat-screen HDTVs, the LE32B450 delivered praiseworthy gaming response. With [Game Mode] engaged, we measured input lag on the Samsung LE32B450 to be on par with that on our resident Samsung F96 LED-backlit LCD TV reference. Disabling [Game Mode] did not seem to cripple the Samsung LE32B450's gaming response too much either: 8 times out of 10 the recorded input lag would equal that on the F96.
Conclusion
Exhibiting class-leading black-level performance and standard-definition handling, the Samsung LE32B450 gets a wholehearted recommendation from us here at HDTVTest. It does not offer 100Hz technology nor full HD 1920 x 1080 native screen resolution, but these are minor niggles especially considering its bargain-basement price. The Samsung LE32B450 is conclusive proof that you don't need to break the bank to find a flat-screen television that is more than suitable for SD viewing, console gaming, and the occasional HD critical viewing.