A 1080p LCD TV for around £320? Fantasy not long ago, but the Samsung LE32C530 proves that this is very much reality today. As part of Samsung's "Series 5" range, the LE32C530 is designed with low prices in mind, but the display still features a Full HD panel, 3 HDMI inputs, and some multimedia playback capabilities. You do miss out on 100hz/200hz motion clarity improvements, Samsung's colour management controls, and the Freeview HD capable DVB-T2 tuner, but these omissions won't necessarily prove lethal for everyone. Some true bargains have come out of Series 5 in the past, and Samsung's 2010 mid-range LCD televisions have actually been superior in some ways to the high-end offerings, so we have high hopes for this budget LCD TV. Let's see what the Samsung LE32C530 can achieve…

Note: The specific model we reviewed was the Samsung LE32C530F1WXXU, though it may be sold by retailers/ e-tailers as the Samsung LE32C530, Samsung LE32C530F1 or Samsung LE32C530F1W. While we did not review the 40-inch Samsung LE40C530, there shouldn't be any significant differences in picture quality given their similar specifications.
Design
Unlike the mid-range Samsung displays, the LE32C530 doesn't feature a fully "glass-like" finish, but instead has the cosmetically similar gloss black. However, there's still a small area of transparent plastic at the bottom of the bezel which might fool a few people. The back panel, as usual for Samsung's 2010 CCFL-backlit (non-LED) LCD TVs, is made out of light metal rather than plastic, something we normally only see on Plasma TVs. This seems to give a perception of higher build quality.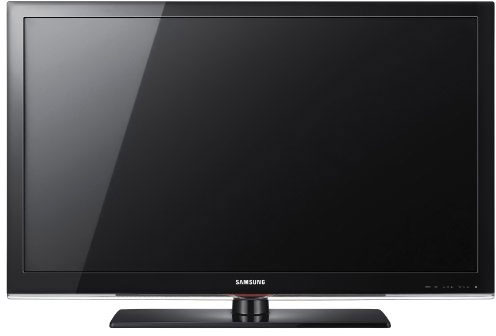 The supplied table-top stand is also finished in gloss black, and allows the Samsung LE32C530 panel to swivel left and right by a generous amount – a nice feature to see retained on a low-price model. The final assembled TV and stand both feel built to a high standard: the various connectors on the back panel feel locked tightly in place, and don't recess inwards when you're plugging cables in (something we noticed on older Samsung displays).
Connections
The back panel features 2 HDMI inputs, with the third and final input mounted on the nearby side panel. There's also a PC "VGA" input, analogue Component inputs, a single SCART input (RGB capable), and one Composite video input with accompanying stereo audio jacks on the side. A USB input and Common Interface card slot complete this highly typical, but also highly serviceable selection of inputs.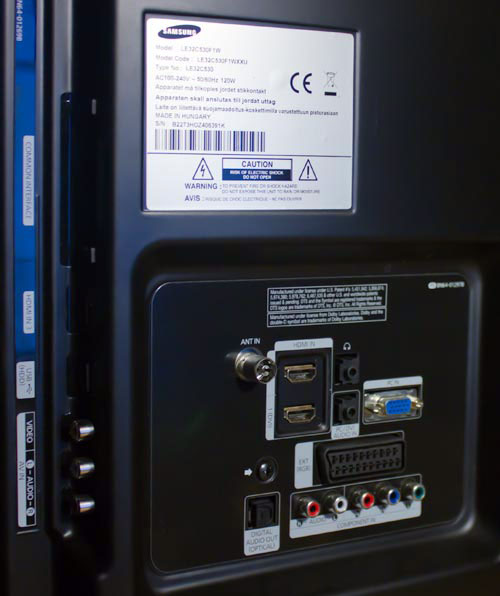 Rear: 2 x HDMI, VGA, component, 1 x Scart, aerial, audio & headphone outs
Side: HDMI, Composite video, USB, Common Interface slot
Operation
When compared to higher-end Samsung displays, the LE32C530 still has a good amount of picture calibration controls. Naturally, control is given over basic image parameters such as Backlight, Brightness (Black Level), Contrast (White Level), Sharpness, Colour, and Tint. There are no 10-point Greyscale calibration controls (just the standard Low/High system with six controls for the entire Greyscale range) and no advanced Colour controls on the Samsung LE32C530, but there is still a [Colour Space] option which allows the user to select between two modes, one of which produces an exaggerated colour gamut and another which comes closer to HDTV (Rec.709) standard.
| | |
| --- | --- |
| | |
| [Picture] menu | [White Balance] menu |
There is also a [Digital Noise] filter, which is effective in removing analogue video noise. Unfortunately, there is little use for it now that we (at least in the UK) are firmly in the era of Digital broadcasting: any older programmes originating on analogue video formats are typically heavily denoised by broadcasters, anyway. The effects of this control's digital counterpart, the [MPEG Noise Filter], are much more difficult to discern.
Calibration
Note: Our Samsung LE32C530 review sample was calibrated using Calman Professional, the industry-leading video calibration software.
Greyscale
After unboxing our Samsung LE32C530 review unit (which had a good number of hours' usage on it already) and letting it warm up, we selected the most accurate out-of-the-box preset mode ("Movie") and made basic adjustments to the Backlight and Brightness settings, and observed the results. The on screen image already looked absolutely excellent, so we were eager to get out our Klein Instruments K-10 meter to get some hard data on just how well the LE32C530 was reproducing greyscale shades.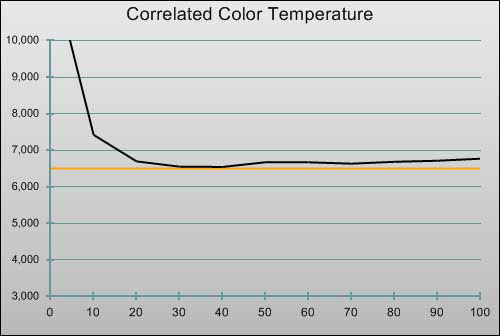 Pre-calibration CCT in [Movie] mode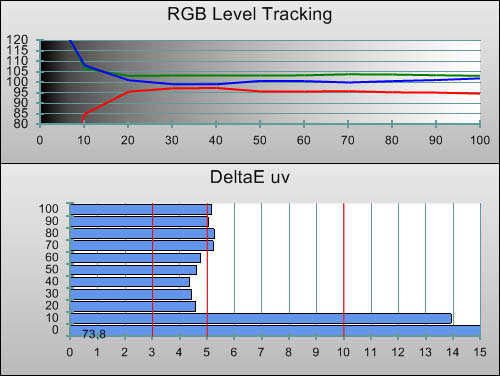 Pre-calibration RGB tracking and delta errors (dEs)
The measurements above may be deceptive at first, but look at the scale to the left and you'll see that there is typically only about 5% too little red and about 4% too much green making up the colour of Grey in the image. We imagine that a lot of smaller displays such as this one will end up in secondary viewing environments (bedrooms, perhaps even kitchens…) and are less likely to receive the full calibration treatment than a larger TV in a home cinema environment might, so we're delighted to see this randomly picked unit performing so well without any additional calibration work. As a result of this, on-screen images don't have any obvious incorrect colour bias to them, giving them a good sense of accuracy and depth.
The only real weakness of this performance is the common LCD issue of inaccuracies creeping into shadowed areas, in this case, the slightly blue-tinted blacks (visible on the chart at 10% stimulus). It's not too jarring an issue, but it was slightly visible when watching the Samsung LE32C530 in a darker viewing environment. As a result, this is one thing we sought to remedy during calibration.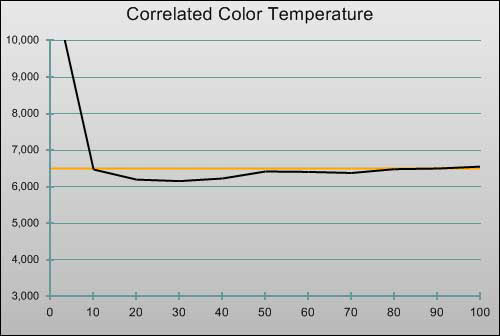 Post-calibration CCT in [Movie] mode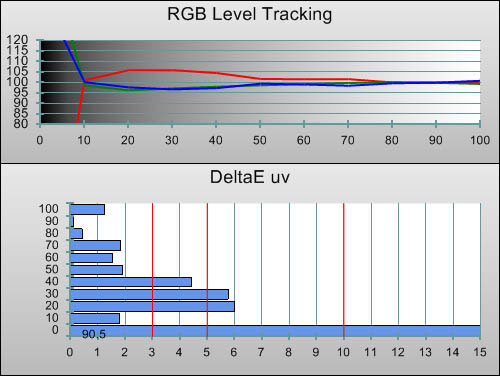 Post-calibration RGB tracking and dEs in [Movie] mode
The Samsung LE32C530 features easily accessible control over Greyscale tracking in its [White Balance] menu, so users who have measuring devices and software (or want to pay for the expertise of an ISF technician who does) can make the picture quality that little bit better. Our first calibration attempts didn't completely remove the slight blue tint in dark areas of the image, so we went back and, while jumping back and forth between 10% and 20% grey test patterns, levelled out the slight inaccuracy to produce the final result seen above. This left a tiny excess of red (visible at 20-40% stimulus) as the Samsung LE32C530's sole petty crime against perfectly accurate video. Calibrated or not, this aspect of the picture quality was excellent.
| | |
| --- | --- |
| | |
| Gamma curve in [Movie] mode | Corresponding gamma tracking |
The default [Gamma] setting of "0" left us with good tonal distribution between dark and light. As is often the case with LCD TVs, the Gamma tracking chart on the Samsung LE32C530 revealed a bump upwards at 10% stimulus. In real-world viewing, this translates into a slight loss of shadow detail, but as is often the case with Gamma inaccuracies, we personally found this minor and not something that viewers would notice without a comparison display.
We tried adjusting a control called [Shadow Detail] on the Samsung LE32C530, to see if it would get us any closer to perfection. This adjustment actually controls the low-level Backlight intensity. Using this control, it's possible to make shadow details less visible in order to gain marginally blacker blacks, but we left it in its default state since we found that the black level was already more than acceptable for a budget LCD TV. Raising the control did result in slightly brighter blacks, but didn't remove the bump in the chart.
Colour
[Colour], [Tint], and [Colour Space] are the only controls on the Samsung LE32C530 which let us adjust colour reproduction, as there are no advanced Colour Management controls on this budget TV. We tried both of the [Colour Space] modes and found "Auto" to be the best of the two. For comparison, "Native" made little difference, but did slightly raise the Luminance levels of some of the colours, making them appear a little too bright, and offset the hue of Magenta by some amount.
Armed with the knowledge of the "Auto" mode's superiority, we then used the two remaining controls to achieve the most accurate colour reproduction on the Samsung LE32C530.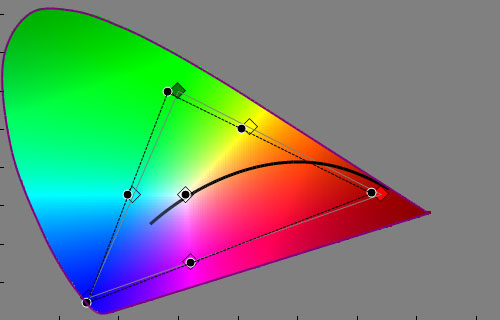 Post-calibration CIE chart with reference to HD Rec.709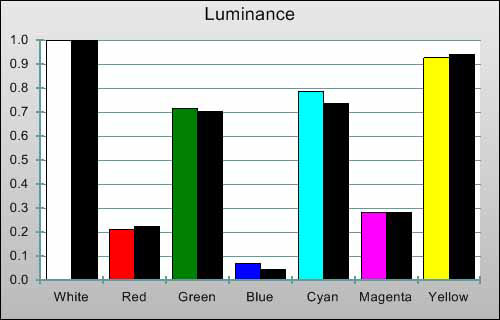 Post-calibration colour luminance (coloured bars = targets; black bars = measured values)
We had to drop [Colour] to 43 from its default setting of 50 to avoid Luminance levels (above chart) being too high and making the colours appear slightly overbearing. Additionally, we were able to set [Tint] to "G53/R47" to bring Magenta and Cyan closer to their ideal hues. The end result is very good indeed and while more control would always be welcome, we don't imagine any viewers objecting to the quality of the colours on the Samsung LE32C530.
Benchmark Test Results
| | |
| --- | --- |
| Dead pixels | None |
| Screen uniformity | Very Good |
| Overscanning on HDMI | 0% with Aspect Ratio set to "Screen Fit" |
| Blacker than black | Passed |
| Calibrated black level | 0.04 cd/m2 |
| Black level retention | Fully black video signal causes immediate auto-dimming |
| Primary chromaticity | Very Good in [Movie] mode |
| Scaling | Excellent |
| Video mode deinterlacing | Very effective jaggies reduction |
| Film mode deinterlacing | Failed 2:2 PAL (but passed 3:2 NTSC) |
| Viewing angle | Acceptable for an LCD TV |
| Motion resolution | 300 lines |
| Digital noise reduction | Optional |
| Sharpness | Defeatable edge enhancement |
| Luma/Chroma bandwidth | Full Luma, slightly blurred Chroma |
| 1080p/24 capability | Accepts 1080p/24 video signal; no telecine judder |
| Input lag | Only 14ms compared to lag-free CRT! |
| Full 4:4:4 reproduction | No, 4:4:4 input subsampled |
Power Consumption
| | |
| --- | --- |
| Default [Standard] mode | 106 watts |
| Calibrated [Movie] mode | 84 watts |
| Standby | 1 watt |
Picture Performance
Black Level and Uniformity
For those keeping tabs on what panels Samsung is supplying in its TVs, the LE32C530 we reviewed was sourced from our partners at Multizone AV and is a retail model, not a "Golden Sample" cherry-picked by a PR department. The panel fitted to our review sample appeared to be one of Samsung's own, as it carried the code LTF320HM01. The panel was manufactured in Slovakia.
Its performance was consistent with what we've come to expect from SPVA LCD panels, with blacks measuring a satisfyingly inky 0.04 cd/m2 – provided there's at least a small amount of something other than pure black in the video signal, that is. The Samsung LE32C530 partakes in the common practice of auto-dimming, and as soon as you send an all-black video signal to the TV, its Backlighting will fade and then switch off, giving absolutely no light output from the TV at all (this might prove distracting to videophiles during movie watching). During the last couple of reviews, we've been investigating exactly how the Samsung displays control their Backlighting, and it appears that the situation is not as clear-cut as we had once thought. When we left our meter reading full-screen grey tones from the Samsung LE32C530, we found that the readings gradually rose over time (this was even after we'd left the TV on for several hours, making this a separate phenomenon to CCFL warmup). This change was so gradual (typically in increments of 0.001 cd/m2) that it was not visible to the eye, but it would appear that the range of black levels the Samsung LE32C530 reproduces is around 0.04 – 0.09cd/m2. Both of these are enough to give a reasonably deep, enveloping black, but the behaviour intrigues us to the extent that we'll be trying to figure out exactly what the TV's Backlighting controller is doing (and asking Samsung for input) in the future.
Panel uniformity was also very good. In the past, SPVA LCD panels often revealed huge amounts of patchy white "clouding" in dark areas, but this seems to be a thing of the past – on CCFL backlit LCD TVs, at least (Samsung's ultra-slim LED LCD screens still show the issue more than we'd like). This leaves only the slight non-uniformity in darker grey tones (10-40 IRE), which we imagine most users will find much more tolerable. For example, when viewing a full 20 IRE screen from the centre position, the left and right edges appeared very slightly brighter than the rest of the screen, with the middle appearing a tiny bit more reddish. By contrast, a full (100 IRE) screen appeared much more consistent.
The Samsung LE32C530's viewing angle is not exceptional. From the sides, gamma shift is visible and the on-screen image quickly loses contrast and "punch". We imagine that anyone considering an LCD TV is sadly used to this by now, though, so it probably won't factor into the purchasing decision much.
Motion Resolution
Regular readers won't be surprised in the slightest to hear that the Samsung LE32C530 managed to resolve approximately 300 lines of resolution during motion, making it essentially the same as every other LCD TV without a 100hz/200hz system that we've reviewed. This is generally enough to make 24fps film material look watchable, but fast-paced video material will look blurred to anyone who's used to seeing it on a higher-end LCD equipped with motion-compensated frame interpolation (MCFI), or better yet, a Plasma or CRT display. The acid test, of course, is televised sports material, where avid viewers typically find that LCDs can't keep up with the action.
With a mix of real-world content, the subjective viewing tests on the FPD Benchmark Blu-ray test disc, and the freeware LCD image analysis program PixPerAn, we confirmed that the motion characteristics of the panel in our Samsung LE32C530 review sample was basically consistent with other SPVA panels. The most obvious motion related anomaly is with "dragging blacks", where the pixels on the LCD panel cannot change from one extreme to another (in this case, black to white or even black to mid-grey) fast enough to avoid visible motion trails. Fortunately, the issue is no worse than on most other similar LCD screens and is certainly much better than the very obvious black streaking exhibited by some previous Sony implementations.
Standard Definition
We were expecting a cheaper Samsung display to lack the company's acclaimed video processing, and perhaps fall back onto a less impressive solution from another OEM. Regardless of whose silicon is hiding in the back of the Samsung LE32C530, the Standard Definition to HD conversion performance holds up quite favourably when compared to the company's more expensive sets.
We first tested the Diagonal Filtering capabilities of the Samsung LE32C530, to understand how well the video processor suppresses flickering on diagonal edges during the interlaced SD to HD conversion process. The result was very good, with tiny jaggies only just being noticeable. One interesting thing to note here is that the clearer the motion of the panel, the more prone the TV is to revealing this issue – this is an area where LCD panel blur can actually help to mask video processor shortcomings. We don't think that's what's going on here, though, since the LE32C530's performance in this area is noticeably better than comparable (and more expensive) Sony LCD TVs featuring similar panels. This great performance means that video material that's usually challenging for an HDTV to show (such as a football game or the old classic "rippling striped American flag" pattern) will appear free of coarse diagonal edges, and look more natural as a result.
The first hitch came with SD Film material, which requires a different deinterlacing process in order for the best results to come through. The Samsung LE32C530 did seem to detect the PAL 2-2 film cadence, but it frequently fell back into Video deinterlacing mode during the HQV disc test sequence, creating occasional "hiccups" of jagged edges. For the sake of completeness, we also ran the US-centric NTSC tests and noted that only the most common 3-2 test passed, which is very different behaviour to higher-end Samsung TVs, lending some weight to the "different chipset provider" theory. Fortunately, this has basically no consequence to us in Europe. Since the Samsung LE32C530 doesn't detect the PAL 2-2 cadence correctly, film material from standard-def sources (non-upscaling DVD players, digital TV, standard-def satellite TV decoders, etc.) has small jaggies visible in areas of fine detail.
Lastly, the scaling performance is excellent: all of the details from the source were reproduced in a crisp, clean manner, with very little ringing around transitions in the chart. In fact, the Samsung LE32C530's scaling performance may actually look superficially sharper than Samsung's top-end edge adaptive scaler found in TVs such as the UE46C8000, but both are of a very high standard. One other thing we confirmed while looking at these charts was that the Samsung LE32C530 overscans (crops the edges) of SD video slightly more than the other TVs we've seen from the company, although the effect is rarely detrimental.
High Definition
One of the first things we noticed after pulling out our usual stack of Blu-ray Disc movies was that the Samsung LE32C530 was reproducing them smoothly, without any motion judder. Our usual test (the gentle pans through space from Pixar's Wall-e) were shown just how they should be, without any uneven motion and also without any additional data being generated via interpolation (since the LE32C530 doesn't feature any motion compensated interpolation processing).
Unlike Sony's TVs, Samsung's don't automatically disable overscan with 1080p video by default. This means that the user has to press the [P.SIZE] remote control button to select the "Screen Fit" mode in order to get the clearest image without the outer edges being cropped. We hope more manufacturers follow Sony's lead and do away with overscan by default for HD material.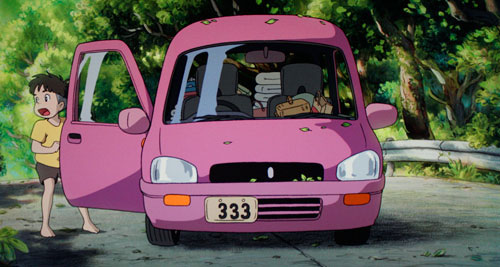 When we reviewed some of the mid-range and high-end Samsungs, we complained that they were causing the natural film grain texture that's inherent to faithful/high quality video transfers of films to become smeared, even with the TV's Noise Reduction controls shut off. It seems that this is/was an intentional [mis]feature, and it has been addressed, for the most part, with firmware updates. There is no such issue with the Samsung LE32C530 – film grain is reproduced cleanly, without becoming smeared or "sticky".
A minor issue was visible when we fed a Chroma test chart, which features very fine coloured details, to the Samsung LE32C530. We noted that the finest horizontal details (in this case, thin red and blue vertical lines) in the chart weren't visible and were instead smudged into a dark purple tone. This means that some fine coloured details aren't making it to the screen, quite a common issue with 2010 HDTVs. This is very minor, because the human visual system isn't very sensitive to coloured details anyway. On a 32″ screen, it should never pose a visible problem.
Users can keep this information in mind and then also keep the deep black level, high quality Greyscale tracking, and very good colour reproduction in mind to get a good idea of what HD material looks like on the Samsung LE32C530. So long as the user complies with the "LCD rule" of avoiding sitting to the sides of the screen, the image the Samsung LE32C530 puts out is excellent for this price range.
Console Gaming
In our input lag and subjective gaming tests, the Samsung LE32C530 performed unbelievably well, lagging by only 14ms! Needless to say, this figure makes input lag completely irrelevant on this LCD TV, making it one of the best we've ever seen for fast, fluid gaming enjoyment.
In the past, we have attributed the large input lag typically seen on SPVA LCD TVs to response time compensation processing. The fact that this SPVA LCD TV has achieved responsiveness on par with (and marginally better than some) Plasma displays challenges this theory and suggests that other unwanted video processing may be to blame. Just for comparison, the best input lag figure we could squeeze out of the recently reviewed Samsung LE40C750 was 41ms, which made games requiring fast reflexes much less enjoyable. We'd love for manufacturers to begin commenting on the issue of input lag, because it is a serious problem on many HDTVs – but fortunately, not this one.
One other thing to note that is that the input lag here is this low even when "Game Mode" is not enabled. In fact, on the Samsung LE32C530, the "Game Mode" switch is in fact nothing more than a marketing feature. On most Samsung TVs, selecting "Game Mode" temporarily blacks the screen out as it adjusts to an alternate driving mode, but here it does nothing except for applying a separate custom picture mode with heightened colour temperature and colour brightness. We left if off and just used our calibrated "Movie" mode for playing games (the 14ms measurement was in fact taken in this mode).
This excellent state of affairs means that the Samsung LE32C530 is sure to be a hit with gamers looking for a smaller screen. We hope that its 40-inch equivalent performs as well.
Conclusion
Despite being cheap, the Samsung LE32C530 delivers a high quality experience across a wide range of sources. The LCD panel itself (the core component) is capable of high contrast pictures, and its motion clarity, while nowhere near Plasma levels, is acceptable by LCD TV standards. 24p material such as Blu-ray Disc movies are produced cleanly, clearly, and without judder. Video games are great fun to play on the Samsung LE32C530, because its video processor does not introduce any input lag worth mentioning. And high motion video content appears largely free of jaggedness thanks to the TV's high quality Deinterlacing process.
The only minor issue is a lack of stable 2-2 film cadence detection, which can create small jaggies during Film material broadcast on SD TV – although given the blurred image typical of Digital TV broadcasts and the smaller size of this screen, this really doesn't end up doing a lot of damage. Additionally, the colour accuracy is in the "very good" category rather than being excellent.
The Samsung LE32C530 is a bargain in just about anyone's eyes. It can be had from many online stores for approximately £320, and in-depth testing has revealed that there's more to be had for the money than we initially hoped for. We can't think of any comparable displays at this end of the market and highly recommend this display to users who are happy to tolerate the viewing angle and motion limitations of LCD TVs. While it is not the equal of every other HDTV that we've rated "Highly Recommended", the Samsung LE32C530 offers outstanding value for money that earns it a spot in this category.