We recently tested and lavished praise on the Samsung Series 6 (A656) LCD TV, but that wasn't the only HDTV range the Korean electronics giant has brought out this summer. To cater for every requirement and budget imaginable, Samsung has also released the HD-ready Series 4 LCD televisions, and the full HD 1080p Series 5 LCD range which most notably lacks the "100Hz Motion Plus" technology implemented on the Series 6. Today we're going to have a look at the latter in the form of a Samsung LE40A558 (updated to the latest firmware 1007.2 at this time of writing).

Note: Four Samsung Series 5 LCD HDTV models are available to buy in the UK, namely the LE40A556P, LE40A557P, LE40A558, and LE40A559P. We've been informed that the chief difference between these models is cosmetic… they all share the same underlying LCD panel and video processing. Although we only tested the Samsung LE40A558 LCD television, the picture quality findings should be applicable to the rest.
Design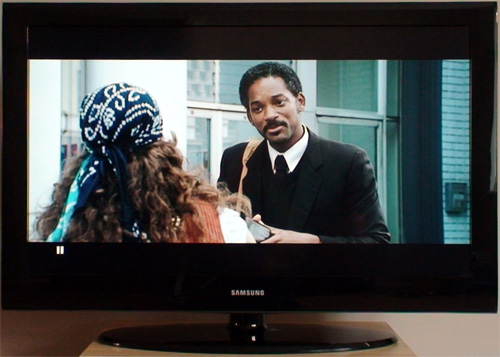 Whereas the one on A656 had streaks of red, the Samsung LE40A558 sports a no-frills glossy black bezel. Stripped of the much-heralded "Ultra Clear Panel", the LCD screen on Samsung LE40A558 is obviously much less reflective than that found on the A656, which should appeal to buyers who find it difficult to control ambient light (especially during daytime) in their viewing environment.
Connections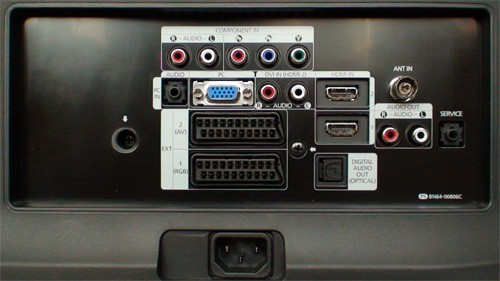 Rear: 2 x HDMI, VGA, component, 2 x Scarts, aerial, digital and analogue audio outs
| | |
| --- | --- |
| | |
| HDMI, USB, Svideo, comp, headphone | Control buttons on right side of TV |
Operation
The on-screen user menu on the Samsung LE40A558 LCD television is essentially the same as that on the A656, except for the perfectly understandable replacement of [100Hz Motion Plus] with [Movie Plus] in the [Picture Options] submenu: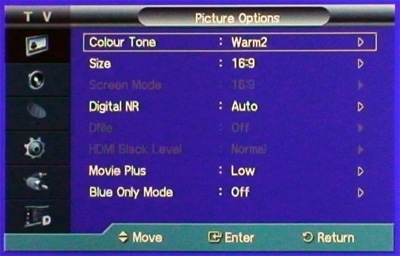 Just like the A656, navigation of the user menu and EPG on the Samsung LE40A558 HDTV is quicker and more responsive, which is a welcome improvement over last year's models.
Remote Control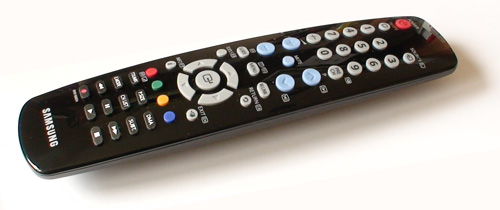 While its front surface is similarly coated by polished black finish, the infrared remote control for Samsung LE40A558 is not backlit, and feels marginally lighter in the hand compared to that bundled with the A656. Its back part is tapered towards the top and bottom of the remote, giving it a boat-like shape when viewed from the side. There is ample space between the rubbery buttons which thankfully still return decent tactile feedback.
Calibration
Greyscale
Out-of-the-box, switching to "Movie" [Picture Mode] with its default "Warm2" [Colour Tone] produced a greyscale nearest to the D65 standard on the Samsung LE40A558: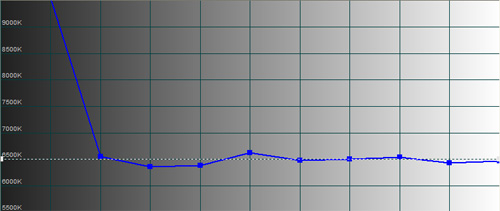 Pre-calibration CCT with [Picture Mode] "Movie" & [Colour Tone] "Warm2"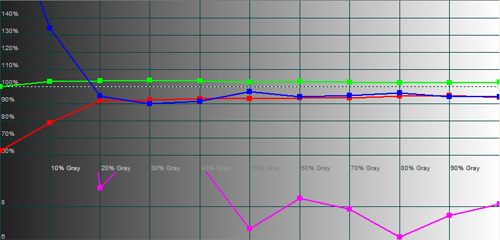 Pre-calibration RGB tracking and delta errors (dEs)
Analysing the RGB tracking graph however revealed that both red and blue components were lower than ideal, which meant that delta errors (dEs) were not contained within the perceptible limit of less than 4. Adjusting the RGB offset and gain controls in the [White Balance] submenu allowed us to rectify this:

CCT after greyscale calibration in "Movie" [Picture Mode]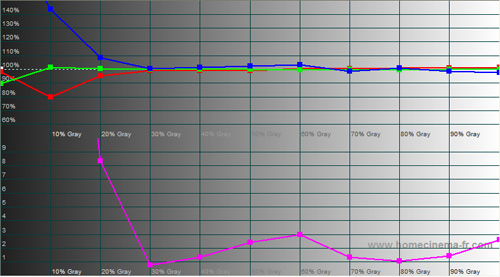 RGB tracking and delta errors (dEs) after greyscale calibration
Colour
| | |
| --- | --- |
| | |
| Pre-calibration CIE chart | Post-calibration CIE chart |
Even though we managed to align the colour hues and decoding on the Samsung LE40A558 using the inbuilt colour management system, colour saturation – especially in the region of 0% to 75% – was deficient. Unfortunately the easiest way we discovered that could restore colour saturation to an acceptable level whilst in "Movie" [Picture Mode] was to throw colour accuracy and decoding to the wind, and engage [xvyCC] with [Colour Space] set to its default value of "Native".
Benchmark Test Results
| | |
| --- | --- |
| Dead/ stuck pixels | 1 stuck green subpixel 12 o'clock |
| Screen uniformity | Very good |
| Overscanning on HDMI | 0% with [Size] set to "Just Scan" |
| Blacker than black | Passed |
| Black level | Very good |
| Black level retention | Stable |
| Primary chromaticity | Above average post-calibration with "Custom" [Colour Space] |
| Scaling | Above average |
| Video mode deinterlacing | Very good; effective jaggies reduction |
| Film mode deinterlacing | Passed 2:2 cadence in 576i, and 3:2 in 480i |
| Viewing angle | Good for an LCD TV (90°) |
| Static resolution | Fully resolved 1920×1080 over HDMI & component (noisier) |
| Motion resolution | 300 regardless of whether [Movie Plus] was engaged or not |
| Digital noise reduction | Acceptable at baseline |
| Sharpness | Defeatable edge enhancement |
| 1080p/24 capability (PS3) | Accepts 1080p/24 video signal, but judders |
| Input lag (rel. to Samsung F96) | On par in [Game] mode or over VGA; 30ms slower otherwise |
Power Consumption
| | |
| --- | --- |
| Default | 182 watts |
| Calibrated | 90 watts |
| Standby | 1 watt |
Picture Quality
High Definition (Blu-Ray)
The Samsung LE40A558 accepted 1080p/24 video signal from our Sony PS3, but in doing so the LCD television exhibited a type of ultra-jerky judder that was much more prominent that your usual telecine effect. Largely present throughout The Pursuit Of Happyness, our Blu-ray film choice on this occasion, the judder was most noticeable during slow pans, for example that across Chris Gardner (Will Smith) under the shower (10:36), and the one down the Dean Witter building (12:36), not to mention the scrolling end credits.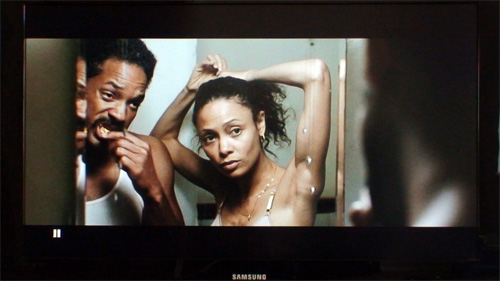 Because these "jerks" was quite distracting, we had no choice but to revert to 1080p/60 output from the PS3: the resultant telecine judder was much more subtle and tolerable. The [Movie Plus] option is greyed out for 1080p/24 source, but could potentially be engaged for 1080i/60 or 1080p/60 film-based material to eliminate telecine judder. However, after experimenting with it for some time we decided not to apply [Movie Plus] to movies for several reasons: it introduced some "video effect" (albeit mild) into movies; we detected low-grade motion smearing; and it seemed to be hit-and-miss… some movies/ sources would be totally smooth while others would become jerky as hell.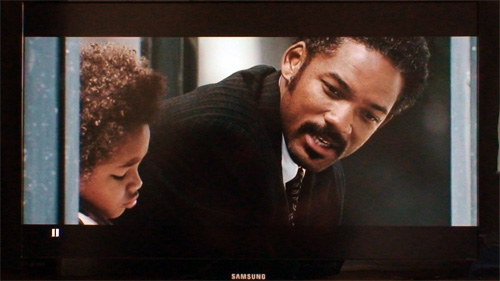 The Samsung LE40A558's calibrated black level was not as deep as that on the A656, but still ranked very good for an LCD TV. Shadow detail on the LE40A558 was also a touch less distinct compared to the A656, though nowhere near as muddied as last year's models. The near-D65 greyscale achieved after calibration lent a substantial degree of authenticity to the many outdoor daylight scenes of San Francisco inside the movie.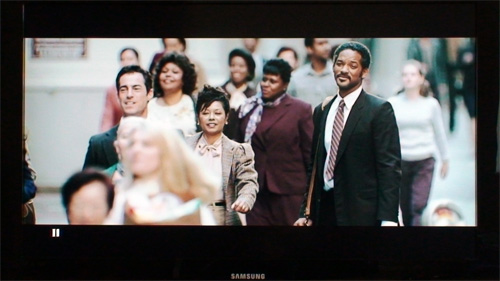 When it came to colours, it was a case of choosing between saturation and accuracy. If we adhered to accurate hues and decoding, the blue sky and flesh tones would look somewhat pale, and the overall image appeared flat. To our eyes, the better option was to go for a more well-saturated picture (by boosting [Colour], engaging [xvyCC] or setting [Colour Space] to "Native") at the expense of introducing mild red push which led to ruddier-than-usual skin tones.
Standard Definition
Even with [Movie Plus] disabled, the Samsung LE40A558 successfully detected 2:2 cadence in 576i (and 3:2 in 480i), and correctly administered the relevant pulldown to film-based material. Coupled with above average scaling and effective jaggies smoothening, Freeview digital TV looked as good as that on the A656 bar a lighter shade of black and slightly inaccurate colours (a necessary sacrifice to restore saturation). As long as we adopted a sensible viewing distance, and the transmission bit-rate was up to scratch, the Samsung LE40A558 acquitted itself very well in standard-def handling.
HD Console Gaming (Sony PS3)
The Samsung LE40A558 manifested the same amount of input lag as the A656 (i.e. 30ms slower than a Samsung F96), which could be reduced by engaging "Game" [Entertainment Mode] or using VGA connection. Whether or not this input lag will affect your gaming performance depends on your individual sensitivity, and the reflexes demanded by the particular game.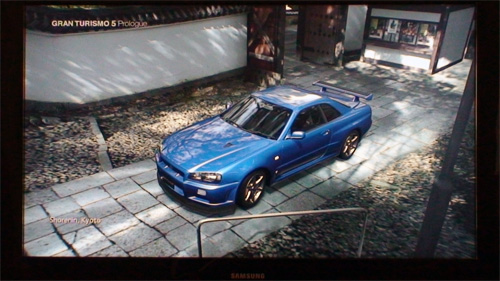 With [Aspect Ratio] set to "Just Scan" for 1:1 pixel mapping, and [Sharpness] to "0" to avoid excessive edge enhancement, the Samsung LE40A558 HDTV retrieved and presented the delicate detail in Gran Turismo 5: Prologue with precise aplomb. Because console games are seldom mastered in accordance with D65 standard, there's nothing stopping you from embracing "Standard" or even "Dynamic" [Picture Mode] to obtain a bright and vibrant image for a captivating gaming experience.
Conclusion
Blessed with black-level performance, connectivity and video processing that are very good but not quite best-in-class, the Samsung LE40A558 nevertheless represents an attractive proposition due to its bargain-basement price, especially if you're willing to take its technically-identical siblings LE40A559P and LE40A556P into consideration when shopping around. That said, if you can spare an extra £200, we highly recommend going for the LE40A656 which does quite a few things (blacks, colours, motion resolution, native 24fps playback) better.