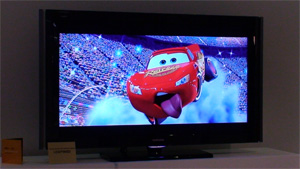 Samsung's exhibition stand covered the largest area among all the HDTV manufacturers I'd visited at IFA Berlin 2007. Strategically positioned near one of the main entrances, it was crawling with dealers, journalists and consumers… like they were holding a trade show of their own. This is probably a testament to the popularity (read: value-for-money) of their products, not to mention their financial clout as the world's leading consumer electronics company.
Being someone who avidly follows all the advancements in the high-definition television industry, I naturally hustled and bustled my way through the crowd to home in on a pair of LED-powered LCD TVs, the 52″ Samsung LE52F96BD and the 70″ LE70F96BD. Armed with an array of local-dimming LED matrix, the backlight can – theoretically – be shut off totally to produce an absolute black level that's even lower than the Pioneer Kuros, resulting in an extremely high contrast ratio (Samsung have quoted us a figure of 500,000:1).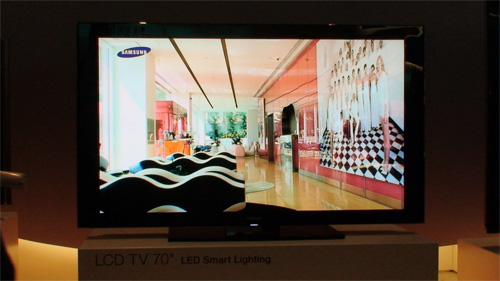 While across the pond US consumers have been able to buy and enjoy these LED LCD TVs since 2 weeks ago, here in the UK I probably would still have to wait for a little while longer before getting my hands on a sample to review in the home environment. What I have received though is a Samsung LE40F86BD LCD TV, which is the next step up from the LE40M86BD with 100Hz Motion Plus technology and a higher claimed dynamic contrast ratio: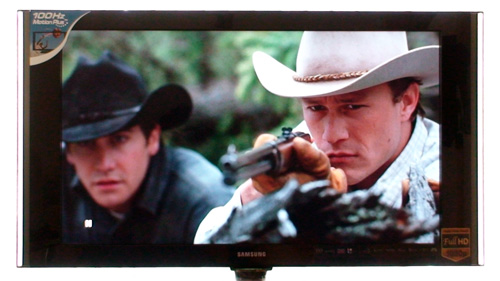 Initial tests looked promising: absolute black level on the LE40F86BD indeed measured slightly lower than the 40M86; and it successfully processed 1080p/24 signal from the PS3 without any telecine judder. Now that I've finished reporting on what I'd seen at the IFA, I can devote my time to calibrating and testing this television… hopefully the full review will be up over the weekend.