At a time when other big brands like Sony and Philips were scampering to jump on the LED backlight bandwagon, Samsung was already readying its second generation for public consumption, having been the first electronics manufacturer to release an affordable consumer-grade LED-backlit LCD HDTV – the F96 – last year. A couple of months ago, our review of the entry-level (in LED LCD TV terms) LE40A786 gave us a glimpse of how far Samsung's LED backlighting technology has progressed; today we focus our attention on the gargantuan Samsung LE55A956, their current LED-backlit LCD flagship model.

Note: The most recent LED-backlit LCD HDTV released by Samsung is the UE40B7020/UE40B7000, which employs an Edge LED backlighting system that is different from the (widely regarded as superior) local-dimming variant on the LE55A956.
Design
The Samsung LE55A956 LED LCD TV will impart a quiet yet elegant tone of authority to any (suitably-sized) living area. Its now-familiarly-reflective Ultra Clear Panel™ is framed by what appears at first glance to be minimalistic black/ charcoal gray bezel. However, close-up inspection under brighter lighting reveals a subtle honeycomb pattern embellishing the entire bezel. These patterns are overlaid by a sheet of translucent plastic which extends beyond all 4 borders of the bezel to deliver a sweet "frame-in-frame" effect. A vertical column of touch-sensitive control buttons – stylishly paired with another column of LED indicators which light up sequentially when the Samsung LE55A956 is switched on – at the bottom right of the LCD panel completes the exquisite aesthetics.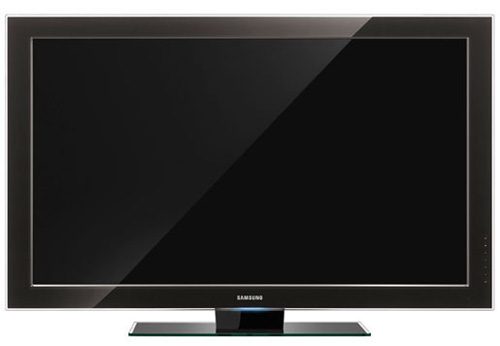 The Samsung LE55A956 HDTV is gracefully supported on a glossy black, rectangular glass base. To our surprise, the pedestal does not swivel, a departure from last year's design.
Connections
Rear: 3 x HDMI, VGA, component, 2 x Scarts, aerial, Svideo, network, audio outs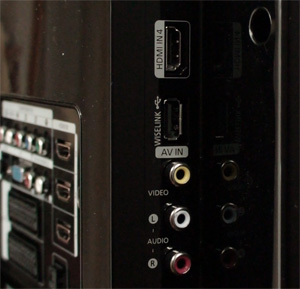 Side: HDMI, USB, composite,

NO

headphone jack
Operation
The Samsung LE55A956 maintains essentially the same EPG and cascading on-screen menu we've seen throughout their 2008 range of flat panel HDTVs, though it must be pointed out that on the LE55A956, overall navigation was more sluggish and not as responsive. Perhaps the complexity of Samsung's LED backlight algorithm has taken a toll on the speed of menu rendering.

In addition to the polished black surface (a magnet for smudging fingerprints) and the well-sized, clearly-labelled buttons, the LE55A956's infrared remote control sports a clickable scroll wheel that can be physically rotated (like those found on the first generation of Apple Ipods). Although conceptually innovative, the scroll wheel turned out to be more hindrance than help: the aforementioned on-screen navigational delay made it difficult for us to judge how far we've scrolled along the menu options; yet when we reverted to clicking for manoeuvring the menu, the scroll wheel was still sensitive enough to draw us into making the occasional mistake (e.g. accidentally scrolling one extra step).
In standby, our Samsung LE55A956 HDTV review sample emitted a high-pitched whine from the back of the television. Whilst audible from 1.5 feet away, this annoying standby whine went away as soon as the Samsung LE55A956 was switched on.
Calibration
Greyscale
Out of the box, [Picture Mode] "Movie" with its default [Colour Tone] "Warm2" yielded the greyscale closest to D65 standard:
Pre-calibration CCT with [Picture Mode] "Movie" & [Colour Tone] "Warm2"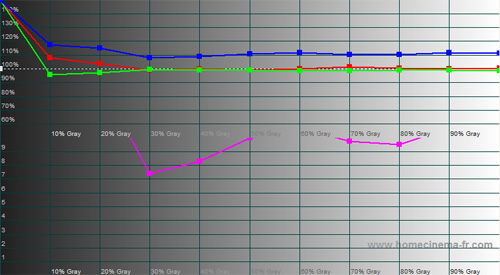 Pre-calibration RGB tracking and delta errors (dEs)
The greyscale was still plus-blue overall. This was easily rectified by adjusting the RGB cut and gain controls in the [White Balance] submenu to keep delta errors (dEs) less than 4 from 30% stimulus onwards:

CCT after greyscale calibration in "Movie" [Picture Mode]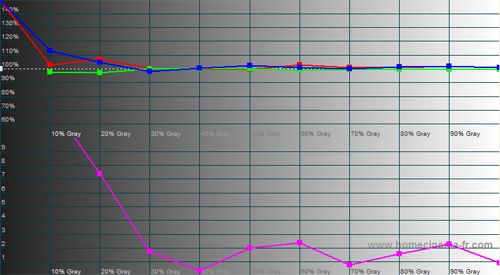 RGB tracking and delta errors (dEs) after greyscale calibration
Colour
| | |
| --- | --- |
| | |
| [Colour Space] "Auto" CIE | [Colour Space] "Native" CIE |
Just like on the LE40A786, [Colour Space] "Auto" was undersaturated while [Colour Space] "Native" was oversaturated (green in particular). Tweaking the red, green and blue mixtures for each primary and secondary colours inside the [Colour Space] "Custom" submenu allowed us to map the coordinates as close as possible to high-definition Rec. 709 standard: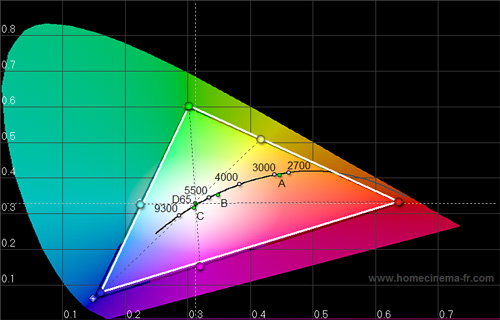 Post-calibration CIE chart with reference to HD Rec. 709
Benchmark Test Results
| | |
| --- | --- |
| Dead pixels | None |
| Screen uniformity | Perfect with [Smart LED] engaged |
| Overscanning on HDMI | 0% with [Just Scan] engaged |
| Blacker than black | Passed |
| Black level | True black (0 cd/m2) possible with [Smart LED] on |
| Black level retention | Virtually no fluctuation even with [Smart LED] on |
| Primary chromaticity | Excellent with calibrated "Custom" [Colour Space] |
| Scaling | Average |
| Video mode deinterlacing | Above average |
| Film mode deinterlacing | Passed 3:2 cadence in 480i and 1080i; and 2:2 in 576i |
| Viewing angle | 80° |
| Motion resolution | 650 with [100hz Motion Plus] engaged; 300 when off |
| Digital noise reduction | Acceptable at baseline |
| Sharpness | Defeatable edge enhancement |
| 1080p/24 capability (PS3) | Accepts 1080p/24, but intermittent dropped frames |
| Input lag | 30ms in [Game], [PC] or VGA; 60ms otherwise |
Power Consumption
| | |
| --- | --- |
| Default [Standard] mode | 208 watts |
| Calibrated [Movie] mode | 121 watts |
| Standby | < 1 watt |
Notes On Smart LED
If you had forked out all the money for a Samsung LE55A956, you'd be crazy not to take advantage of its [Smart LED] backlighting technology. [Smart LED] makes it possible for the Samsung LE55A956 to achieve true 0 cd/m2 blacks when the on-screen content is blank. Even with some content on screen, the black level on the Samsung LE55A956 virtually matched the reference-level blacks delivered by Pioneer Kuro plasmas. Besides, engaging [Smart LED] lowers the baseline luminance so much so that any blemishes in screen uniformity are completely obscured.
Compared to last year's F96 (Samsung's first generation of LED LCD TV), the LED backlighting algorithm on the Samsung LE55A956 has certainly improved. The circumferential flaring/ blooming around brighter objects on a dark background – though still visible off-axis – was not as obvious as those we've witnessed on the F96. Also, despite the dynamic nature of [Smart LED] backlight, we saw practically no fluctuation in black level retention in test patterns and real-life material.
If [Smart LED] was set to "Off", calibrated black level on the Samsung LE55A956 went back up to a more commonplace 0.07 cd/m2. Furthermore, without the help of LED backlighting the blacks took on a bluish/ purplish tinge, which was particularly noticeable if the television was viewed from an angle.
Picture Quality
High Definition (Blu-Ray)
We watched the Blu-ray version of The Brave One on the Samsung LE55A956 LED LCD HDTV. A dark film both thematically and visually, this was the perfect material to showcase the Samsung LE55A956's exemplary black level. The few fade-to-black scenes – for example when Erica Bain (Jodie Foster) woke up from her coma – were delivered via an absence of light output from the Samsung LE55A956, which goes to show how far LCD televisions have come since their introduction, and cements LED backlighting as the unquestionable next step up in their evolution.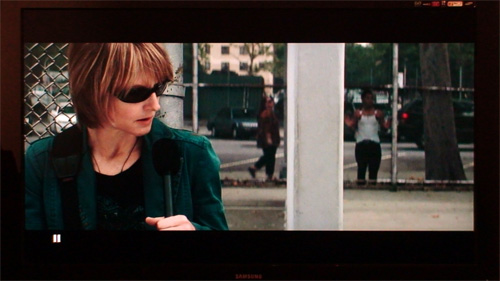 Shadow detail on the LE55A956 had improved compared to last year's F96, though still a tad (just a tad) murkier than the best Sonys and Panasonics. Flesh tones in the few daylight scenes looked accurate and natural thanks to D65 greyscale and spot-on colour chromaticities after calibration.
The Samsung LE55A956 accepted 1080p/24 video signal from the Sony PS3, largely without telecine judder. We said largely, because occasionally the panning would jerk ever so slightly, indicating dropped frames. The good news is, sending a 1080p/60 video signal to the HDTV solves the problem easily: because the Samsung LE55A956 is one of the very rare flat screen televisions that can properly reconstruct 24p from 1080p/60 signals, the resultant picture is free of telecine judder and dropped frames. This was verified by repeated playbacks of the slow pan away from Erica's face at around the 00:58:24 mark when she's interviewing Detective Mercer.
Standard Definition (Freeview Digital TV)
The quality of standard-def upconversion on the Samsung LE55A956 was distinctly average, which is of course not helped by its larger-than-usual screen size. To counter the softness of the picture on screen when using its Freeview internal tuner, you can either bump up the [Sharpness] setting, sit further away from the screen, or invest in a decent external scaler or video processor. If you can overlook this issue, then the Samsung LE55A956 LED LCD television will still reward you with its super-inky blacks and natural colours.
The virtues of [100Hz Motion Plus] deserve a mention here. Normally we would refrain from applying motion-compensated frame interpolation (MCFI) to film-based content (e.g. movies, American dramas like Pushing Daisy) for fear of spoiling the cinematic 24p look, but in the LE55A956's case the "video effect" was surprisingly mild – even tolerable – on the "Low" setting.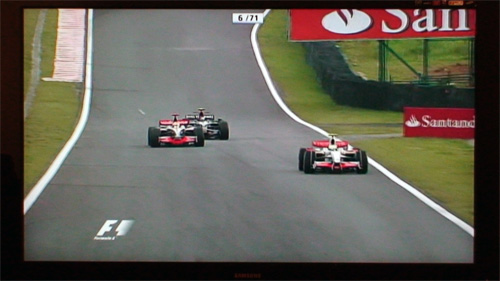 And needless to say, [100Hz Motion Plus] is boon for watching fast-action sporting events. As we followed Lewis Hamilton's last-gasp exploits at the Formula One Brazilian Grand Prix, engaging [100Hz Motion Plus] certainly improved the clarity and definition of moving objects, and reduced motion blurring.
HD Console Gaming
Regardless of whether [Smart LED] and/ or [100Hz Motion Plus] were engaged or not, the input lag we measured on the Samsung LE55A956 was typically 60ms. This amount can be halved to a more palatable 30ms via one of these 3 methods:
Switching [Entertainment Mode] to "Game". Unfortunately in this mode all the picture control settings are fixed, so you'll have to put up with an overbright and oversharpened image.
Connecting your game console through the VGA port which seems to bypass most picture processing circuits thereby lowering input lag. Some key picture adjustment controls such as [Sharpness], [Colour] and [100Hz Motion Plus] will be greyed-out and unavailable in PC/ VGA mode.
If your game console lacks VGA output, the same effect can be achieved by connecting it to the [HDMI 2] port, and then labelling the input as [PC].
An input lag of 30ms is – truth be told – higher than the Sharps and the Sonys we've reviewed, but it's far from being the worst we've seen. Whether or not your gaming performance will be affected depends on your individual sensitivity, and the reflexes demanded by the particular game.
Conclusion
Pros
[Smart LED] allows for exemplary blacks (and even true 0 cd/m2 blacks when the screen is blank)
Improved LED backlighting algorithm (less flaring and virtually no black level fluctuation).
Comprehensive array of picture adjustment controls available in user menu (including white balance and a basic colour management system)
Automatically and correctly processes common film cadences (3:2 over 480i and 1080i; 2:2 over 576i)
[100Hz Motion Plus] reduces motion blurring
"Just Scan" allows for exceptional detail from 1:1 pixel mapping
Generous connectivity with 4 HDMI 1.3 input, USB port, LAN, etc. (but lacks headphone jack; see Cons)
Handles 1080p/60 video signal correctly without telecine judder
Settings can be saved independently per input
Pre-attached pedestal stand facilitates quick setup (but does not swivel; see Cons)
Cons
Average standard-def upscaling
Input lag of 30 to 60ms may affect sensitive gamers
Limited off-axis viewing angle
Glossy "Ultra Clear Panel" reflects ambient light and causes glare
Intermittent dropped frames when displaying 1080p/24 video signals*
High-pitched whine during standby*
No headphone out jack
Pedestal stand does not swivel
Slightly sluggish on-screen menu, EPG and channel navigation
* Denotes problems which may be specific to our review sample
Summary
Armed with a superior LED backlighting system (which results in less flaring and virtually no black level fluctuation), [100Hz Motion Plus] MCFI technology (which reduces motion blur), and a colour management system however rudimentary, the Samsung LE55A956 is a definite improvement over its predecessor the F96. A relatively high input lag and so-so SD upscaling are slight dampeners, but this doesn't stop the Samsung LE55A956 from putting in a high-definition performance that – among LCD TVs – comes closest to giving the Pioneer Kuro plasmas a run for their money.