Following Panasonic's much-mourned if not unexpected exit from the plasma display panel (PDP) market, we're still not exactly sure if Samsung intends to continue with its plasma range for 2014 – the company has remained coy on its PDP future despite having been asked directly by us and other AV publications. What we do know though is some information about the Korean manufacturer's 2014 lineup of LED LCD TVs, thanks to a press release issued by its Seoul headquarters.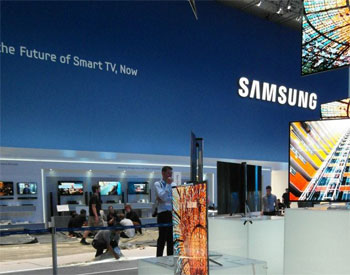 Although CES 2014 doesn't take place until January next year, some products have been honoured with the 2014 CES Innovations Awards, the results of which were announced during last week's CES Unveiled New York event. On the following day, Samsung sent out a press release to media outlets in Korea, declaring that it had bagged no less than 24 awards, taking the company's haul over 10 years to 258.
Among the list of award-winning products, the one that most attracted our attention is a Samsung Smart TV going by a model number of UN65H7100, which won a "Best of Innovations Award" for achieving unrivalled technological and design qualities while featuring unique/novel elements that consumers would find attractive. Drawing upon our knowledge and experience gained from reviewing many Samsung flat-screen televisions over the years, we deciphered the model number to get a glimpse of the Korean brand's LED TV roadmap for next year.
Samsung's 2014 TV Range Will Be H Series, Skipping G
The Samsung UN65H7100 is a 65-inch LED-lit LCD TV that will go on sale in North America (the corresponding UK and European version will be the UE65H7100). What's interesting is that the company has decided to go straight from this year's F series to H series next year, skipping the G prefix in the process.
If you don't understand what we're talking about, let us explain. Since 2008, Samsung's nomenclature for its flat-panel televisions involves assigning a letter within the model number to denote a particular year, which goes up by an alphabet the following year. For example, 2011 models are indicated by the character "D" (such as the UE55D8000); 2012 ranges feature the character "E" (like the UE55ES8000); and the manufacturer's 2013 lineup is prefixed by the character "F" (e.g. the UE55F8000).
Extrapolating this logic, 2014 TVs should carry the "G" label, but it appears that Samsung is ditching the letter and jumping straight to "H" instead. Perhaps it's because "G" makes up one half of a certain two-letter company who's a fierce cross-town rival of Samsung? We can only speculate.
240Hz Motion
Samsung Korea's PR blurb about the H7100 series also contains references to a quad-core processor, as well as a "real" 240Hz panel with no ghosting. Since the former is already present on this year's upper-tier Samsung HDTVs, we're more interested in the latter. This is likely to involve some sort of black frame insertion (BFI) to reduce motion blur, similar to the [Clear Motion] feature implemented on the company's S9C curved OLED TV, or the [Motionflow] "Impulse" mode found on high-end Sony Bravias.
Due to the very nature of BFI technology where intermediate black frames are flashed in-between the original frames to "reset" our retinal persistence, it usually introduces flicker and a drop in light output, though neither side effect really troubled us when we watched photorealistic content on the KE55S9C with [Clear Motion] engaged – a testament of Samsung's skilful engineering. We did wish that the BFI was compatible with native 24p playback or in [Game] mode, so maybe we'll see these improvements on the 2014 range.