Korean TV brands Samsung and LG Electronics (LGE) maintained their leading positions when it came to market share by revenue for worldwide shipments of flat-screen TV sets, according to the latest data released by California-based market research firm DisplaySearch. The pair took the number one and two spots too during the previous quarter this year (Q1'11).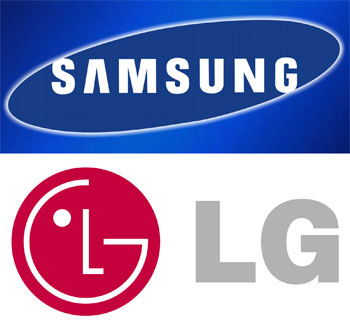 Korean brands Samsung and LG lead in flat-screen TV revenue
Samsung continued to lead the chasing pack during the second quarter of 2011. Increasing its global flat-panel television revenue share from 22.2% to 22.6%, the Seoul-based conglomerate led in LCD TV revenue, and overtook Vizio on a unit share basis to come first – something it has not achieved in over one year. However, it had to settle for second place in both CRT and plasma TV revenues. Overall, Samsung was named as the number one TV brand in revenue terms in most regions except China and Japan which were dominated by local brands.
Although still trailing Samsung by some distance, LG Electronics kept its position as the number two brand globally by securing 14.4% of flat-panel TV revenue share, which is largely unchanged from the last quarter. Japanese consumer electronics giant Sony followed in third, after posting a slight gain in revenue share from 11.4% to 11.7%. Following its acquisition of Sanyo's TV business (which bumped its revenue share from 6.6% to 9.4%), Panasonic surpassed Sharp to claim fourth place.
When it came to 3D (taking into account all the different display technologies), Samsung was also the leading 3DTV brand worldwide with a revenue share of 35%. The Korean TV manufacturer grabbed the number one spot from Sony for 3D LCD TVs, but lost the lead for 3D plasma televisions to Panasonic who captured a revenue share of 48%. In the ongoing active versus passive 3D TV battle, the latter made up one quarter of 3D-capable HDTV shipments according to DisplaySearch's estimates, with the remainder accounted for by active-shutter glasses (ASG) technology.