In news from South Korea, it's being reported that secret talks between Samsung and LG Electronics have been taking place at the behest of the Korean government, with a view to ending a series of patent disputes between the two, and (possibly) collaborating with each other on the development of OLED TV technology.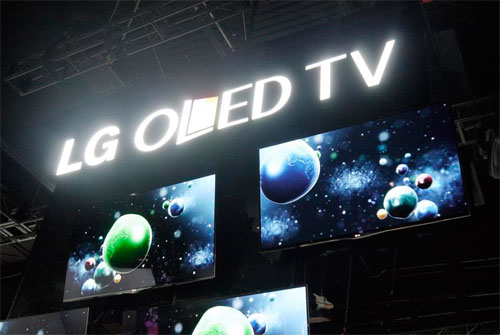 Korean government forcing Samsung & LG to co-develop OLED TV?
The story was broken by the Korean news agency Yonhap, which provides a little background saying that the two electronics giants have had much of their attention consumed by OLED patent disputes over the last couple of years. This has led to concerns that innovation in this area is being stalled, something that could have potentially devastating consequences for Samsung and LG, whose OLED television designs were at one time considered to be light years ahead of anyone else's.
This may have been the case, but the overwhelmingly positive reception of Sony and Panasonic's 56-inch 4K OLED TVs at last month's CES has shown that the Korean manufacturers are not the only ones with the potential to hypnotise audiences with the much-vaunted display technology. What's critical to bear in mind is that it's not just the new products themselves that have Samsung and LG worried. Samsung's display panel business is the global leader in OLED production, making some 95% of all AMOLED panels in the last year. Yet neither Sony nor Panasonic used panels developed by Samsung in their new 4K OLED televisions, instead choosing to work with Taiwanese panel makers. Such a move sends a clear message to the Koreans that they are a long way from monopolising the display technology.
Faced with these new threats to their coveted OLED technology, which both Samsung and LG view as being the television display tech of the future (even more so than ultra HD 4K TV), Korea's electrical giants have no choice but to alter their strategies, and it could be that they end up benefiting from working together.
There are two compelling reasons why Samsung and LG might decide to do what at one time would have been unthinkable, and team up on OLED research & development (R&D). The Seoul-headquartered conglomerates still retain a lead over their rivals in most aspects of OLED TV technology, but Japan and Taiwan are gaining fast. It's important that Samsung and LG don't let up now, not just for their own futures, but also for South Korea as a whole, given how important the two firms are to the nation's economy. South Korea's government obviously recognises this, and so it makes sense that politicians may try to persuade the two rivals to work more closely together, putting national interest ahead of their petty squabbling.
We also have the issue of big-screen OLED panel production, with low yields meaning that Samsung is yet to release the revolutionary OLED HDTV it first displayed at CES 2012, while LG's will only go on sale some time this year with an astronomical price tag. Market research firm NPD DisplaySearch has previously speculated that Samsung may adopt a method known as the white OLED process to overcome its problems with large-size display production, and if it did so it could benefit enormously from LG's cooperation here. One possible arrangement could see Samsung reciprocate the favour by assisting LG with mobile OLEDs, an area where it has struggled to make progress up until now.
It's far from being a foregone conclusion that Samsung and LG could work together though, given the intense rivalry between the two chaebols. Previous attempts at cooperation, such as an agreement to collaborate on buying components, were not exactly successful, while there have also been rumours that at least one of the Korean firms has been sounding out Japanese partners as a possible alternative.
Source: Yonhap news via DisplaySearch blog