Samsung and LG Electronics' plans for OLED TV domination have been dealt a major blow, as it transpired that some of their confidential technologies have been stolen and smuggled out of their manufacturing plants by employees of a subcontracted firm. It is likely that these pieces of top-secret information have got into the hands of rival TV makers, wiping out any advantage Samsung and LG had hoped to gain through their R&D investment in OLED television technology.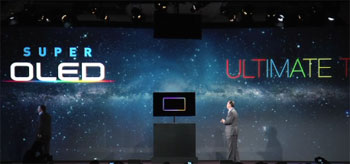 Samsung & LG OLED TV secrets stolen & leaked
Six South Korean workers at Orbotech – an Israeli-based company which manufactures and supplies display inspection equipments – have been charged by prosecutors in Seoul for leaking key technologies used in the production of Samsung's AMOLED (active-matrix organic light-emitting diode) and LG's WOLED (white OLED) displays. These technologies are categorised as core national industrial technology under South Korean law.
According to a prosecuting official, the suspects took photographs of circuit diagrams of the then-unannounced 55-inch OLED TVs on several occasions between November 2011 and January 2012 when they were given access to Samsung's and LG's premises for testing of Orbotech-supplied inspection equipments. The stolen images were saved on USB memory sticks which were then hidden in wallets, shoes and belts, and subsequently smuggled out.
Prosecutors believe that these classified material have made their way into the hands of TV-making competitors in China and Taiwan through Orbotech's branches in these regions. The chief accused in the case, a 36-year-old man surnamed Kim, had previously worked at BOE Technology Group, a Chinese display manufacturer.
OLED is widely regarded as the next-generation of flat-panel HDTV technology that will eventually replace LCD televisions, due to its emissive display characteristic which is capable of supremely deep blacks, vibrant colours, super-slim design, wide viewing angles and low power consumption. Samsung and LG have been embroiled in a race against each other to bring the first large-screen OLED TV to market, but they may soon have to contend with overseas manufacturers who have obtained their technologies illegally.
Source: Korea Times