Can't wait for those shiny new OLED TVs to hit the shops? If so, you're going to need to start saving those hard-earned pennies. According to the latest figures from market research firm NPD DisplaySearch, OLED TV displays are ten times more expensive to manufacture than standard LCD televisions being made today.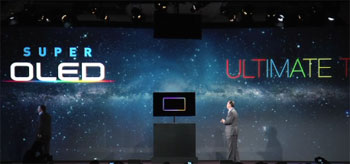 Samsung OLED TV production cost is 25% higher than LG's
What's more, your choice of brand is also likely to have a big impact on the size of the dent in your wallet. OLEDs are expensive by any stretch of the imagination, but out of the industry's two biggest players, it seems likely that LG models will command a far more attractive price, with production costs estimated to be at least 20% lower than those of Samsung.
High Price of OLED TVs
NPD DisplaySearch's AMOLED Process Roadmap Report said that recent price estimates put the average OLED television somewhere in the £5,000 range, yet the costs involved in the production of a 55-inch oxide TFT-based AMOLED that uses white OLED with colour filters (WOLED) are almost eight times as high as those of an equivalent-sized LCD TV. This number jumps to ten times the price for an AMOLED module using red, green and blue OLEDs. Researchers indicated that a combination of high material costs and low yields are the reason for such a large discrepancy.
Up until now, OLED has chiefly been the domain of smaller products such as smartphones, but the technology's potential in the HDTV industry, given its excellent color saturation, brightness, contrast and image uniformity, has long been championed by television brands like LG and Samsung. Indeed, NPD DisplaySearch estimates that the OLED display industry is set to grow tenfold in the next four years, with production rising from 2.3 million square metres this year, to over 22 million square metres by 2016.
Samsung vs LG
Industry watchers are keenly following the battle between Samsung and LG as the two Korean electronics firms vie for dominance in the virgin OLED TV sector, and so far it seems as if LG are edging ahead in the fight. After its brand new, 55-inch 55EM960V OLED TV was named 'best product' at the recent Consumer Electronic Show (CES) in Las Vegas, the company went public and claimed its OLED technology was at least two years ahead of its rivals.
Whether LG's OLED TVs are really any better is debatable, but there's no denying they lead the race when it comes to production costs, something that could give them significant advantage when it comes to pricing their products. NDP DisplaySearch's research revealed that Samsung's OLED display manufacturing costs are currently 25% higher than those of LG, with the LG 55-inch IGZO (indium gallium zinc oxide) WOLED costing eight times that of a regular 55″ LCD TV, while the Samsung 55-inch LTPS (low temperature polysilicon) RGB OLED's cost is ten times higher.
This advantage may not last forever though, as Samsung have already had some success in reducing OLED production costs, at least as far as small screen sizes go. According to NDP DisplaySearch, Samsung have taken steps to raise yields and reduce the cost of producing a smaller, 4-inch OLED display to less than 1.3 times that of a 4-inch LCD display, something that offers encouragement about their ability to reduce larger OLED display production costs in the future.
Source: DisplaySearch