Korean technology giant Samsung this week announced that the Karaoke Superstar app from karaoke specialist Digitop Ltd is the latest to join its Smart TV Apps store, becoming the first Paypal-capable Smart TV App in the UK. With this application, Samsung Smart TV users will be able to enjoy instant access to more than two thousand videos that form part of the Mr Entertainer Karaoke Collection from Digitop.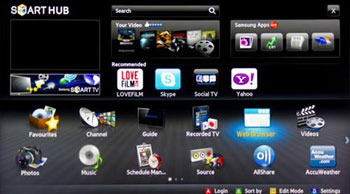 Samsung adds first Paypal-capable app to Smart TV Apps store
There will be a wide range of tracks available to users, ranging from classic favourites to party tracks and chart hits. Each week new tracks will be added to the app, and Samsung Smart TV users will get the opportunity to view a free thirty-second sample, or purchase a four-hour party mode at a cost of £4.99 (payable via Paypal).
There will also be monthly subscription plans available for die-hard karaoke fans who will be able to enjoy unlimited access at a cost of £9.99 per month. As the first Smart TV App in the United Kingdom with the facility to make payment via Paypal, this application will give consumers even more choices when it comes to payment methods, making payment easy and convenient.
Samsung UK's marketing director for television Guy Kinnell said that the company is committed to ensuring that its customers are able to access a wide range of high quality content. He added that the partnership with Digitop will help make sure that its app choices remain diverse, catering for a wide audience. Digitop's managing director Gary Oates meanwhile remarked that with the continued popularity of singing activities in the UK, the Karaoke Superstar app will prove popular with consumers, providing them with an extensive catalogue of tracks that they can enjoy via their internet-connected HDTV sets.