Samsung's Plasma TVs just seem to be going from strength to strength. In view of this, we were eager to check out the Korean manufacturer's entry-level 1080p Plasma TV for 2011, the PS51D550. A gander at the spec sheets reveals that when compared to the company's more expensive Plasma Display Panels (PDPs), the D550 is missing the "Smart TV" internet-connected features, the ultra-slim design, and the satellite connectivity. You still get 4 HDMI inputs, the aforementioned 1080p panel, and surprisingly at this price point, 3D capability. Let's see if we have a big-screen bargain on our hands here…

Note: The specific model we tested was the Samsung PS51D550C1KXXU which denotes the 3-pin-plug United Kingdom version.
Important Notice: Our Samsung PS51D550 review sample (supplied by Simply Electricals) was delivered to us with a bug whereby the [Digital Noise Filter] setting would operate on its highest setting, even when the menu reported it as being "Off". This often caused a substantial loss of detail with Blu-ray Discs scanned from film, and other high quality HD sources. We reported this problem to Samsung when we noticed it on the company's other models, but it is particularly damaging on the PS51D550 due to the fact that as a less expensive model, its noise reduction processing (when enabled) is of lower quality. Fortunately, Samsung has since fixed this issue with a firmware update. This review discusses the Samsung PS51D550 running firmware version 1024 which is, the most recent at the time of writing. The corrected firmware is available as a download from Samsung's web site or via the TV's own setup menus if it is connected to a home network.

Please ensure you are running the latest firmware (version 1024 or higher) by checking in the Menu > Support > Contact Samsung > Software Version screen, as the improvement in picture quality is dramatic.
Jump To: Operation • Calibration • Picture Performance • Conclusion
Design
The PS51D550 is more simply styled than more expensive models, although like everything Samsung has put out in recent years, the aesthetics of this HDTV are nothing to sniff at. The 51-inch panel is framed by a glossy black bezel which has a rounded border, made of glass-like acrylic. It's tastefully done and really shouldn't offend anyone's design sensibilities.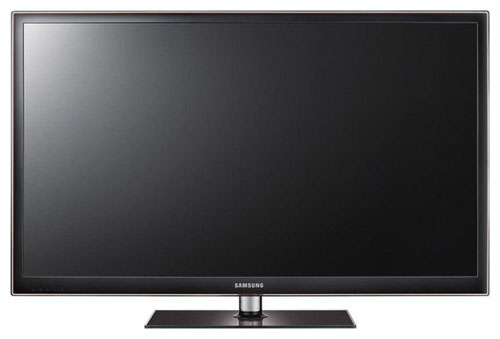 It's not as slim as some of Samsung's higher-up Plasma models, which is what we expected as this price point, so people looking for an HDTV to mount close to their wall might want to go slightly higher-up to the D6900 series (which we'll be reviewing shortly).
Connections
The Samsung PS51D550 features 4 HDMI inputs, an aerial input to feed the Freeview HD tuner, a shared Composite/Component input (how's that for two polar opposites of video quality?), a single SCART terminal, and an analogue RGB input for use with computers. There's also a LAN socket for connecting the TV to a router, although as a cheaper model, the 51D550 doesn't really have much in the way of internet features. There is no built-in wireless capability on this display, although a Samsung wireless dongle can still be attached to a USB input at additional cost.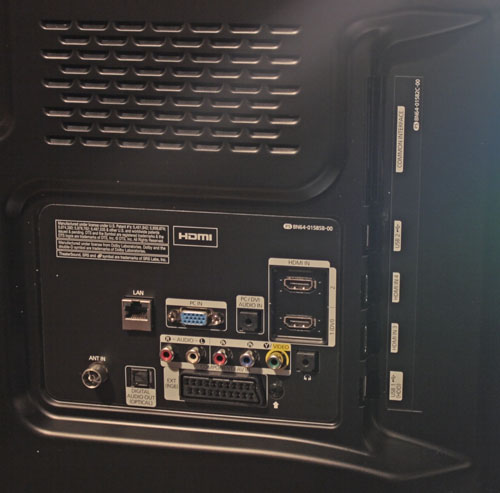 Rear: 4 x HDMI, VGA, Component, SCART, aerial, ethernet & audio outs
One thing we noticed was that the PS51D550's supplied power cable is unusually short. This is going to pose a problem for users wall-mounting the plasma. In fact, even when we reviewed the TV with its table-top stand, we had difficulty in finding a socket to plug it into for this reason.
Operation
The D550 PDP doesn't feature the newly styled 2011 Samsung menus, but rather the 2010 variant with a font change. That's fine by us, since they are easy to navigate, and fairly quick to use (although we'd appreciate being able to turn off the transition animations to make things even quicker).
[Picture] menu
The Samsung PS51D550 features all of the basic video controls you'd expect, but lacks the advanced three-axis Colour Management menus present on some more expensive HDTVs from the TV maker, and also features a traditional 2-point Greyscale calibration control rather than the more precise 10-point variant. Neither of these are necessarily problems, unless the PS51D550's out-of-the-box picture accuracy is lacking (previous Samsung Plasmas have had this problem and have needed adjustment, so, fingers crossed that isn't the case here). We'll find out if this is a big oversight in the next section, when we measure and then adjust the D550 plasma for the best possible picture.
2D Calibration
Note: Our Samsung PS51D550 review sample was calibrated using Calman Professional, the industry-leading video calibration software.
2D Mode Greyscale
After we let the 51D550 "break in" for a few hours (with Plasma TVs, the overall tint to the image can change most when new), we changed the picture mode to "Movie" and the [Colour Temperature] to "Warm2", since these settings usually give the most accurate starting point. We displayed some Greyscale test patterns and used our calibration meter to see how pure they were: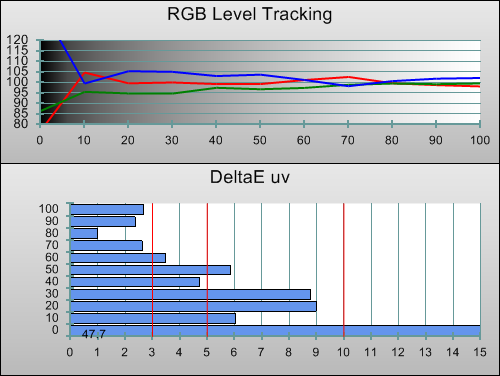 Pre-calibration RGB tracking and delta errors (dEs)
This is a good pre-calibrated result, with the overall Greyscale shades being produced by the Samsung PS51D550 review unit being slightly green-deficient overall. We noticed also that the HDTV ships with its [Contrast] control set too high, which results in pure white tones appearing blue-tinted. We reduced this as part of the calibration process to achieve better neutrality.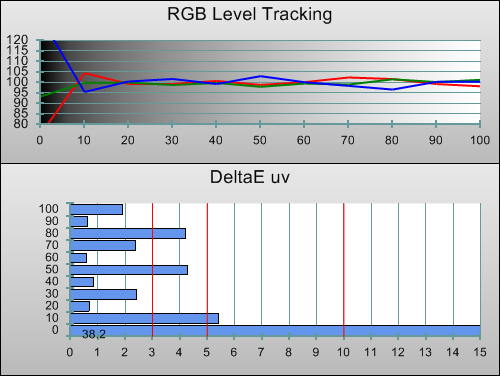 Post-calibration RGB tracking and dEs in [Movie] mode
After calibration, we were left with high quality Greyscale tracking. It was difficult to keep the brighter parts of the image free of tints, but fortunately, errors in brighter areas are generally easier to ignore, anyway. A slight excess of red in the dark 10% region was the only (fairly minor) complaint we had left. Higher-end models will be able to avoid this slight inaccuracy with their 10-point White Balance calibration tool.
| | |
| --- | --- |
| | |
| Gamma curve in [Movie] mode | Corresponding gamma tracking |
We were surprised by how accurate the Samsung PS51D550's Gamma tracking measured, since this is an area where (affordable) Plasmas typically lag behind LCDs. Panasonic's comparable ST30 entry-level 3D Plasma television presented less accurate brightness distribution compared to this Samsung, during the same measurements. Linear gamma tracking means that the TV will be able to show a smooth, steady gradation from the darkest to the brightest tones in the image, resulting in a subtly more realistic picture. It's also worth pointing out that the TV's [Gamma] control can be adjusted in several steps to give a richer or brighter picture; we left it at its default "0" setting to achieve the above result (2.2).
2D Mode Colour
The Samsung PS51D550 features just two [Colour Space] options: "Auto" and "Native". "Auto" is the best of the two, with the latter option over-saturating Green (and by extension, Cyan) a little more. The "Auto" mode isn't perfect, but given the value for money on offer here, we don't think these small hue and saturation errors will trouble too many people.
We did make minor adjustments to the [Colour] and [Hue] controls to achieve the following results: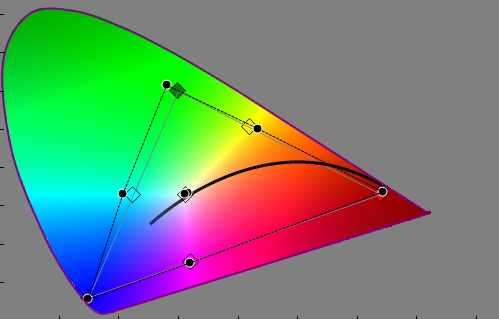 Post-calibration CIE chart with reference to HD Rec.709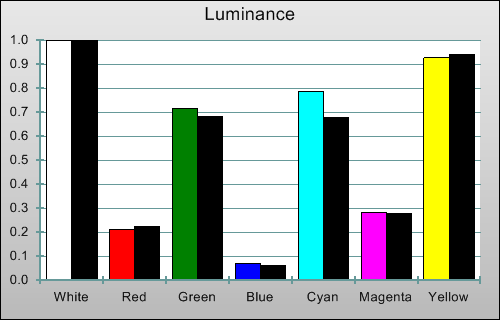 Post-calibration colour luminance (coloured bars = targets; black bars = measured values)
3D Calibration
As an entry level model, the PS51D550 doesn't come supplied with any 3D active-shutter eyewear, but we used a pair of the Samsung SSG-3100 glasses we had to hand to assess this 3DTV's extra-dimensional capabilities (and also to calibrate it using our Klein K-10 meter).
Like all 2011 Samsung TVs, we were glad to see that the D550 plasma features discrete picture settings for both the 2D and 3D modes. This means that when you start watching 3D content, the TV switches to a different picture mode (which we can optimise for 3D) automatically, and then switches back when you return to 2D. This is good user interface design.
We pulled out our disc of 3D test patterns, and with the 3D glasses turned on and attached to our meter, we measured Greyscale neutrality:
3D Mode Greyscale
3D Pre-calibration RGB tracking and delta errors (dEs)
Greyscale tracking looked promising in the early stages of measurement, but as we progressed through the different brightness levels, we soon saw the PS51D550 adding far too much blue to brighter shades. Perhaps this is a deliberate ploy on Samsung's part to make the image seem superficially brighter? The glasses themselves add a cold blue tint to the image, so we knew that we would have to increase the amount of red to compensate during calibration.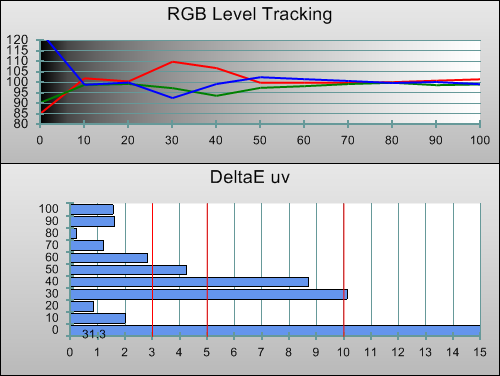 3D Post-calibration RGB tracking and dEs in [Movie] mode
We managed to make a tremendous improvement to the 3-dimensional image neutrality by compensating for the 3D glasses' own colour tint. We were stuck with a mysterious excess of red in the 30% and 40% stimulus levels, but we were happy to tolerate this remaining limitation given how overly blue the image was before we calibrated the 3D TV.
3D Mode Colour
Colour was acceptable in the third dimension, although the green primary was oversaturated compared to the Rec.709 HDTV standard. This isn't an area that greatly concerns us at present, since there is so little 3D content – and so much of it is animated. That's not to say that animated films don't deserve accurate representation (we're sure the artists who work hard on them wouldn't be happy if we took that attitude!), but simply to say that we don't expect the same level of realism from them.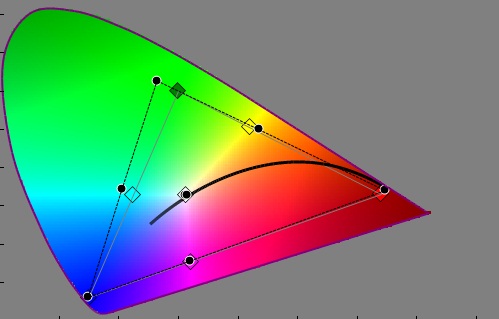 3D Post-calibration CIE chart with reference to HD Rec.709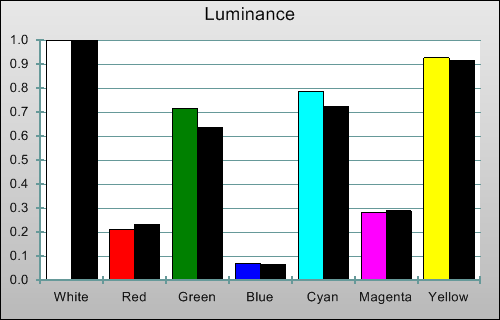 3D Post-calibration colour luminance (coloured bars = targets; black bars = measured values)
Benchmark Test Results
| | |
| --- | --- |
| Dead pixels | One purple in top-right; one sometimes black in top-centre |
| Screen uniformity | Perfect |
| Overscanning on HDMI | 0% with aspect ratio set to "Screen Fit" |
| Blacker than black | Passed |
| Calibrated black level in cd/m2 (black screen) | 0.06 (24p Cinema Smooth); 0.04 (60hz); 0.066 (50hz) |
| Calibrated black level in cd/m2 (ANSI) | 0.07 (24p Cinema Smooth); 0.057 (60hz); 0.074 (50hz) |
| Black level retention | No instability noted |
| Primary chromaticity | Very Good |
| Scaling | Poor (576i), Average (576p) |
| Video mode deinterlacing | Very effective jaggies reduction |
| Film mode deinterlacing | Passed 2-2 PAL and 3-2 NTSC tests |
| Viewing angle | Perfect (Plasma) |
| Motion resolution | 900 |
| Digital noise reduction | Present, optional, see note at beginning of review |
| Sharpness | Defeatable edge enhancement |
| Luma/Chroma bandwidth (2D Blu-ray) | Full Luma, Chroma horizontally blurred |
| Image retention | Yes, but fades quickly |
| Posterization | Very small "hardened" edges during fast motion |
| Phosphor trails | Very mild |
| 1080p/24 capability | No judder in 2D or 3D |
| Input lag | 16ms on HDMI1 input set to "PC", 31ms otherwise |
| Full 4:4:4 reproduction (PC) | Yes, on HDMI1 input set to "PC" or "DVI PC" only |
Power Consumption
| | |
| --- | --- |
| Default [Standard] mode (2D) | 212 watts |
| Default [Standard] mode (3D) | 284 watts |
| Calibrated [Movie] mode (2D) | 212 watts |
| Calibrated [Movie] mode (3D) | 288 watts |
| Standby | 1 watt |
Measurements taken with full 50% grey screen.
Picture Performance
Black Level
When we viewed the Samsung PS51D550 in a darkened room, we could tell that the darkness of its blacks wasn't up to the market-leading standards of the Panasonic Plasma TVs, although we weren't really troubled by the image on offer. In other words, the black level quality was adequate, although not class-leading. Imagine our delight when we used our Klein K-10 meter to get the hard data on the PS51D550's black level quality, and found that it performed almost identically to Samsung's top-end Plasma TV for 2011, the D8000. The PS51D8000 did manage to retain black levels during the mixed white/black ANSI checkerboard test, however, although the differences are negligible in real world usage.
As usual for Samsung Plasmas, the depth of the blacks depends on the type of content you are watching, with the darkest blacks coming from US (and Korea)-centric 60hz signals, and the worst coming from European-standard 50hz (24p Blu-ray content sits right in the middle). The reason for this is to avoid flicker. 60hz is high enough to be output by the screen at 60hz, whereas 50hz output would produce too much flicker, so is output at 100hz, with each frame from the source being flashed up on the screen twice before the panel begins drawing the next frame. Likewise, 24hz film content would be intolerable if it were output at 24hz, so the PS51D550 outputs these signals at a higher rate. With Samsung's Plasma design, the higher the refresh rate, the lighter the blacks.
As a film lover, I'm personally most concerned about the black level in the 24p mode, since this is the frame rate delivered by a Blu-ray player. The 0.06 cd/m2 blacks with 24p film content didn't really disappoint. 0.06 cd/m2 is similar to the black levels put out by some current-generation LCD displays (although Samsung's LCD TVs are managing 0.03-0.04 cd/m2). However, we feel that any lingering greyness in the blacks put out by a Plasma television draw less attention to themselves than on LCDs, due to the fact that the darkness is more consistent across the entire screen. With LCD, the blacks almost always appear brighter at some screen locations, especially near the edges, and they change depending on the viewer's sitting location.
With 60hz material (such as modern console games, and any non-24p film content coming from the US), blacks were a respectable 0.04 cd/m2, just slightly (but not noticeably) higher than those put out by Panasonic's comparably priced and specced ST30 plasma range. For European 50hz content, blacks measured at 0.066 cd/m2. To the human eye, this won't really look any different to the 0.060 cd/m2 put out by the 24p mode.
All in all, we were happy with this level of performance (it's also a big step up on last year's Samsung Plasmas). Who knows – maybe next year they'll be at Panasonic levels?
Motion Resolution
We clocked the PS51D550's motion resolution somewhere in the region of 900 lines, making it high enough to not be an issue. We did occasionally spot some slight red phosphor trailing in test sequences and on the edges of the details in the chart.
Unlike competing Plasma televisions from Panasonic, we almost never noticed posterisation (contouring) during movement, as is typical for Samsung's Plasmas. High-motion video content did reveal some "hardened" edges if we looked closely, but these artefacts were minor and did not display with unwanted colour tints.
3D Material
The Samsung PS51D550 passed all our 3D tests with flying colours. Unlike the company's comparable LCD TV models, the D550 displays all three frame rates (24, 50 and 60) without any judder or stutter in 3D. It also reproduces all 1080 lines of the 3D image, which is something that Panasonic Plasmas don't do this year – not even the top-end VT30 model. The 3D experience presented by Samsung's Plasma panels appears to be remarkably consistent from the entry-level models up to the high-end.
During subjective viewing, we were happy to see almost no crosstalk present. If we ramped up the 3D depth settings to exaggerate the 3D effect, it became visible, but this is to be expected. Our only real criticisms of the PS51D550 operating in 3D mode were the darkening of the picture, and the rougher gradation (with a higher amount of dither noise in the picture) when compared to 2D. The same goes for other manufacturer's Plasma-based 3D TVs, too. Although things are much improved on the first generation 3D Plasmas, the fact still remains that 2D images have the edge for overall quality, and ultimately, looks.
Standard Definition
Standard-def handling was a mixed bag on the Samsung PS51D550. The quality of the scaling (that's the actual resizing step) with our European-standard PAL (576i) test chart was the worst we've seen from an HDTV in years, with horizontal details appearing hugely blurred, with ringing around edges. Vertical detail fared a little better. The test chart represents an idealised scenario, however, and a lot of SD content in the real world is so soft that the TV's limitation might not really be noticeable.
When we output the same test chart in Progressive mode (576p), it was more tolerable, but still below our expectations. This will be of consequence to owners of standard-def games consoles such as the Nintendo Wii (or anything from the previous generation). We imagine it's less of an issue for DVD, since most of us have an upscaling DVD (or Blu-ray) player now (remember that the TV's standard def handling capabilities only matter when standard-def is input to it – when played through a Blu-ray player, DVDs are "seen" by the TV as High Definition). Interestingly, this poor scaling did not really show itself with standard def channels accessed via the PS51D550's own digital TV tuner… perhaps the fact that most SD TV channels are blurry to begin with simply disguised the limitation.
Interestingly, the D550 plasma had no trouble at all locking onto the PAL 2-2 film cadence, which is something that higher-end Samsung HDTVs have been tripped up by lately. This meant that films transferred to the European standard-def TV system played back without any annoying flickering/loss of resolution in detailed areas. Its handling of diagonal interpolation – in other words, concealing jaggedness in interlaced standard-def images – was also good, meaning that jagged lines on diagonal edges (the markings on a football pitch, for example) will be kept to a minimum.
In other words, the PS51D550's SD performance was overall acceptable, if a little bit blurred.
High Definition
When we first received the PS51D550, we were upset at the quality presented during Blu-ray viewing. Although some edges in the image still appeared sharp, fine details were being smudged out, and the overall clarity of the picture was reduced. We soon found out that this was due to the [Digital Noise Filter], which was chomping through film grain and other high frequency textures in the picture and giving the whole film a slight "watercolour painting" look.
We found out that the culprit was a bug which we reported to Samsung with their LCD televisions some months ago; where the [Digital Noise Filter] setting would actually be stuck at its highest level, despite the TV's menus reporting it as being Off. We could actually get all the picture detail back by turning the filter on to "Low" and then to "Off" again – but we had to do this every single time we selected the input that our player was connected to.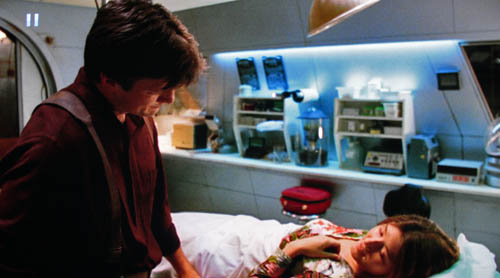 Fortunately, the bug has been solved with the latest firmware update. We upgraded to this by downloading the file from Samsung's web site and feeding it to the TV on a USB drive, and were delighted to see that after a few minutes, our freshly updated PS51D550 was playing back high-quality film material from Blu-ray without skipping a beat (or a pixel, for that matter). Unlike higher-up Samsung displays, "Off" with the D550 plasma actually does mean "Off", probably because the TV we reviewed used the MStar processor and doesn't have access to the more advanced noise reduction which Samsung are so eager to enable on TVs which use their own chip. With the 51D550 as we reviewed it, there is no unwanted noise reduction, allowing all of the clarity, texture and detail from high quality film scans to come through on the Samsung PS51D550. Excellent!
With that out of the way, we were only left with the many other positives of the Samsung PS51D550's images. The black levels aren't class-leading (that award currently goes to Panasonic), but the HDTV produces a brighter image with enough positives of its own. Greyscale tracking and colour reproduction were both of a high standard, presenting films without too much in the way of unwanted tints. Motion was handled perfectly when we set the [Film Mode] setting to "Cinema Smooth" (it can be left "Off" to reproduce films at 60hz, which results in judder, but slightly deeper blacks). Unlike older Samsung Plasmas, 50hz material was also trouble-free.
The Samsung PS51D550's panel driving method appears a little noisier than that of Panasonic's Plasmas, but it's cleaner than Pioneer's were, and perhaps because of the additional slight noise in the picture, false contouring (an artefact related to Plasma TVs which causes high motion areas to appear as separated stripes rather than a smooth, continuous tone) is kept to a bare minimum.
Automatic brightness limiting, a drawback of Plasma display technology, was visible with some content (we should point out that this isn't specific to HD). A fully white screen will appear dimmer than on an LCD display. Supposedly, this is to decrease load on the power supply. The effects of it are not really visible with most content, but adverts (for example) with fully white screens will sometimes reveal some brightness fluctuation.
The last plasma-specific thing to note is image retention. Samsung's PDPs have improved in this regard in recent years, but they are still behind Panasonic's. After watching a 4:3 film, or after watching the BBC News channel, for example, we were usually left with some faint residual images (either of side-borders, or the BBC News channel logo) hanging around. These cleared up very quickly, though, and we don't think it's too big an issue. First time PDP owners might be terrified that these residual images are permanent damage, but rest assured, every case of image persistence we came across cleared up quickly.
One last thing to mention for completeness: during one point of a film we used to test the PS51D550, we saw a subtle flicker in the image (which lasted for only a few frames) which occurred each time we played the scene – but only in the "Cinema Smooth" output mode. It was very minor and we only noticed it once.
Bottom line: we were very, very happy with the 2D HD image quality with this plasma television.
Console Gaming
We weren't expecting the PS51D550 to do wonderfully or woefully when it came to gaming, because most of Samsung's plasmas have managed respectable, but not leading amounts of responsiveness lately. The 51D550 exceeded our expectations with an exceptionally speedy 16ms, but we had to use the "PC" input label (accessed by pressing Source > HDMI1/DVI > Tools > Edit Name > PC) to achieve this speed. We're also not sure if it will enable with all sources, although it did with our Xbox 360 Elite feeding the panel. (This also results in full uncompressed colour being displayed in the 4:4:4 format, for those of you who are both hardcore gamers and hardcore videophiles). Remember that this trick only works on the HDMI1 input, so gamers should give their favourite system priority when connecting.
Without this trick, the Samsung PS51D550 still managed a respectable, but slightly game-altering 31ms of input lag.
Conclusion
It's a winner. After upgrading the firmware to eradicate the rogue noise reduction system, we were absolutely delighted with the detail, clarity, texture, and overall image put out by this affordable big-screen Plasma TV. It can also deliver a remarkably speedy gaming experience. While it's not without flaws, we think that given these strengths and a bargain price tag, the Samsung PS51D550 deserves a "Highly Recommended" rating.
The PS51D550's most direct competitor is the Panasonic TX-P50ST30, which now costs around £160 more and does have some advantages over this cheaper Samsung, including a superior (and consistent) black level: Panasonic's 3D plasma goes as dark as 0.03 cd/m2 in all modes, compared to the D550's 0.04, 0.06, or 0.07 (depending on the video format). The ST30 also has a superior light rejecting screen coating, allowing it to produce a richer picture even when ambient light is present in the room, and slightly better colour accuracy, resulting in picture reproduction which is that bit closer to what was intended by the filmmakers and colourists. However, not one of these categories is actually bad on the PS51D550 – it's just that they're slightly better on the Panasonic. (Keep in mind that when we reviewed the rival ST30, we gave it a "Recommended" – rather than "Highly Recommended" – rating due to its high price at launch, which has now fallen.)
However, the Samsung PS51D550 has several advantages of its own, on top of its less expensive price. For a start, it portrays slightly cleaner motion (with less false contouring during high-speed content like televised sports), has more accurate gamma tracking for a subtly more realistic image, can produce a brighter picture, and displays all 1080 lines of the full HD 3D signal with not a drop of detail appearing blurred or jagged. For the minority of users who will be calibrating the 3DTV in 3D mode, it also has separate control over 3D Greyscale (White Balance), which Panasonic's ST30 does not (in fact, that plasma can only be calibrated in 2D in a hidden service menu). There's also the extra inch of screen size, if you're counting.
These strengths, coupled with the lower price, mean that the Samsung PS51D550 is a tempting alternative and a worthy competitor in a marketplace which is dominated by Panasonic. Comparisons aside, it's also a very nice HDTV in its own right, especially at the price we reviewed it at. Samsung, please keep improving your Plasma products like this – we can't wait to see what you do with this display technology next year!