Two of Samsung's Plasma televisions actually arrived for review with us here at HDTVTest together. We decided to work our way up from the cheapest to most expensive, so, after reviewing (and being highly impressed by) the bargain-priced Samsung PS51D550 last month, we've spent some time with the step-up model, the PS51D6900. Going by specs alone, the D6900 seems to add an ultra-slim design, Smart TV apps functionality, and "Anti Reflection" screen coating. There's also a 10-point greyscale calibration option and colour management system, for those of us who will be calibrating the TV for the highest quality of picture accuracy. And unlike other Samsung HD ready TV sets, the 51D6900 features a full high-def 1920 x 1080 native screen resolution. The price for these features is an extra £150 (approximately) at the time of writing, so, let's see if the Samsung PS51D6900 is worth the step up over the D550!
Design
For some people, we think the Samsung PS51D6900 will sell itself based on its design alone. Like the D550 model, the PS51D6900 features a very slim bezel which frames the large Full HD Plasma panel. As a step-up display, the 51D6900 goes a step further and adds a beautiful brushed steel finish to the bezel, which is, in turn, framed by transparent glass-like acrylic. The plasma TV is wonderfully thin – almost as thin as the company's LED LCD TVs to the eye – although this thinness appears to have been achieved without any compromise to picture performance.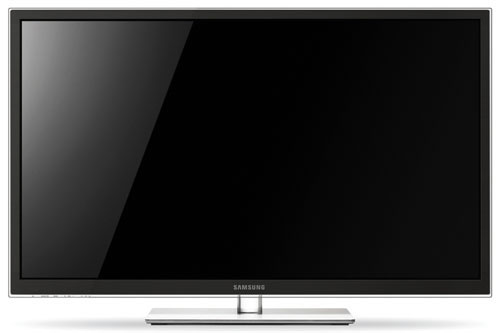 The HDTV sits on a stand which is slightly shiny (the stand supplied with our review sample was black), and also features a brushed steel effect. Overall, we could hardly be any happier with the appearance of the Samsung PS51D6900 given its price point.
Connections
No surprises here… the Samsung PS51D6900 features – you guessed it – 4 HDMI inputs, provision for SCART and Component analogue interfaces, an aerial feed for the Freeview HD tuner, and a LAN socket for connecting the TV to a network (although we imagine that this will go largely unused, since the PS51D6900 features built-in wireless connectivity).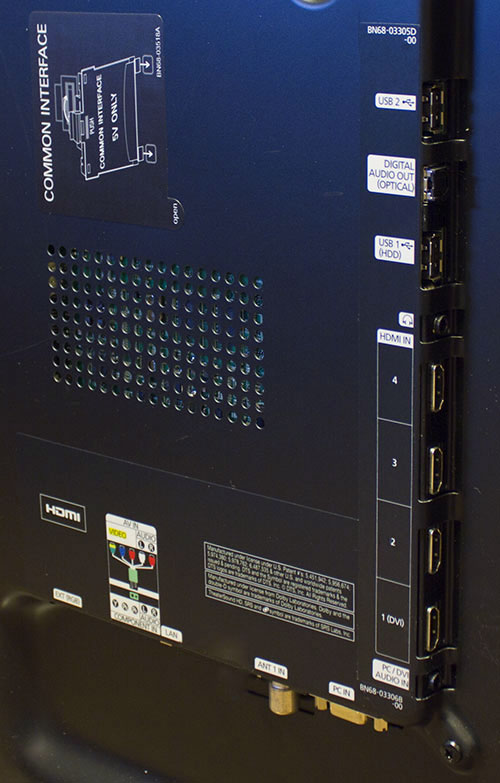 Rear: 4 x HDMI, VGA, component, SCART, aerial, USB, ethernet & audio outs
Operation
The Samsung PS51D6900 features the Korean manufacturer's 2011 menu system, and the implementation on this model responds quickly to user input, which is always one of our main concerns. Although it's not the company's top-end plasma HDTV, it features the full gamut of picture setup controls, from the essential Brightness, Contrast and Sharpness adjustments, all the way up to 10-point Greyscale calibration and colour management screens.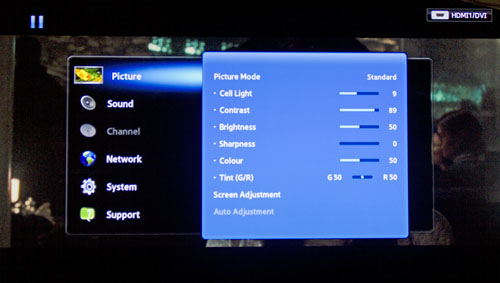 [Picture] menu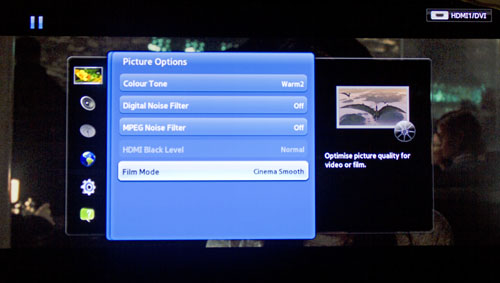 [Picture Options] menu