At the end of last year, we were happy to get our hands on a review sample of a 2010 Samsung plasma TV, and jokingly mentioned that we hoped to review one of the 2011 models before they became "old news". At Samsung, the push absolutely appears to be on its LED LCD HDTVs, with plasmas appearing to be an afterthought. Despite this, we found the company's plasma televisions to be very likeable displays, and hoped that we'd get a chance to see more of them in the future.

Well, Samsung has listened and has sent us a PS51D8000 review sample to get stuck into. This 51-inch plasma display is 3D capable, and features a full HD 1920x1080p panel, 4 HDMI inputs, Freeview HD and Freesat HD tuners, and of course, the "Smart TV" (internet connectivity) functionalities which the Korean manufacturer is so proud of. Let's see if the Samsung PS51D8000 can compete against the PDP (plasma display panel) competition.
Note: During the review process, we upgraded the system software from the initial 001007 to version 001013 as soon as it became available. This solves an error we reported whereby the [Digital Noise Filter] setting would reset itself when the TV was turned off. Details follow in the review.
Jump To: Operation • Calibration • Picture Performance • Conclusion
Design
Although not as stunningly designed as the PS50C6900 we reviewed back in November (which we loved thanks to its use of charcoal-coloured, non-shiny dark grey), the Samsung PS51D8000 is certainly a nicely designed HDTV. The screen is surrounded by silver metallic and transparent, glass-like acrylic, and the plasma sits on to of a four-legged chrome stand (which is a nightmare to assemble and fit to the back of the TV, especially since plasmas should never be laid flat).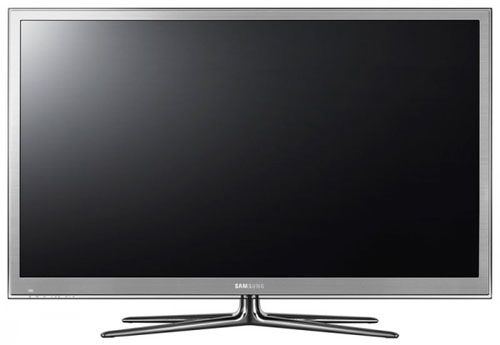 It's incredibly slim, measuring roughly 3cm at its deepest point, although Samsung have found a way to slim down the chassis (and the speakers) without sacrificing sound quality too much. The PS51D8000's built-in speakers obviously aren't a match for a real off-board speaker system, but through the use of EQ, they can deliver a surprisingly weighty sound (distortion can still occur during louder areas, though). This is noteworthy, because the chassis of Panasonic's comparably priced 2011 Plasma TVs actually curves out to make room for larger speakers… which still don't sound as good as Samsung's.
Connections
The Samsung D8000 PDP features 4 HDMI inputs, two inputs for the terrestrial, cable and satellite tuners, and connectivity options for older analogue interfaces (SCART, Component, Composite, Computer "VGA"). There are also 2 USB inputs and an Ethernet/LAN port, although this HDTV features wireless connectivity built in, so we imagine this will go largely unused.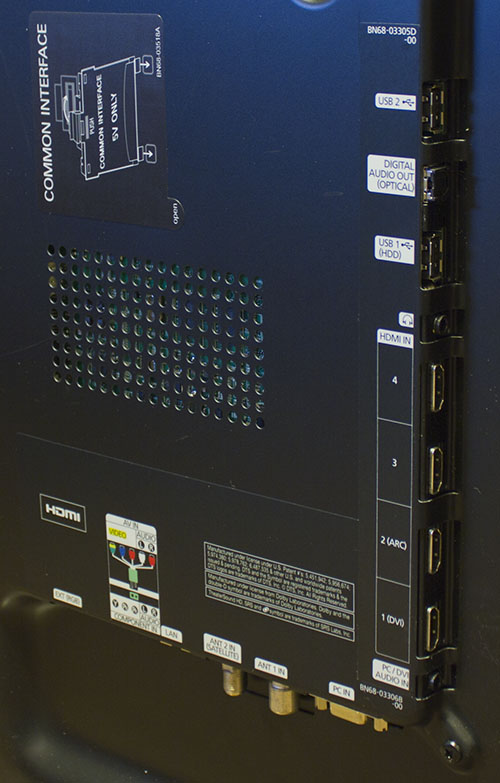 Rear: 4 x HDMI, VGA, Component, SCART, aerial, Freesat, ethernet, USB & audio outs
Operation
This is the first time we've seen Samsung's new 2011 menus on a plasma, and they work as well here as they do on LCDs. Oddly, the menus here seem to react slightly quicker than they do on the company's LCD lineup. As a high-end model, all of Samsung's excellent picture calibration controls are available, meaning that we're unlikely to be left wanting when we calibrate the PS51D8000 for the best picture quality later.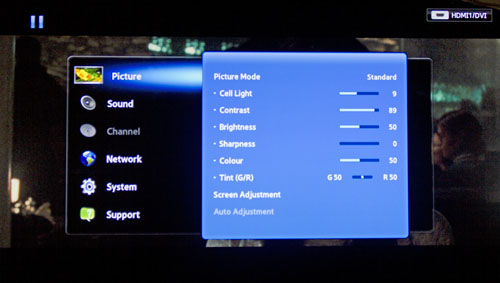 [Picture] menu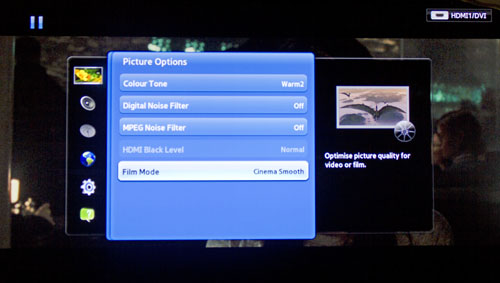 [Picture Options] menu
Samsung's Plasma displays are fairly unique in having a [Cell Light] feature, which controls the overall light output of the Plasma panel itself. This is different to the [Contrast] control, which is a video processor adjustment for digital white level. Turning up the [Cell Light] control raises the brightness of the image, but does not cause any marked increase in black level, unlike an LCD's equivalent Backlight control. This means that turning the [Cell Light] control up raises the D8000's contrast ratio. It will also raise its power consumption, of course. We adjusted the [Cell Light] setting so that a full white test pattern window would measure 130 cd/m2, which should produce enough light for most living rooms.
On top of the usual adjustments for Brightness, Colour and Sharpness, there are also controls which raise or lower the PS51D8000's Gamma curve, controls for calibrators to adjust Greyscale tracking (including a 10-point control for greater adjustment precision), and a colour management system. We're glad to see this, since the last Samsung Plasma we reviewed needed some quite extensive adjustments in order to meet the official HDTV colour specifications (but wow, did it meet them once we were done with it!).
There is also a control called [Digital Noise Filter], which is implemented incorrectly, as far as we can see. We've complained in the past that Samsung HDTVs force unwanted noise reduction on the user (and we often go into "Game Mode" to avoid this, since the Game Mode cuts out extra processing). With an earlier Samsung display, we discovered that not only did the "Off" feature not work correctly, but the TV would actually reset the [Digital Noise Filter] setting to its highest operating mode whenever the TV was turned off. This was the case with the PS51D8000 when we received it, but before publishing, Samsung released updated firmware to solve the second issue, very soon after we reported it in the first place. Unfortunately, the "Off" mode still doesn't work correctly, so we resorted to the "Game Mode".
2D Calibration
Note: Our Samsung PS51D8000 review sample was calibrated using Calman Professional, the industry-leading video calibration software.
2D Mode Greyscale
For the pre-calibration measurement, we switched to the "Movie" mode and took these readings: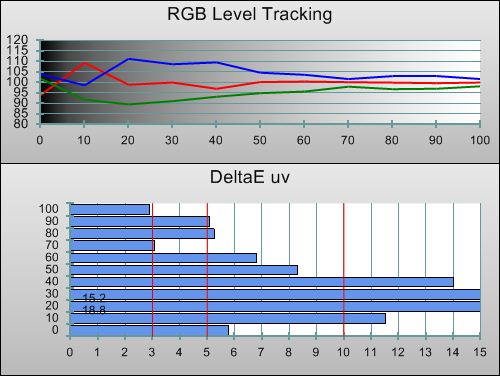 Pre-calibration RGB tracking and delta errors (dEs)
The colour of grey consistently displayed a blue tint of varying severity, although darker shadowed areas presented an excess of red. This may match up with reports we've heard of shadowed details in Plasmas presenting engineers with the choice between superior black levels or superior greyscale tracking (only Pioneer appear to have managed both). The 20-100% stimulus range should be easily correctable, but the 10 IRE red spike may require use of the specialised 10-point White Balance control. Unfortunately, we'll be mainly using the "Game Mode" due to the noise reduction that's forced on us otherwise, which doesn't have the 10-point control. Accordingly, we'll have to do the best we can with the standard 2-point menu.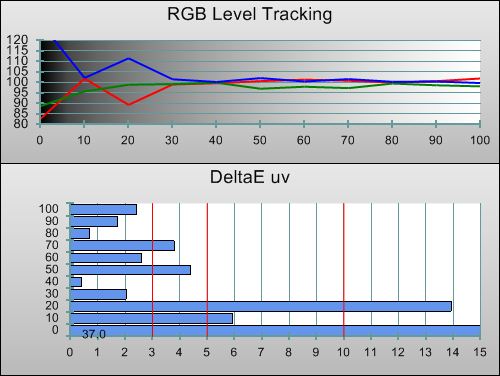 Post-calibration RGB tracking and dEs in ["Standard" Game Mode] mode
We switched over to "Game Mode" and corrected the default picture settings by reducing Sharpness, turning off any Dynamic Contrast systems, and selecting the "Warm2" greyscale mode. Using the only 2-point control available in this mode, we were unable to reduce every single colour tint across the Greyscale range. In practice, this will add up to a subtly less believable picture (or in the case of films that have been graded to have a stylish look, there will be some deviation from the intended stylised colour cast).
The 10-point white balance control available outside of "Game Mode" allows for basically perfect Greyscale tracking (we won't waste the bandwidth by publishing the chart, since it is effectively a straight line, albeit with a tiny excess of green left at 10%). As such, we calibrated this mode and decided to use it for CG animated films and other material which does not have any sort of grain texture. We'd switch back over to our calibrated "Game Mode" if we were watching Hollywood feature films or other material where we spotted temporal grain reduction artefacts (smearing, smudging, or a generally lifeless looking picture). Unfortunately, the TV only has one "Custom" colour space mode per input, and as we'll find out later, neither of the colour preset modes are accurate, meaning that you'll have to choose between "Game" and "Movie" modes for calibration and put up with less accurate colour on one of them. Also, we have to question how many users are really going to get into the habit of switching between two modes.
Just to reiterate, there is no good reason we know of as to why we should be forced into making these choices or trade-offs. We hope that Samsung provide a working "Off" switch for the said digital noise filter so we can be done with Game Mode.
| | |
| --- | --- |
| | |
| Gamma curve in ["Standard" Game Mode] | Corresponding gamma tracking |
The distribution of lightness between the darkest and brightest points in the image was handled fairly well, although in Game Mode, we had to drop Gamma to its lowest setting of -3 in order to achieve this result. The dip upwards in the chart is a reflection of the Plasma TV's fairly aggressive Automatic Brightness Limiting (we'll discuss it in the Black Level/Dynamic Range section).
Outside of Game Mode, the Gamma control was a little more flexible. For example, we had to set it to its lowest setting inside Game Mode to achieve roughly 2.2 gamma. It may be possible to achieve 2.4 outside of Game Mode (2.4 Gamma is recommended for use in darker viewing environments).
2D Mode Colour
The last Samsung Plasma we reviewed did not have very good out-of-the-box colour performance, and this year's 51D8000 is the same. The default [Colour Space] mode, "Auto", is under-saturated and over-brightened. For example, the colour of red is pushed more towards orange, but its brightness appears to have been turned up to superficially compensate to some extent. It's been suggested that the "Auto" mode is attempting to hit the old American SMPTE-C gamut; this isn't the case since it's undersaturated even compared to this. At first, this concerned us, because when panels ship with undersaturated colour, it tends to be because of an inherent limitation rather than it being a conscious choice. Fortunately, selecting the "Native" option resulted in OVER-saturated colour, much to our relief. To our eyes, this looks better than the "Auto" mode, but most importantly, proves that the panel itself is more than capable of producing in-spec colours.
Pre-calibration CIE chart with reference to HD Rec.709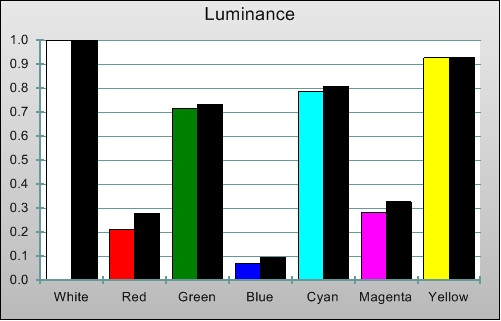 Pre-calibration colour luminance (coloured bars = targets; black bars = measured values)
We used the "Custom" colour space mode, which grants access to the TV's colour management menu, and brought the hue, saturation and luminance (brightness) of all six colours into line with the official HDTV Rec.709 specification. Visible errors were obliterated with absolutely no trade-offs, and the measured colour performance of the Samsung PS51D8000 is measurably perfect after calibration.
Although we make a point of mentioning that Plasma TV displays in particular must have individual calibration attention (that is to say, users can't simply copy "Best Settings" from the internet), calibration made such a huge improvement to the PS51D8000's colour accuracy that we'll be sharing the settings at some point, so that owners of uncalibrated PS51D8000s can see an improvement on the out-of-the-box quality.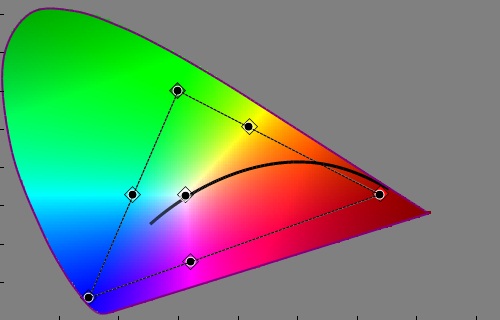 Post-calibration CIE chart with reference to HD Rec.709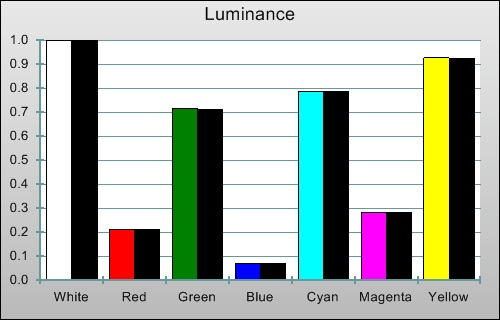 Post-calibration colour luminance (coloured bars = targets; black bars = measured values)
3D Calibration
We also calibrated the 3D mode of the Samsung PS51D8000 in "Game Mode". The reasons for this are numerous. Firstly, it avoids a lengthy trip into the TV's menus to manually return to 'normal' mode upon popping in a 3D Blu-ray disc. Secondly, it avoids the noise reduction process, although this is nearly irrelevant since so many 3D productions are shot digitally and have little to no grain or noise to begin with. Third, there is actually no downside to using "Game Mode" for 3D on this TV, since unlike previous Samsung PDPs, the "Cinema Smooth" option is now available inside Game Mode. Additionally, the PS51D8000 doesn't have a 10-point White Balance control in any of its 3D modes, so we're not missing out on one.
3D Mode Greyscale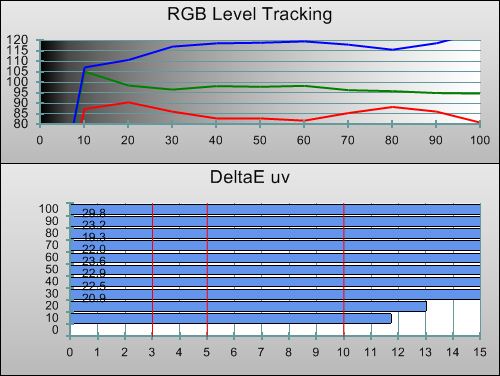 3D Pre-calibration RGB tracking and delta errors (dEs)
After selecting the "Warm2" colour temperature, we measured the Greyscale tracking of the Samsung PS51D8000 with the active-shutter 3D glasses turned on and placed in front of the probe. The result was somewhat consistent, albeit consistently inaccurate; with the glasses especially adding a large blue tint.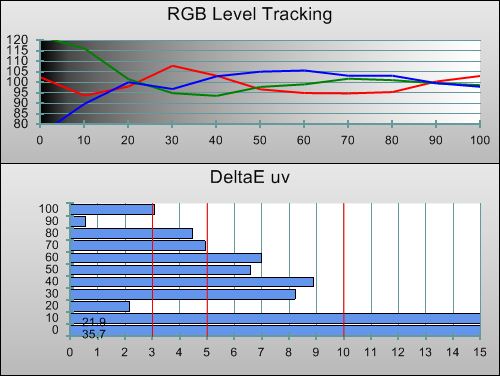 3D Post-calibration RGB tracking and dEs in ["Standard" Game Mode]
To compensate for this, we had to make sure that the PS51D8000 HDTV was putting out an overly reddish picture, as a form of pre-compensation for the inevitable blue tinting that will occur once the glasses are in front of the user's eyes. Ultimately, the Samsung PS51D8000's 3D mode didn't calibrate quite as well as we'd hoped based on the fairly linear pre-calibration measurements. We were able to make a big improvement and reduce most of the red tint, but some inaccuracies in the image remained. There are no 10-point controls in the 3D mode of this display, so calibrating outside of "Game Mode" didn't result in an improvement. Although this is a huge step forward compared to last year, Panasonic still have the edge in this area.
3D Mode Colour
As usual with Samsung HDTV displays, there is only one Colour Management memory mode shared between 2D and 3D. Since we don't think anyone will want to dedicate a second input for a separate 3D player, we usually fall back on the next-best alternative for 3D mode, prioritising 2D colour accuracy. Fortunately, in this case, the colour corrections we made in 2D actually came very close to accuracy in 3D – far more so than the TV's preset modes.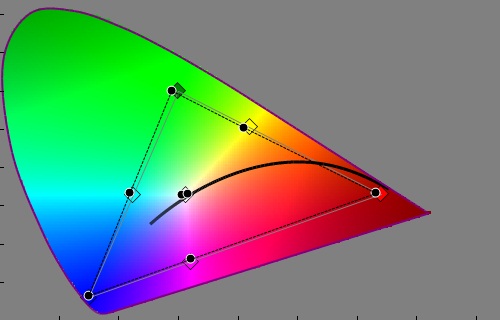 3D Post-calibration CIE chart with reference to HD Rec.709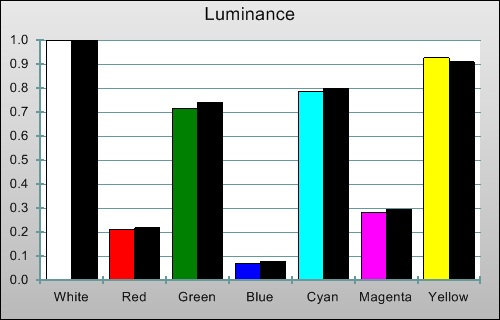 3D Post-calibration colour luminance (coloured bars = targets; black bars = measured values)
Benchmark Test Results
| | |
| --- | --- |
| Dead pixels | None |
| Screen uniformity | Excellent |
| Overscanning on HDMI | 0% with "Screen Fit" aspect ratio selected |
| Blacker than black | Passed |
| Calibrated black level (black screen) | 0.04 cd/m2 (60hz), 0.06 cd/m2 (24p), 0.066 cd/m2 (50hz) |
| Calibrated black level (ANSI checkerboard) | 0.050 cd/m2 (60hz), 0.062 cd/m2 (24p), 0.065 cd/m2 (50hz) |
| Black level retention | No instability noted |
| Primary chromaticity | Perfect after calibration (2D), very good (3D) |
| Scaling | Excellent, non-linear, smooth |
| Video mode deinterlacing | Very effective jaggies reduction |
| Film mode deinterlacing | Failed 2-2 PAL cadence test |
| Viewing angle | Excellent, but screen filter lessens vertical viewing angle |
| Motion resolution | 900 |
| Digital noise reduction | Forced unless in "Game Mode" |
| Sharpness | Defeatable edge enhancement |
| Luma/Chroma bandwidth (2D Blu-ray) | Full Luma, small Chroma blur except in "Game Mode" |
| Image retention | Mild |
| Posterization | Very little |
| Phosphor trails | Very mild |
| 1080p/24 capability | No judder in 2D or 3D with "Cinema Smooth" mode |
| Input lag | 30ms compared to lag-free CRT ("PC" input label) |
| Full 4:4:4 reproduction (PC) | Yes, full 4:4:4 when input labelled "PC" |
Power Consumption
| | |
| --- | --- |
| Default [Normal] mode (2D) | 200 watts |
| Default [Normal] mode (3D) | 303 watts |
| Calibrated ["Standard" Game Mode] (2D) | 270 watts |
| Calibrated ["Standard" Game Mode] (3D) | 303 watts |
| Standby | 1 watt |
Picture Performance
Black Level (and Dynamic Range)
The black level performance of the last Samsung PDP we reviewed varied greatly with reference to the panel output refresh rate. Simply put, this situation meant that the user could choose between having a deeper black level, or superior motion fluidity when watching 24p film content from Blu-ray – but not have both at once. With European 50hz video, there was no choice; this content always displayed with grey-ish blacks.
That's mostly in the past. Although there is still a discrepancy between black level quality between modes, it's now small enough to nearly ignore, and on top of that, the perceived black levels the Samsung PS51D8000 was putting out didn't leave us wanting too much more, either. They're not at Panasonic levels just yet, but – and this may be a fairly large "but" depending on your viewing habits – the PS51D8000 can put out a brighter image than any of Panasonic's Plasmas. Panasonic plasma televisions, while managing black levels as low as 0.012 cd/m2, have their peak white level capped at around 100 cd/m2 in their most useful "Professional" picture modes. Thanks to the [Cell Light] control, Samsung Plasma TVs can go as high as 219 cd/m2, without any rise in black level. This means that it can produce a better contrast ratio and be of more use in brighter environments – although we still don't recommend Plasma for very bright rooms.
As for the hard numbers? We measured the black level as being 0.04 cd/m2 in 60hz mode, 0.06 cd/m2 in the 24p "Cinema Smooth" mode, and 0.066 cd/m2 with 50hz input. None of these numbers are shabby at all (for comparison, 0.06 is on the same level as most of Sony's mid-range LCD TV models – although it could be argued that the blacks appear perceptibly darker than these due to the lack of screen unevenness on Plasmas). We'd still like to see things go even darker, but if Samsung can reduce this figure again for next year, it's fairly safe to say we'd be satisfied. In fact, we didn't even notice the difference between the 0.04 and 0.06 outputs until we measured them – although you might if you watch enough dark films in a darkened room.
One other thing we noticed with the Samsung D8000 PDP is that its Automatic Brightness Limiting (ABL) can kick in fairly early. The end result of ABL on Plasma displays is that a fully white screen will appeared dimmed at times (supposedly, this is required to decrease load on the power supply, or, depending on who you ask, even to stop the Plasma display shattering from heat build-up, although we can't confirm the latter… thankfully). We noticed this most on BBC News 24's white full-screen graphics, which could appear dimmed at times. We tried lowering the [Cell Light] setting to see if the ABL would be more subtle, but it didn't appear to make any difference. With the PS51D8000, ABL was kicking in as low as 75 IRE.
We had a look through some dark film content (the trustworthy Se7en BD) and looked for low-level gamma fluctuations, but couldn't find any. We wouldn't like to rule them out entirely, since Plasma displays have been susceptible to this sort of thing from our experience. As such, we're cautiously using the phrase "None noted" with regard to black level stability.
Motion Resolution
The scrolling resolution test chart from the FPD Benchmark Software Blu-ray Disc revealed that the Samsung PS51D8000 was resolving around 900 lines of motion, which is certainly enough to give a sharp appearance. Actually, the grey bars returned all 1080 lines, with the black ones being a little more smudged together (we're going off the lower result).
Unlike Panasonic plasmas, there were no "fuzzy edges" trailing the lines in the test. The entire screen was covered in a light coating of dither noise, which would explain it (Panasonic's plasma TVs keep the entirely flat grey parts of the chart almost entirely noise-free, but reportedly dither moving edges to conceal contouring). Samsung are on to a winning method here, because we don't really feel that its PDP has much more panel-generated noise than Panasonic's. An excellent result. We should also mention, for completeness, that some mild (one pixel wide) orange and blue streaks followed the black areas in the pattern.
Samsung's PDPs have had less false contouring than Panasonic's for a while now, and this is still the case with the PS51D8000. This, coupled with the usual Plasma quality of high perceived motion sharpness (due to the pulse-driven display) probably makes the Samsung PS51D8000 the best performing display in terms of motion since the Pioneer KURO PDP-LX5090.
3D Material
The first thing we checked with the 51D8000's 3D mode was its resolution. Panasonic's 2011 plasma-based 3D TVs (and most of their 2010 models) don't resolve all 1080 lines in the vertical direction, and although they come close, the way the screen is addressed sometimes creates jaggedness in highly textured areas. In other words, the artefacts resulting from the lack of full resolution are more noticeable than the slight vertical softening that results.
We were happy to see absolutely no signs of resolution degradation with Samsung's Plasma HDTV, making the PS51D8000 the first full-resolution 3D Plasma we've tested this year. All of the vertical lines in our 3D resolution test chart were displayed as clearly differentiated steps, rather than flickering or appearing as a grey blur. We are surprised that so little has been written about this subject around the web – especially given how loudly some TV manufacturers are publicly battling each other in 3D resolution stakes. We can only assume that this is due to the lack of commercially available 3D test patterns. At HDTVtest, we've developed our own patterns in the meantime, so are very aware of the surprising resolution differences between "Full HD" 3D TV sets.
Another area where 3D televisions often struggle is with motion. Many of the designs have been 60hz-centric to the detriment of everything else, meaning that 24fps film material and European style 50hz video appears stuttered. This is still the case with some of Samsung's LED LCDs, and was the case with the 2010 3D Plasma we reviewed, but the issue no longer exists with the PS51D8000. 24fps 3D Blu-ray Discs are handled with the [Cinema Smooth] option, which reproduces the film frames as stored on the disc without added stuttering or false motion being generated (the Samsung PS51D8000 simply doesn't have the capability to interpolate between frames, which is no loss whatsoever in our opinion). 60hz video plays back without a hitch (of course), and European 50hz sources do, too. Samsung has matched the motion capabilities of Panasonic's 3D plasmas with its D8000 PDP.
Yet another stumbling block has been scaling. Samsung's 2010 3D displays had poor quality scaling in 3D, meaning Side-by-Side encoded content looked less detailed than necessary. As with the company's other 2011 3DTVs, this problem has been fixed.
And what about the biggest 3D issue of all, crosstalk? This is the area where we were expecting to once again give the overall 3D nod to Panasonic, but, not really. Crosstalk is improved many times over compared to previous Samsung PDPs, and is either as good as or very nearly as good as Panasonic's best efforts.
So, what's bad about its extra-dimensional performance? Greyscale tracking is still not as good as even Panasonic's lesser efforts this year, although it's a huge improvement on the absolute mess presented by the 2010 models. Keep in mind that the 10-point White Balance control isn't available on any of the PS51D8000's 3D display modes, and we could really have done with using it to clear out some spikes in the RGB Tracking. Even on Panasonic displays that don't feature 10-point White Balance, better Greyscale tracking is achieved. This is discussing the calibrated performance, by the way – the uncalibrated 3D Greyscale tracking was, again, better on the Panasonics. We still found the calibrated Samsung PS51D8000's 3D images to be very satisfactory, though.
Also, like with Panasonic's 3D PDPs, gradation suffers when the display is running in 3D mode, with a higher amount of dither noise visible in the image. Without comparing the two side by side it's hard to say with total confidence, but we feel the dithering noise is slightly more noticeable on the Samsung. However, the Samsung's noise specks are one pixel wide and one pixel tall, as opposed to Panasonic's, which are one pixel wide and two pixels tall, as a result of the screen addressing method the Japanese company is using.
Overall, we were very happy with the 3D images being displayed by the PS51D8000 after calibration. Our current favourite animated test disc (Cloudy With A Chance of Meatballs) could be incredibly engrossing were we in the mood for watching tri-dimensional content.
Standard Definition
Samsung's standard-def processing has been excellent for many years now, and we weren't expecting the PS51D8000 to buck this trend. Although video deinterlacing is superb with basically no jaggedness making it through to the panel, film mode detection failed for the PAL 2-2 cadence (both in and outside of Game Mode). We could accept that the test would fail in Game Mode seeing as this mode is designed to be light on processing, but even outside it, the HDTV would have trouble locking onto the cadence and would drop in and out of video mode. This is very surprising, since Samsung usually have this area of performance perfect.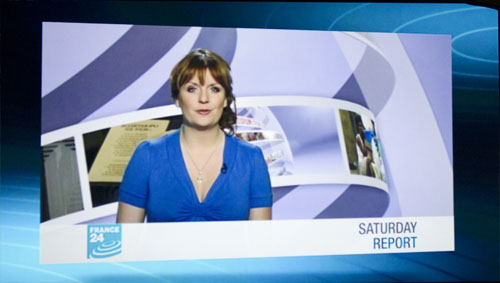 Samsung's most unique feature though is their scaling algorithm, which fortunately does work as always. The D8000's non-linear scaler works wonders – and I mean wonders – with synthetic material like 2D cartoons, creating smooth, rounded edges where most other scalers would display aliasing. This conceals the resolution limitation of standard definition very effectively with simplistic (that is, opaque and texture-free) television animation, which could almost pass for low-grade HD – a serious accomplishment. This does mean that highly textured material and live action footage can look a little softer than on some other scalers, but the effect isn't seriously distracting. Users who don't like Samsung's method of scaling SD to HD can always use the scaler in their DVD player or AV receiver, instead.
High Definition
The best-looking Blu-ray Disc material looked excellent on the Samsung PS51D8000, using our calibrated Game Mode settings. On previous Samsung PDPs, enabling "Game Mode" meant that users had to watch 24fps film content with 3:2 pulldown judder, causing motion to appear slightly stuttered. Also, with previous Samsung Plasmas, going out of Game Mode and selecting the judder-free "Cinema Smooth" option caused the PDP's minimum black level to leap up considerably.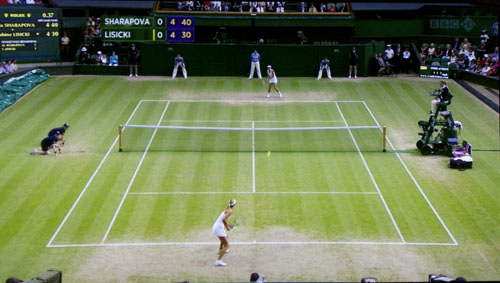 All of these issues have been solved this year. The "Cinema Smooth" feature is now available inside Game Mode, and selecting it doesn't cause a huge degradation in black level quality (although things do get measurably lighter). And sure enough, it results in cinema-quality motion, without any stuttering. There's also no unwanted new motion being generated by the TV; in fact, the Samsung PS51D8000 doesn't have any interpolation options to enable by accident (good). We weren't hugely troubled by the Greyscale tracking concessions we made by using "Game Mode", although again, Samsung should seriously implement a proper working "Off" switch for their impressive noise reduction filter so we don't have to go to these lengths. We did calibrate the non-Game mode as well and made full use of the 10-point White Balance control for perfect greyscale tracking, and we imagine many users will be very content with either mode. Speaking personally, I was aware that film grain could still appear slightly "sticky", especially in brighter tones, resulting in lessened detail perception.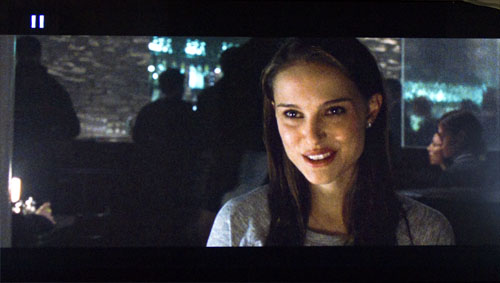 In both cases, the Greyscale tracking quality was at least satisfactory (or perfect when we could use the 10-point control), and colour reproduction was perfect for all three criteria. Add this to good black levels, excellent motion rendition, and the Plasma display's naturally uniform screen brightness and lack of viewing angle limitations, and you can imagine the very positive light in which we're describing the PS51D8000's high-def output.
Console Gaming
Although it wasn't the most lag-free HDTV we've reviewed, we didn't have too many complaints with the averaged 31ms input lag figure from the PS51D8000. This is still on the good side of acceptability for just about all users.
This is probably also the most relevant place to discuss image retention, which was previously a large problem with Samsung PDPs. It's still present, but is greatly reduced to the point of not really being an issue anymore. You'll still see some of the more obnoxious channel logos or solid score counters hang around, but they soon disappear.
Conclusion
The PS51D8000 represents a huge step forward for Samsung's Plasma lineup, and is the first time we have recommended one of the company's PDP TVs on more or less equal footing with competing models from Panasonic. Although the image doesn't have the same richness as the Japanese company's equivalents, Samsung's PS51D8000 has its own strengths to keep us happy.
Compared to previous Samsung plasmas, black level is much improved, the annoying image retention that affected previous models is almost gone, and crosstalk in 3D is very nearly as good as Panasonic's efforts. We're delighted by this, since we love high quality video, and competition is always good for the consumer.
However, the Samsung PS51D8000 still faces stiff competition from Panasonic's similarly-priced TX-P50GT30, which produces deeper blacks, has a better light-rejecting screen coating, much more accurate out-of-the-box preset modes, and also features better Greyscale tracking even after calibration (keep in mind we're comparing the tracking we achieved in "Game Mode" – the Greyscale tracking in the noise reduction afflicted standard modes, which we chose to avoid, is better than Panasonic's mid-range efforts). However, Samsung's plasmas exhibit less false contouring during motion than Panasonic's, avoiding the effect where fast motion areas can break into ridged (and sometimes spuriously coloured) bands. This means that the PS51D8000, overall, has the best motion quality of any HDTV we've reviewed recently. The D8000 plasma also delivers superior vertical resolution when operating in 3D mode, avoiding any jaggedness in sharply textured areas.
We debated the final score for the Samsung PS51D8000 at length, trying to decide between a high "Recommended" or low "Highly Recommended". Had we chosen the former, the reasons for withholding the higher rating would be the TV's less-than-first-class black level, and the non-working "Off" mode for the noise reduction feature, which results in grain smearing. However, we eventually settled on "Highly Recommended" because we didn't feel it would be fair to award this rating to Panasonic's Plasmas – which are still affected by unavoidable gamma fluctuations – and not to Samsung's, which do at least let the user avoid the noise reduction quirk by using "Game Mode" (as we did during this review). After all, the only down side of this in practice is a spike of blue at 20% grey (see our calibration charts) – and we think that there are many Panasonic owners who would happily trade a little bit of Greyscale tracking quality to be rid of fluctuating brightness.
Just so we're clear, we should mention that the nearly undefeatable noise reduction nearly cost the 51D8000 its "Highly Recommended" rating. Had it not been for the fact that using "Game Mode" to avoid the NR is now nearly concession-free, it would have slid down a notch. We feel that Samsung should rethink this. Having no proper "Off" switch for the DNR system serves no-one, least of all Plasma buyers, who are arguably more likely to be video enthusiasts irritated by behind-your-back processing.
The Korean company still has work to do, but things are now at the stage where the PS51D8000 is a viable alternative for Plasma buyers who aren't being served by Panasonic. Its combination of judder-free motion, good Greyscale tracking, perfect colour reproduction, class-leading motion performance, fairly quick video gaming responsiveness, and full resolution 3D display, earns it a highly recommended rating.
The only questions on our minds now are: what is a 2012 Samsung Plasma going to look like, and how will the cheaper 2011 models perform? Hopefully we'll find out in the coming months.