Reviews of Samsung plasma TVs have been some of the most frequently requested here at HDTVTest.co.uk, and after a long wait, we were finally able to bag one of the only PS60E6500 review samples in the United Kingdom. Out of the three Full HD 1080p Samsung plasma ranges, the E6500 sits right in the middle, above the E550 series but below the top-end E8000 range. Available in 51″ and 60″ sizes (we're reviewing the latter), this mid-range plasma HDTV features a 1920×1080 Full HD panel, built-in wireless connectivity, 3 HDMI inputs, Samsung's Smart TV features, the "Real Black Pro" anti-reflective screen filter, and a full suite of picture calibration controls.
Compared to the top-end E8000 series, there doesn't seem to be any picture quality features missing. The E8000 series (which we hope to review shortly after this) does come in a larger 64″ panel, is slimmer, and includes a built-in camera and microphone, but if you don't care for those, then the Samsung PS60E6500 should suit you nicely.
The reason for interest in Samsung's plasma lineup is simple: plasma is where the picture quality improvements are happening at the moment. Although Samsung's LED LCD TVs have seen screen uniformity improvements lately, overall contrast performance has stayed basically the same as previous years, with the areas of focus for the mass market apparently being in Smart TV functions and slimness. Samsung's plasma televisions have been improving year-on-year to the extent that they're now a cheaper alternative to Panasonic's (which present outstanding value for money anyway). In fact, we're inevitably going to make a lot of comparisons to Panasonic here, for the simple reason that ever since Pioneer dropped out of the flat panel TV business, Panasonic have been in an unchallenged #1 spot for plasma TV image quality, with Samsung more recently beginning to encroach on that territory.
Panasonic have upped their game with improvements to black level and motion quality; the question on everyone's minds is, where does that leave Samsung's 2012 plasmas? Can they knock the venerable Japanese plasma-backers off of their own top spot?
Note: While we did not review the smaller, 51-inch Samsung PS51E6500, from past experience the firm's 51″ models usually have worse black levels than 60-inch-plus versions.
Design
The PS60E6500 is styled in essentially the same way as the D6900 plasma we reviewed last year from the Korean TV manufacturer – that's fine with us; if it ain't broke, don't fix it. That means a slim border (with "brushed steel" effect) surrounding the panel, and a faux-glass trim around the outer edge. The border around the screen isn't as slim as the nearly non-existent one found on Samsung's LED LCDs, but the build quality on the E6500 is visibly less "plastic-looking". The design is excellent, and its use of a thin outer border and matte surface mean that it's still ahead of imitations.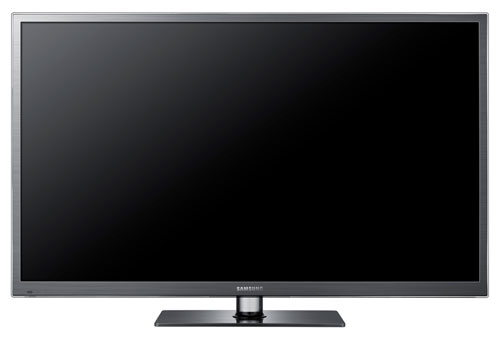 The stand is the basic square type, rather than the slightly precarious "chicken foot" type seen on some other Samsung flat-screen HDTVs.
The Samsung PS60E6500 isn't as skinny as the top-end E8000 series, or Panasonic's three top-end ranges (ST50 and up). We can't imagine that anyone will actually mind, though – it won't look much (any?) different wall mounted, and nobody actually watches the TV from an angle where its depth will be apparent. (With that said, ultra-thin LED LCDs are outselling "fatter" TVs by a huge margin, so maybe it's best we don't comment on how much appearances matter.)
As with last year's Samsung plasmas, the supplied power cable is unusually short, and will need to be replaced in nearly all cases where the television is wall mounted. Fortunately, the cable isn't moulded into the panel, and is of the interchangeable type often used with computer power supplies, so buying a longer replacement cable is no big deal.
Connections
3 HDMI sockets
1 shared Component/Composite input
1 SCART socket
DVB-T2 Aerial input ("Freeview HD")
DVB-S2 Satellite input ("Freesat HD")
1 LAN socket
2 USB sockets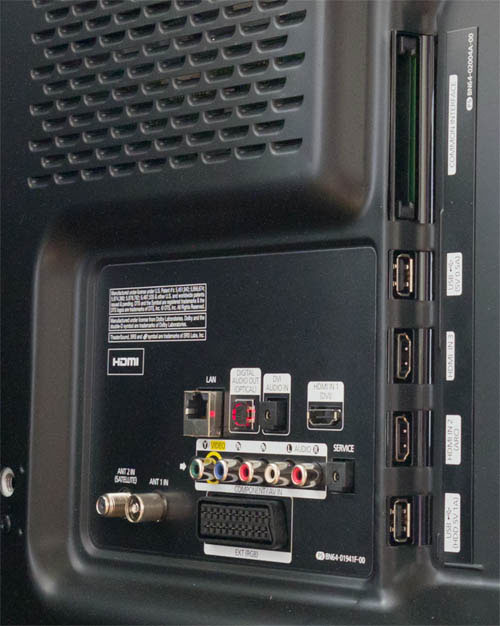 Rear connections on Samsung PS60E6500
Operation
There are no surprises with the Samsung PS60E6500's menu screens, which are the same as last year's. Again, this is another case of there being very little to improve: the company already offered a full suite of picture setup controls, including options for 10-point Greyscale calibration and a fully equipped three-axis colour management system (CMS). All of the normal controls you'd expect to find are also present, including Samsung's own "Cell Light" control, which is a control over the panel brightness – something we complained about the lack of on most of Panasonic's European plasma models.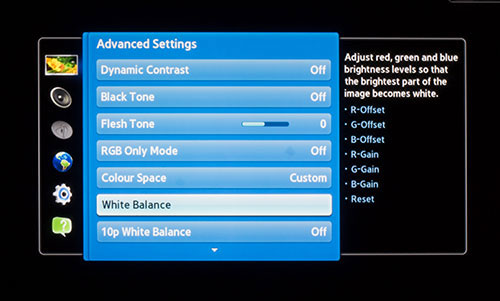 [Picture] menu
The only thing we'd wish for is a "Copy to all inputs" feature for the 10-point Grayscale and Colour Management menus. Keying these adjustments into each input (there are 54+ variables that need to be set in a calibration) is a chore, and they rarely differ from device to device.