Samsung has taken the wraps off its new lineup of quantum dot televisions at a product unveil event at the Keep Memory Alive Event Center ahead of the CES 2017 consumer electronics trade show that kicks off in Las Vegas this week. Two models were showcased, namely the flat-screen Q9 (available in 65-inch and eventually 88-inch screen sizes) and the curved Q8 (which will come in 55, 65 and 75 inches) QLED TVs.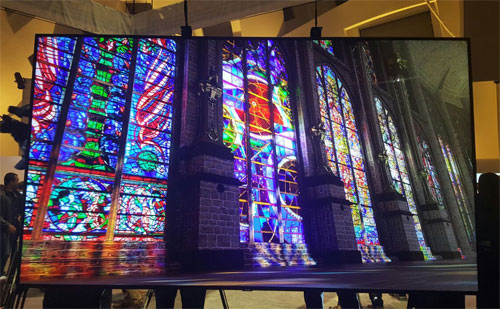 The big news is that Samsung has decided to ditch the "SUHD TV" branding it has trumpeted over the past couple of years, choosing to go with "QLED TV" instead from this year onwards. Whereas previously the term "QLED" (or quantum dot light-emitting diode) had been used among video enthusiast communities to specifically refer to the self-emissive or electroluminescent variant, the South Korean manufacturer is pushing QLED as an umbrella product category term to encompass all televisions that use quantum dot technology regardless of whether it's transmissive (photoluminescent) or emissive (electroluminescent), and regardless of whether it's made by Samsung or not (similar to how an OLED TV can be sold by LG or other TV makers).
As you can probably guess by now, Samsung's 2017 QLED TVs (including the flagship Q9F and step-down Q8C) are transmissive/ photoluminescent rather than emissive/ electroluminescent. However, Samsung claims that thanks to a complete panel restructure from scratch, as well as the introduction of a metallic alloy (specifically aluminium) component to the nano-sized quantum dots, the jump in picture quality is so great that the company felt justified in embracing the "QLED" moniker even though the underlying technology is non-emissive.
Among the image quality improvements cited are deeper blacks and wider viewing angles, two traditional Achilles Heels' of transmissive LCD displays compared with emissive ones such as OLED. It's impossible to make an accurate assessment based on what we saw at the product unveil event due to bright ambient lighting and garish [Dynamic] settings, but Samsung's QLED TV certainly exhibited less loss in contrast and saturation off-axis compared with previous LED LCDs.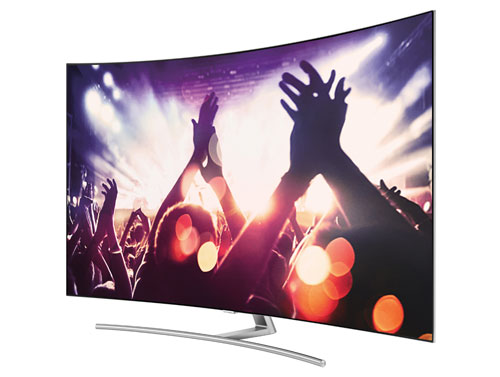 The curved Samsung Q8 will come in 55-, 65- and 75-inch screen sizes
While we're still trying to find out from Samsung if its 2017 QLED TV uses quantum-dot film (where the quantum dots are implemented in a film that coats the front of the LCD panel) or QDCF (or quantum dot colour filter where the quantum dots are embedded in the colour filter itself) technology which is then illuminated by blue LEDs, or indeed full-array local dimming (FALD) or edge-lit backlighting, the company has given some explanation about how it managed to achieve deeper blacks and wider viewing angles.
The new metal alloy quantum dots not only is applied to a panel technology that can project light in more directions thus widening the TV's viewing angle, but also allow the company to include 3 layers of anti-reflective measures within the panel structure to minimise glare from external light. Without counter-measure, blacks would look grey even on self-emissive displays (as evidenced on Pioneer Kuro plasmas whose inky blacks turned grey when hit by sunlight). And the benefits of attenuated glare would still be visible in a dark room, since there's always more than just pure blacks displayed on screen – reducing the in-panel reflections would allow subtle differences in above-black shades to be accurately expressed.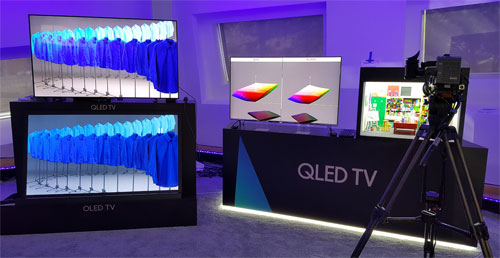 But make no mistake, the advantages of Samsung's new quantum dot material will be most apparent at the opposite end of the contrast ratio spectrum. The Korean brand's 2017 QLEDs will reach peak brightness of 1500 to 2000 nits, not to mention colour volume that fulfils 100% of DCI-P3 for more accurate HDR presentation. For the uninitiated, colour volume takes into account peak brightness to give a truer representation of colour performance at different luminance levels than what's depicted by merely 2D chromaticity xy diagrams. Here's a primer.
Other design and usability innovations on the Samsung 65Q9 and 65Q8 include a single transparent "Invisible Cable" connection to reduce cable clutter, a "No-Gap" wall mount (bundled only with Q9) for quick and easy installations completely flush against the wall, optional TV stands such as an easel-like "Studio Stand" or a swivel "Galaxy Stand", as well as the company's third-generation Tizen-based Smart TV platform that's been enhanced by new "Music" and "Sports" tiles.
We're reporting live from the CES 2017 show floor in Las Vegas this week, and will bring you more details on the price and availability of Samsung's 2017 TV lineup as soon as we get them.