In a surprise revelation earlier this week, Samsung announced that it is looking at re-orienting its TV business by moving its focus from LCD television, which is resulting in losses for the firm, to OLED which is now seen as the next-generation technology that will take over from LCDs. HDTV industry analysts have been expecting the Korean consumer electronics giant to make use of its LCD production capacity to make new displays that are more profitable, by taking full control of its OLED flat screen business and merging it with its LCD manufacturing division.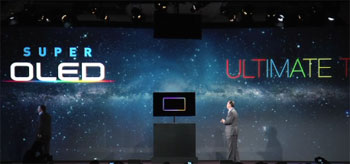 Samsung seeking to realign TV business from LCD to OLED
Samsung's decision to re-orient its components business comes at a time when the LCD TV arena is facing severe market conditions, having struggled since the latter half of 2010. The Seoul-based company recently ended its LCD panel joint venture with Sony. Industry insiders predict that LCD is set to become a display technology that experiences low growth amid intensifying competition from Chinese low-cost manufacturers.
It is not only Samsung that has been experiencing losses and issues when it comes to LCD television production. Cross-town rival LG Display has now recorded losses for the fifth quarter in a row, whilst Japanese TV maker Sharp is forecasting a net loss of around $3.70 billion (around £2.3 billion) for the year to March after having to halve output at its LCD plant in Western Japan due to a slump in demand.
One analyst commented on the announcement from Samsung, stating that the decision means that Samsung would be able to focus more on OLED TV, and could even help the conglomerate add more customers in the form of other companies that may have steered clear of Samsung in the past because they were in direct competition with the firm when it came to finished products such as computers and televisions.
The announcement has also sparked rumours in other areas. Samsung recently revealed that it is thinking about fully taking over Samsung Mobile Display (SMD) which is its OLED joint venture with its Samsung SDI subsidiary. However, there is now speculation that the company may decide not to go ahead with a full acquisition, and may instead transfer its LCD business to SMD, receiving a significant number of new SMD shares in the process.