Samsung underlined exactly why it's still the market leader in the high-end Smart TV segment this week, officially unveiling the world's first 85-inch Ultra HD 4K TV at the Consumer Electronics Show in Las Vegas (as per our previous report back in November 2012).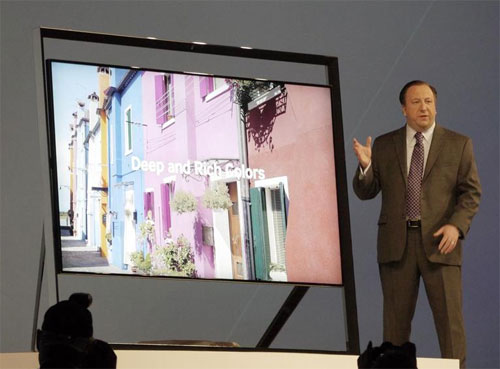 Samsung S9 Ultra HD 4K TV launched at CES in 85″ & later 110″
Of all the gadgets and technologies rolled out by the South Korean manufacturer at its CES 2013 press conference yesterday (and believe us, there was a lot), its new S9 – which is also marketed as the Samsung S9000 in certain markets – UHD television was by far and away the biggest showstopper, "representing the future of home entertainment viewing", according to the company.
Not only is this thing huge and available in screen sizes of 85 or 110 inches (scheduled to be released later this year), it packs the all of the latest technology in Samsung's armoury to ensure the most incredible picture quality possible, irrespective of the video source. Equally impressive is the beautiful aesthetic design of the display, with its super-thin bezel and revolutionary new stand, making it appear as if the panel is floating within its frame.
Specs-wise, the Samsung S9 ultra high-definition 4K TV features a powerful upscaling engine that can transform HD content up to 4K standards, together with the firm's Precision Black Pro technology that delivers some of the deepest blacks ever seen on an LCD screen. Interestingly, the S9 is said to be equipped with Ultimate Dimming technology which utilises hundreds of dimmable zones for precise backlight control – we'll try to clarify with Samsung if this means a return to full-array local-dimming LED backlighting (yay!).
Samsung hasn't ignored the audio either – this is set to be top-notch, with 3-way 2.2 channels packing 120-watt sound. Driving all of this is a powerful quad-core processor that allows the UHDTV to deliver incredible detail and clarity with images and sound, whilst running Samsung's latest user interface.
David Steel, Samsung North America's executive vice president of corporate strategy, said that the S9's UHD picture quality and design put it head and shoulders above the competition in the Ultra HD space.
"Number one is the image quality, and this is where we have built our reputation. As for design, we believe that this is becoming just as important for consumers," explains Steel.
Suffice to say, Samsung hasn't said anything yet about how much this beast will cost – but given that Sony's 84-inch Ultra HD 4K LED television commands a £25,000 price tag in the UK, the S9 is almost certainly going to be out of reach of the average consumer for now.