Samsung has just let the cat out of the bag as to what its customers can expect at next year's CES, revealing on its official blog plans to debut a new "Smart Hub" internet-connected portal for its Smart TVs.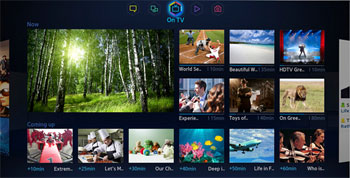 Samsung to unveil new "Smart Hub" TV interface at CES 2013
According to the company, the Smart Hub has been designed as a more intuitive user interface, and will divide accessible content up into a variety of 'sections' based on genre and user interest. Samsung said that with the newly revamped interface, customers will find it easier than ever to navigate through its Smart TV system.
The Smart Hub will separate available content into five main categories, including Movies & TV shows, On TV, Apps, Photos, Videos & Music, and Social.
Samsung says that the Smart Hub interface will make use of its unique motion control system, allowing users to 'flip' through the various sections via hand gestures, an action that it likens to 'flipping through the pages of a book'.
So far, Samsung has only made a few screenshots of its new Smart Hub available. We can't say for certain, but it seems to suggest a tile-based layout similar to Windows 8 or the Windows Media Center. Samsung didn't say how the so-called 'flipping' action will work with this, so I guess we'll just have to wait until CES 2013 kicks off next month to actually get a few for the new interface, and see if it's really as good as it's cracked up to be.
Samsung didn't make any mention of new HDTV hardware to ship alongside this software, so we can only assume that whatever they have planned is being kept tightly under wraps.