After soaring its way to success on both mobile and PC screens, Angry Birds is all set to catapult itself into the next big arena – the world of internet-connected HDTV displays.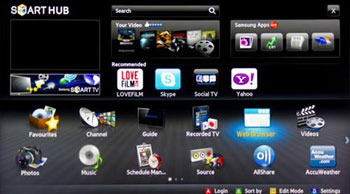 Samsung Smart TV bags those Angry Birds
Samsung's social media outlet SamsungTomorrow.com announced this week the upcoming launch of a new Angry Birds app which will be exclusive to its latest, next-generation smart TVs. What's more – in a move that has the potential for unheralded success – gameplay is set to be transformed by the use of the company's unique smart interaction gesture and voice recognition controls, which will allow users to fling those furious fowls around using a mix of wild hand gestures and voice commands.
The new Angry Birds app will be winging its way to a Samsung Smart TV near you sometime later this month. Users will be able to download the game from the Samsung Apps store directly to their televisions, although the Korean manufacturer has said that the game will only be available on the Samsung ES7000, ES8000 and ES9000 series of LED LCD TVs for now.
Samsung has been collaborating with Angry Birds' developer Rovio on the new motion and voice-controlled application for quite some time, ever since the Seoul-headquartered conglomerate first unveiled its Smart Interaction technology at the Consumer Electronics Show (CES) 2012 in Las Vegas back in January. As part of this partnership, it's been revealed that the two companies are also working to air a series of animated Angry Bird 'shorts' later this year, which will be available exclusively through Samsung's video-on-demand (VoD) service.
Source: Samsung Tomorrow