Lots of people enjoy viewing contemporary art, but very few are able to experience such works from the comfort of their own home. However, if you're lucky enough to own a Samsung Smart TV, you've now been given the opportunity to establish your very own collection of artistic treasures at prices far below their usual cost.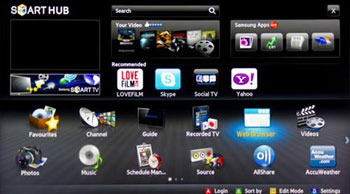 Samsung Smart Interaction TVs get contemporary art app
Samsung Smart television owners already benefit from some of the most visually stunning images ever beamed into a living room, but now they've been given the chance to take full advantage of their display's connected capabilities with the new s[edition] app, which showcases the works of the world's leading contemporary artists.
The new app has been launched on the Samsung UE75ES9000 premium LED LCD TV at the Wired 2012 conference in London this week, with unique and exciting masterpieces from the likes of Damien Hirst, Shepard Fairey and Tracey Emin among the wonderful works of art made available on the set. Via the app, owners of Samsung Smart Interaction-enabled TV models will be able to purchase and display a unique collection of limited edition works. Be warned though, not all of the works are cheap – with prices ranging from £5 to as high as £1,000 for the most desirable.
But why would anyone want to purchase art for their HDTV?
Samsung claims that the ES9000 – with its superb picture quality – is able to enhance the quality of the artwork in a way that no other medium can possibly compare with. Thanks to its increased brightness, higher contrast ratios, unique Precision Black and Micro Dimming Ultimate technology, the UE75ES9000 can display these prized artworks in gloriously rich and colourful detail quite unlike anything you've seen before.
Robert Norton, CEO of s[edition], says that the application presents art enthusiasts with a wonderful opportunity to build unique art collections at very reasonable prices.
"People will be able to view their favourite artworks from the comfort of their own homes in extraordinary detail. The images they select will be intensified thanks to the awesome picture quality of Samsung's Smart TVs, which create an incredible visual impact," enthused Norton.