Samsung has just announced more content options for its smart television owners with the addition of Channel 5's video-on-demand (VoD) service Demand 5, delivering the latter's hit shows like Celebrity Big Brother and Neighbours.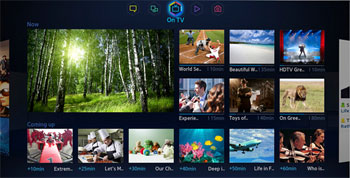 Channel 5's on demand app hits Samsung Smart TV Apps Store
The Demand 5 app is now available for download in Samsung's Smart TV Apps store, alongside other streaming services such as LoveFilm, Netflix and the BBC iPlayer. By downloading the app, Samsung viewers will be able to get instant access to a huge range of Channel 5 programmes, which also include The Gadget Show, Benidorm ER, Milkshake!, and Home and Away.
The addition of Demand 5 underlines the fact that Samsung's Smart TV application store is by far and away one of the world's largest, which to date has seen more than 20 million app downloads worldwide.
Channel 5's Head of Digital Media Paul Thornton-Jones said that he's delighted to bring Demand 5 to Samsung's Smart TV store.
"Samsung is a crucial element of our strategy as we look to bring our video-on-demand services to as many viewers as possible, across as broad a range of devices as possible," adds Thornton-Jones.
"To do so, we've reoptimised the app for the big screen, ensuring that viewers get the best possible experience at home."
Samsung UK's TV/AV director Guy Kinnell stated that Samsung is happy to bring more quality content to its viewers whenever possible.
"We want to bring our customers as many entertainment options as possible, so they can watch their favourite shows at the most convenient times for them," explained Kinnell.
"We're satisfied that Demand 5 will make a superb addition to the Samsung Smart TV platform, and we're delighted that our customers have the best catch-up choices around."
Demand 5 is available to download in the Samsung Smart TV Apps Store today, and is compatible with all 2011 and 2012 smart internet-connected HDTV models.