Samsung has teamed up with ITV, adding the hugely popular ITV Player app to its burgeoning collection of TV catch-up content for its Smart TVs.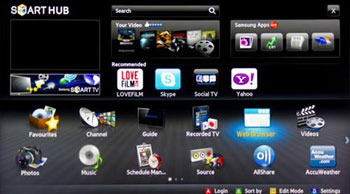 Samsung Smart TVs get ITV Player app
The move, which will see ITV become the first commercial broadcaster to offer its app in the Samsung Smart TV Apps Store, is in line with its stated goal of making the ITV player available across multiple different platforms. With the ITV Player app recently being updated, Samsung Smart TV viewers will now be able to access a substantially increased range of catch-up content and enjoy their favourite programmes much closer to the time they are first broadcast.
James Micklethwait, ITV's Online Product Director, said that the decision to offer the ITV Player on Samsung's Smart TV was made in order to make on-demand ITV content accessible to greater numbers of viewers.
"We've seen the coming of age for connected TVs in the last year, so the opportunity to partner with Samsung and launch the ITV Player on Smart TV is a very exciting one," added Micklethwait.
The ITV Player app joins already established services such as Facebook, Twitter, Muzu.tv and YouTube on Samsung's Smart TV platform. The app is sure to be a welcome addition, most especially for fans of hit ITV soaps like Coronation Street.
Robert King of Samsung UK added: "Finally, ITV viewers will be able to watch hours of high quality entertainment whenever they like, no longer having to be restricted to the TV guide."
"Being able to bring the ITV Player to Samsung Smart TV underlines our reputation as leaders in the field, and shows our determination to continue updating our platform to bring the newest and best quality apps to our viewers."
The ITV Player is now available to download directly from the Samsung Apps store, and is compatible with all Samsung 2012 Smart TVs, as well as Samsung's 2011 internet-connected HDTV sets and Blu-ray players.