Just hours after announcing the release of its long-awaited Evolution Kit upgrade solution at this year's CES, Samsung brings us news of a further major update planned for its Smart TV software, in the form of the latest Software Development Kit (SDK) 4.0 that will bring Linux and Mac OS support for the first time to programmers who develop apps on its Smart Hub platform.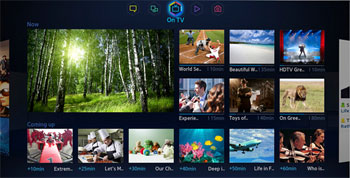 Samsung Smart TV apps developers get Linux & Mac OS-friendly SDK 4.0
Previously, Samsung Smart TVs have only supported development on the Windows operating system, meaning that Smart TV apps availability has suffered in areas where only non-Windows OS are used. By launching its most recent SDK at CES 2013, Samsung's Smart televisions will become the first in the industry to bring on board Linux and Mac developers, providing a local cloud environment that will facilitate collaboration between developers of different platforms, resulting in improved efficiency and reduced costs for Smart TV software development.
The Korean manufacturer's SDK 4.0 update will also offer expanded support for HTML5, laying the foundations for thousands of software developers using this programming language to join in with connected television application development.
Using HTML5, Samsung has created an integrated cloud environment that will aid the development of convergence applications, hopefully leading to an increase in its Smart TV's ability to communicate and interact with other connected devices. Furthermore, to promote greater development via its Smart Interaction function, Samsung has enhanced the voice and motion control functionalities on its Smart televisions.
Hyogun Lee, Senior Vice President of Samsung Electronics Visual Display Business, said that the SDK 4.0 has been designed to make it easier-than-ever for app developers to contribute to the company's Smart TV content using their creativity and ideas. The new capabilities of the development kit will be demonstrated at Samsung's booth at the Consumer Electronics Show in Las Vegas which kicks off next week.