Bored, with nothing to watch on television? Well, so long as you happen to own a compatible Samsung Smart TV, you'll no longer have to worry about that; as from today, you can always flip over to Spotify's new music channel.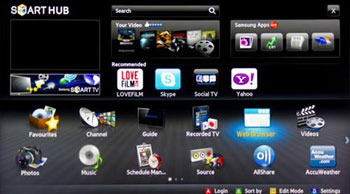 Samsung ES7000 & ES8000 Smart TVs get Spotify app
The Seoul-headquartered manufacturer has just announced the addition of the Spotify music streaming app to its ES7000 and ES8000 range of internet-connected HDTV displays, bringing millions of hit music tracks into living rooms across the nation.
For those who don't know Spotify, their service is widely seen as the leading alternative to Apple's iTunes store. Users can pay a monthly subscription to gain unlimited access to its library of 18 million tracks, or else buy them individually.
Spotify will show up as a new application on your Samsung Smart Hub's home screen. To gain access, simply download the app to your Smart TV, Blu-ray player or home theatre system, sign up for an account, and then you can login. Existing premium subscribers will be able to synchronise their playlists across all of their devices, while those who are unsure will have the option of signing up for a thirty-day trial period to check the service out.
Dan Saunders of Samsung Electronics Europe said that he's thrilled that the Spotify app will be making its debut on Samsung Smart televisions, making it easier than ever for their customers to listen to their favourite tracks through any of their devices.
"Customers won't have to worry about connecting cables anymore. For the first time, they can access Spotify's huge library of music from their Samsung Smart TVs and home theatre systems and enjoy their favourite tracks in the comfort of their own homes," said Saunders.
"Making the world's music available to everyone, everywhere is our dream, and by adding Spotify to Samsung Smart TVs, we're one step closer to achieving that," added Pascal de Mul of Spotify.
"For many people, their TV is at the heart of their home entertainment experience. It's a natural step to make Spotify available on connected TVs."
Spotify is now available to download on Samsung's Series 7 & 8 Smart TVs, with the service set to launch on other internet-enabled TVs, home entertainment systems and Blu-ray players from the Korean brand at the end of this month.