This month saw the launch of a new and innovative app from Korean consumer electronics manufacturer Samsung in the form of the Smart View application which allows users to view content from their Smart TVs on their Galaxy S2 smartphone. In the future they will also be able to stream content from the Smart TV – currently the D7000 and D8000 series are supported – to the Samsung Galaxy Tab 10.1 and Galaxy S.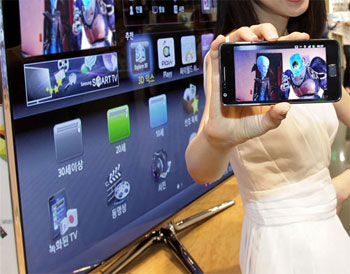 Released onto the Android market last week, the Samsung Smart View app is totally free, and uses wifi connection to display the images from the Smart TVs to the mobile devices. Viewers will be able to stream the content whether it is through standard broadcasting, from a Blu Ray player, via a set top box, through a camcorder, or via other input devices.
The Smart View app will allow viewers to also enjoy mobile viewing around their home. Users can either watch the same content that is on the main Smart TV on their mobile device, or can watch something different that is being played on the Blu Ray player. This will give households with a number of people but only one Smart TV more choice over what they watch. It is ideal if someone wants to watch something in another room or wants to watch a Blu Ray movie whilst someone else is watching a programme on the main internet-connected HDTV.
Samsung's product and marketing manager for TVs Corrie Labuschagne said that the company was using its expertise and innovative technology to expand viewing opportunities for consumers through the ability to mirror images back to mobile phones through its new app. The Seoul-based consumer electronics giant also plans to continue updating the app to increase usefulness for consumers.