Samsung has become the latest TV manufacturer to affirm its commitment to increasing the availability of content for next-generation 4K TVs, saying that it wants to focus on bringing ultra-high definition sports into the living room in the coming months.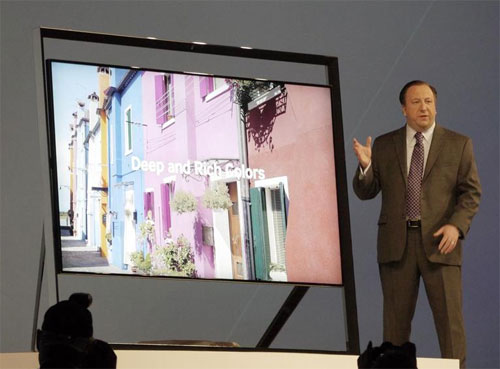 Samsung plans to stream 4K sports in Ultra HD"
In an interview with Australian media earlier this week, Phillip Newton, Samsung's Vice President of Consumer Electronics, said that the company had identified sporting events as one of the most popular forms of entertainment that people liked to watch at home. As a result, the company would make "every effort" to ensure that its customers can access 4K sports from around the world.
"We know that sports content is very important for consumers, and our focus for the future is to expand our current sports offering. We're already discussing these plans with broadcasters from around the world, and hopeful that we can deliver 85% of the world's major sporting events live in 4K," revealed Newton.
Newton declined to say how Samsung intends to make this possible, or when it might happen, but it's widely assumed that few countries have the infrastructure in place to support regular 4K broadcasts. Most likely, Samsung will instead be looking to develop ways to stream 4K sports content instead, something that has been proven to be possible using the newly adopted HEVC codec.
4K TVs stole the show at this year's CES in Las Vegas, with Samsung just one of a number of manufacturers showing off its glorious next-generation display technology. Consumer reception has been overwhelmingly positive, but few have actually gone as far as to buy one. What with the limited availability of native content shot in 4K and the initial high price tag, buying an Ultra HD capable TV simply isn't a viable option for the vast majority of consumers at this time.
Even so, manufacturers are keen to sell their new hardware and working overtime to make 4K TV a more attractive option. We've already seen Sony make some determined efforts in this direction, with the creation of the world's first 4K remastering studio and its recent announcement of plans to bring out smaller dimension 4K TVs for consumers with smaller budgets. Sony said that it's keen to develop enthusiasm for what it calls the "Halo Effect" to encourage more people to adopt the new technology.
Hass Mahd, Sony's Marketing Manager for Home Entertainment, outlined these plans recently:
"Following last November's launch of the 84-inch 4K BRAVIA TV, we plan to continue focusing our marketing efforts at the premium end of the range. By building on this "halo effect", we hope to expand our range of 4K TVs with models and sizes that are more affordable for the average consumers."
Source: ChannelNews