Not wanting to be outdone by its cross-town rival LG, Samsung Electronics has just pulled the covers off its very own OLED TV, which also happens to be 55 inches in screen size. Guess the honour of "the world's largest OLED television" will have to be shared by these two Korean HDTV manufacturers.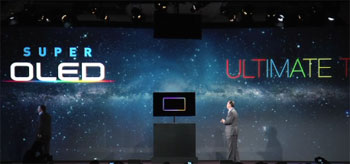 Samsung unveils own 55-inch Super OLED TV to match LG
Unveiled at Samsung's press conference at the Consumer Electronics Show (CES) 2012 in Las Vegas, the display – dubbed the "Ultimate Super OLED TV" – is the fruit of the company's expertise in OLED product manufacturing and development (Samsung claims that it makes 95% of all OLED panels worldwide). In a not-too-subtle effort to put down the RGBW (red, green, blue and white) colour filter found on LG's offering, Samsung revealed that its Super OLED TV will sport no such feature, therefore allowing more details to show through.
Design-wise, the Samsung Super OLED television measures 0.3 inches in depth, which is almost double the thickness of LG's 55EM9600. Like the company's 2012 flagship ES8000 series of LED LCD TVs, the 55-inch OLED screen is framed by a slim bezel, and supported on a U-shaped table-top stand. A small protrusion sits on top of the TV, which contains an integrated HD camera and dual-microphones for video conferencing as well as Smart Interaction capabilities including facial recognition, and voice and gesture controls.
Samsung has really gone all out to enhance both the hardware and the software on its Smart TV sets: the Super OLED TV will be blessed with a dual-core processor that allows for multitasking, and also a revamped Smart Hub internet-connected portal with a cleaner, more intuitive user interface in full HD. The display will also boast thousands of Samsung Apps (including Angry Birds), and 3D functionality (presumably of the active-shutter variant).
Samsung said that it is aiming to make its Super OLED television – which has already collected a "CES 2012 Best of Innovations" award – available in the US market by the second half of this year, but did not disclose any detail on pricing.