Korean consumer electronics giant Samsung Electronics this week celebrated two major milestones for its HDTV-based app store, Samsung Apps. The application store for Samsung's internet-connected Smart TV displays has now reached the first landmark of having one thousand registered apps, and a second even more impressive achievement of smashing through the ten million download barrier.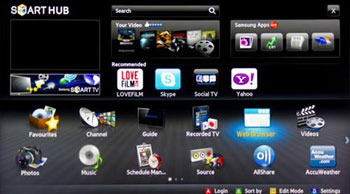 Samsung Smart TV app store reaches 1000 apps
The figures showed that the Samsung Apps store is growing both in terms of size and popularity among tech-hungry consumers. Topping the list of most downloaded apps were online video applications, which took the top spot both on a regional and an international basis. YouTube was the most popular Smart TV app in both South Korea and the United States according to the data.
In February of last year, Samsung became the first TV manufacturer in the world to launch a television-based app store. Since then the app store has gone from strength to strength, reaching five million downloads in May 2011, and growing by more than 100 percent in the space of just a few months to break the ten million barrier today. This has come about due to the number of downloads per day doubling compared to May of this year, having increased to an average of 50,000 downloads per day.
The data not only reflected the popularity of the Samsung Apps TV store, but also demonstrated how the number of active users of Smart TVs has grown. The Seoul-based conglomerate has been striving to create an ecosystem that provides a huge range of top quality content through collaborations with leading content providers, and it seems that users are lapping up the huge amount of choice and great content on offer.
Kang-hyun Kwon, Samsung's senior vice president of media solutions centre, said that the company will continue to build on its success by seeking partnerships with more content providers who are also interested in bringing high quality apps to market.